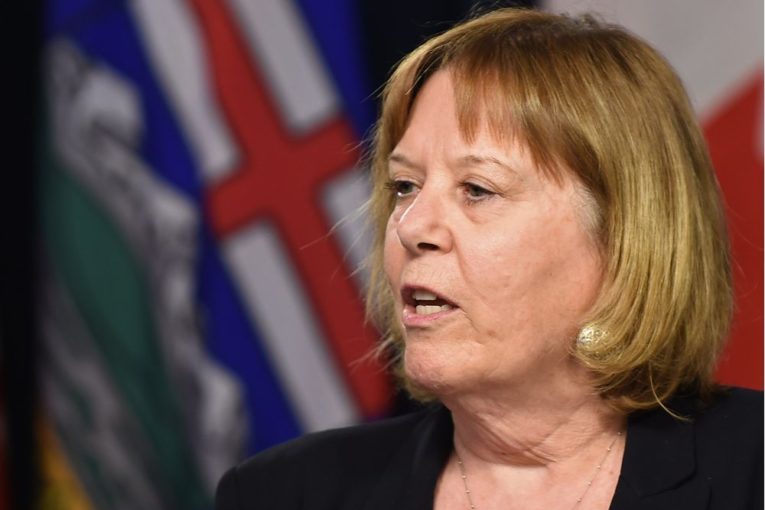 Alberta's NDP government says it will fully implement a new regulatory regime for energy projects that will dramatically cut approval times and costs for the oilpatch.
At an announcement at McDougall Centre on Tuesday, Energy Minister Marg McCuaig-Boyd and Alberta Energy Regulator CEO Jim Ellis said the province has had success using the new Integrated Decision Approach — which involves a one-stop software tool to cut paperwork —on a pilot basis for some projects.
The province said industry has saved $140 million so far and it expects $600 million in annual direct savings by the time the IDA is implemented by 2021.
McCuaig-Boyd said the government recognized the need for improvements to the provincial regulatory system to avoid duplication and improve transparency.
"Top of mind for everyone was the need to maintain our competitiveness with a more simple and straightforward process," she told reporters.
"This means one application, one review, one decision on energy developments."
Ellis said adopting the IDA means all applications are submitted to a single portal, automating low-risk applications while more complex projects are automatically forwarded to technical experts for review.
The system was used as a pilot for Suncor's Meadow Creek East in situ oilsands project, with the review process reduced from an estimated five years to 15 months.
"This process has the benefits of upfront approval for all project components, reduced regulatory burden, reduced risk of regulatory delays and missing construction windows, while providing greater certainty for stakeholders," Suncor said in a statement.
Another pilot of the IDA, a heavy oil proposal by Canadian Natural Resources Ltd., saw the company save $1 million and four months.
As well, more than 5,000 applications for reclamation certificates, pipeline licences and amendments, Water Act approvals and notifications have been handled under the system so far.
Applications for wells and public land use will be added over the next year.
The Canadian Association of Petroleum Producers has complained about the cumulative cost and timelines in Alberta's regulatory regime, and has called for the government to streamline its process.
In a report issued last year, the industry group said Alberta had a longer approval process for conventional oil and gas wells compared with British Columbia, Saskatchewan and Texas, and expressed its support for the move to the IDA.
In a statement Tuesday, CAPP said it believes the new system "has significant potential to move the needle on approval timelines in Alberta."
"This streamlined regulatory process shows great promise for eliminating redundancies and providing certainty while also growing jobs and protecting our environment."
The adoption of the IDA regime is being watched by environmental groups, however.
Nikki Way, an analyst with the Pembina Institute think-tank, said reducing costs and timelines for approvals can be a good thing but it can't be done at the expense of the environment and community health.
She said the regulator hasn't shown it is managing the cumulative effects of energy projects across the province as part of its approval process.
"I don't think the AER has the tools yet to actually manage those environmental impacts," said Way.
But Ellis said the new system allows for the regulator "to look at the whole impacts of energy development of a project, from front to back, including reclamation."
"We now are able to take a look and have a much better view to the cumulative impacts of energy development in a given area."
You can read more of the news on source