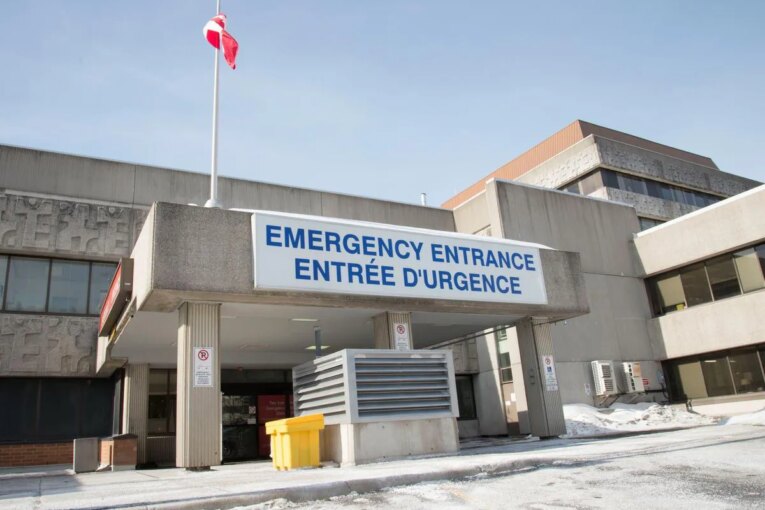 The emergency department at the Children's Hospital of Eastern Ontario (CHEO) is built to handle 150 sick children walking through its door per day, and at its best, it can do just that.
At its worst, there's a lineup of kids in triage and examination rooms are full, with patients and their families seen waiting for care in every hallway of the department.
During the recent surge in respiratory virus infections acutely affecting children that led hospitals across the province to cancel or reduce surgical capacity — plus pharmacy shelves lacking cold and flu medication for children — the dire scenario in CHEO's emergency department is becoming all the more common.
"There hasn't been a single day in 2022 where there's been 150 kids or fewer," said Alex Munter, CEO of CHEO. "We're seeing unprecedented volumes of activity."
And now, the Red Cross has stepped in.
The Ottawa hospital has been working with community physicians and neighbouring hospitals, hiring more staff, redeploying physicians to other areas of the hospital and cancelling surgeries, clinic appointments and diagnostic procedures to help with the ongoing surge. It hasn't been enough.
The move to bring in 18 Red Cross staff to their ranks will permit redeployed staff to return to their previous roles, said Munter. The first batch began training Monday night; he wouldn't specify an end date.
"Our physicians and nurses are stretched to the max," said Tammy DeGiovanni, the chief nursing executive of CHEO. "We're asking them to take on more patients, were asking them to work more.
"Our system isn't equipped to handle the pediatric cases we have right now. We still have new cancer diagnoses, we still have kids that need surgery or come in with accidents and broken bones."
According to DeGiovanni, it's a crisis decades in the making.
The hospital has been performing well below the need of those who rely on its services for years in part due to a lack of infrastructure and an accumulated backlog of surgical capacity, said Munter. The surge in respiratory viruses — the main reason kids are flooding CHEO's emergency department — has only highlighted the problem.
"Prior to the pandemic, 35 per cent of kids were waiting for surgery longer than clinically safe," Munter said. "This summer was 50 per cent. And as a result of this surge, it's going to be even more." That's without taking into account CHEO'S rehabilitation and mental health-care capacities.
"We need to make sure we have a system that can meet the needs of a growing population of children," he said. "Every day matters in the life of the child, and delays of months and years to get medically necessary care can affect their life trajectory."
Last week, CHEO received permanent funding from the province to increase the number of level 2 critical care beds to 12 from six, and to increase the number of level 3 critical care beds to 13 from seven in a move the hospital said will allow it to "catch up on the growing needs of the population." Ottawa's child and youth population grew at nine times the rate of Ontario's between 2016 and 2021, the hospital said.
To prevent a situation like this from happening again in the future, CHEO is calling on the federal and provincial governments to invest more in specialized children's hospitals with increased capacity, acute mental health surge capacity, more treatments for child and youth eating disorders and to address the backlog in surgeries, among others.
"We need to make sure we're making the right investments, and that this is the priority for both levels of government to make sure we have a system that can meet the needs of a growing population of children," said Munter.
It's not the first time the Red Cross has been called in for help during the pandemic, with the organization working in long-term-care homes, ICUs and emergency field hospitals during peak times of infection.
SickKids, which recently reduced surgical activity amid a surge of its own, continues to see high patient volumes in its pediatric intensive care unit and has redeployed staff to provide care in that unit.
"We have been co-ordinating closely with other hospital partners that have the ability to care for some pediatric patients," said SickKids spokesperson Jessamine Luck in an email. "This collaboration across the system helps us manage our patient volumes and helps patients receive the care they need when they need it."
At this point, SickKids has no plans to "seek staffing support from external organizations."
DeGiovanni called the current situation in CHEO a "wake-up call."
"If we really value the health of kids, then we've got to do better and work toward a truly sustainable future. It's about sustainable funding so we're not seeing ourselves in this situation five years from now."
SHARE:
JOIN THE CONVERSATION
Conversations are opinions of our readers and are subject to the Code of Conduct. The Star does not endorse these opinions.
You can read more of the news on source