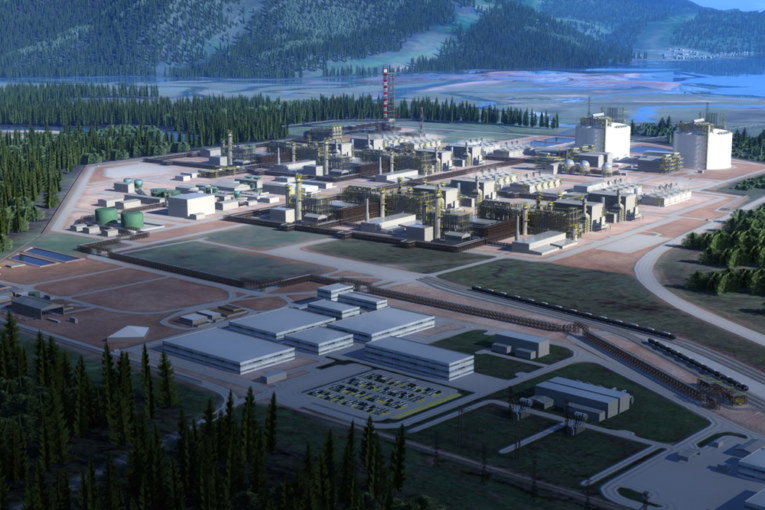 CALGARY – If Shell Canada Ltd. announces plans to proceed with the US$40-billion LNG Canada project as expected next week, it would lift "a dark cloud" that's been hanging over the country's energy sector, according to analysts.
Excitement has been building in Calgary following a string of announcements from two of Shell's Asian partners in the project.
Bloomberg News cited filings from the Hong Kong Stock Exchange Friday that showed PetroChina Co., China's largest oil and gas company and 15 per cent owner of LNG Canada, had approved spending US$3.46 billion for its share of the project. Korea Gas Corp. made a similar announcement in Seoul about its 5 per cent stake.
The other project partners — including 40 per cent owner Shell, 25 per cent owner Petroliam Berhad Nasional, or Petronas, and 15 per cent owner Mitsubishi Corp. — have yet to announce their decisions.
Bloomberg also reported that an announcement on the project is coming Tuesday, Oct. 5 followed by an event at a local golf course in Kitimat. The city's mayor Phil Germuth told the Financial Post, however, that he hasn't been informed of an event in the city or a decision by Shell.
But speculation has hit fever pitch in Calgary following Prime Minister Justin Trudeau's meeting with Royal Dutch Shell Plc CEO Ben van Beurden in New York this week.
"Today, I had another excellent discussion with Shell's CEO Ben van Beurden, on how we can work together to advance energy projects that are good for our economy and our environment — and how to do so responsibly," Trudeau tweeted on Tuesday.
Some analysts, however, believe there is more work to be done before the partners sign off on the project.
"At this point it feels like it's just paperwork," National Bank Financial analyst Greg Colman wrote in a research note Friday, adding that he expected a positive investment decision at some point in October.
Colman said that LNG development tends to happen in waves rather than in isolation because "if the economics make sense for one project, they make sense for many projects."
LNG Canada would be the first major domestic gas export project to be commissioned in the country and provide a sentiment boost to the country's beleaguered gas sector. The smaller Woodfibre LNG project in Squamish, near Vancouver, has also been progressing but is awaiting an announcement on tariffs on imported steel components before ramping up construction.
"LNG Canada's potential value to Canada's energy and construction industries goes beyond the analytical assessments of revenue potential and duration," Raymond James analysts wrote in a research note Friday. "A positive FID could the the first step toward repairing Canada's damaged reputation as a country in which energy infrastructure projects are perceived as almost impossible to advance."
Western Canadian natural gas prices have been depressed for years and the Alberta and B.C. pricing markets have become disconnected from U.S. benchmarks like NYMEX and Louisiana's Henry Hub. Alberta benchmark AECO gas prices was trading at $2.47 per million cubic feet, compared to US$3.13 for Henry Hub benchmark on Friday.
Alberta natural gas prices would average $1.90 per mcf this winter, falling to 99 cents mcf by 2020, according to Bank of America Merrill Lynch. "Export projects don't come soon enough," the Wall Street bank said in a report, adding that Western Canadian gas needs additional outlets.
The combination of an LNG Canada decision, along with new tolling arrangements on the main natural gas export pipelines beginning in 2020, would help "reset" the links between AECO gas prices and North American benchmarks, according to an analyst.
"Certainly, it's a positive for Western Canadian gas in the long-term," Solomon Associates director, gas services Cameron Gingrich said Friday.
But the first wave may not boost prices, as all the Shell partners have already built up plenty of reserves.
State-owned Petronas have "developed a hell of a lot of reserves," GMP FirstEnergy director of institutional research Martin King said. Similarly, PetroChina and Mitsubishi have been developing gas production in Canada through joint-venture agreements with Calgary-based Encana Corp., and are also expected to direct their production to the LNG plant. Only KoGas lacks upstream production to feed the project.
King said LNG Canada's first phase, which consists of two liquefaction trains to chill natural gas into its liquid state for export, would likely not have much impact on domestic gas prices.
However, the second phase of two additional liquefaction trains, would bring the project's total export capacity up to 3.4 billion cubic feet per day and could provide a meaningful lift given total Western Canadian gas production is 18 bcfd.
Still, it's been a long time since there was a positive investment decision in the Canadian oilpatch. "It's a positive in the sense that it's a general sentiment lift," King said. "It lifts a dark cloud that's been hanging over the country."
• Email: [email protected] | Twitter: geoffreymorgan
With files from Bloomberg
You can read more of the news on source