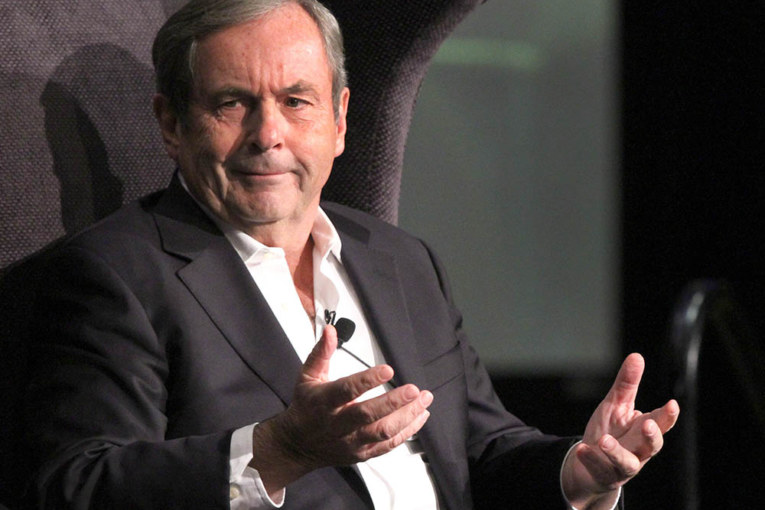 U.S. President Donald Trump said he wouldn't meet with Canada's prime minister this week, then criticized Canadian trade negotiators for being difficult.
Meanwhile, a self-imposed U.S. deadline for a trade deal between the two neighbours now hangs overhead, set to drop on Sunday.
And Canada's ambassador to the United States said Wednesday there's a 50-50 chance an agreement will be reached by the time the deadline arrives.
Does that mean NAFTA talks between Canada and the United States, stuck in gridlock for months, are about to see a significant breakthrough?
No.
Speaking Thursday at the Global Business Forum in Banff, Ambassador David MacNaughton wasn't inclined to put fresh odds on the chances of a deal being reached by Sunday after Trump's latest eruption about Canada.
But he wasn't about to rule out a breakthrough, either.
"I think yesterday I would have said that the glass was half full. Perhaps today I might say it's half empty," MacNaughton told the audience.
Those remarks, along with Trump's unpredictable nature, don't inspire much confidence a deal is close at hand.
But in the world of politics, commerce and diplomacy, a lot can change in a few hours, or a few days.
The spotlight on trade talks has intensified since the U.S. reached a bilateral agreement last month with Mexico.
However, discussions between the U.S. administration and Canada have hit several speed bumps this month.
Trump launched another blast Wednesday, criticizing Canada's negotiators — led by Foreign Affairs Minister Chrystia Freeland — and threatening to slap tariffs on Canadian auto imports to the U.S., adding: "That's the motherlode."
The president also said he turned down a meeting with Justin Trudeau, although the prime minister said Thursday he didn't ask for a formal talk.
"We're very unhappy with the negotiations and the negotiating style of Canada," Trump said. "Canada has treated us very badly."
If being tough and negotiating in our own self-interest is acting poorly, then let's hope it continues.
While it's possible the talks could collapse, it shouldn't force this country to capitulate to a fatally flawed agreement.
"This is such an unpredictable U.S. administration and such an unpredictable time, I can't really give an answer with any assurance" of a deal being reached, said Carlo Dade, director of the trade and investment centre with the Canada West Foundation.
"My best guess is no, we are not going to get left out. But with this administration, we just can't tell."
During his speech in Banff, MacNaughton said the unresolved issues with the Americans haven't changed, as Canada wants a dispute resolution mechanism with real teeth retained in any pact.
Canada also wants assurances the U.S. won't strike a deal and then impose more tariffs on national security grounds, as it's done on steel and aluminum.
Meanwhile, the U.S. is pressing Canada to alter its supply management system in areas such as dairy.
The ambassador told reporters some progress has been made in negotiations, although the main issues haven't been resolved and "we are up against what they refer to as a deadline."
As for Trump's latest broadside, MacNaughton said such talk doesn't help.
"Right now, we don't think the deal is good enough, but we're hopeful to get there," he added.
"When rhetoric is involved on either side, it makes it more difficult for negotiations to take place in a give-and-take manner. That kind of rhetoric doesn't make it easier for us to compromise."
For Alberta, a functioning NAFTA deal is critical, given the size of trade with the U.S. involving the oil and gas sector, forestry and agricultural products.
Alberta's exports to the U.S. topped $68 billion in 2016, accounting for 86 per cent of total provincial exports.
If Alberta companies that rely on the U.S. marketplace haven't been paying close attention to the NAFTA discussions to date, it's time to tune in, said Ken Kobly, CEO of the Alberta Chambers of Commerce.
"If NAFTA does fail and we don't meet the imposed deadline, you don't really know what the next product is that the president is going to tariff," Kobly said in an interview.
"If you are an industry under tariffs, you are very anxious. If you are not anxious, you should be, because this could be coming to you next."
Uncertainty around NAFTA is also creating barriers for capital investment.
And while U.S. taxes on Canadian-made automobiles would directly hit Ontario, the economic repercussions would reverberate across the country, he noted.
Others are more optimistic an accord will be reached.
David Wilkins, the former U.S. Ambassador to Canada under George W. Bush, said the relationship between the two countries ebbs and flows, but the ties underpinning it — including business and trade — are still strong.
"A NAFTA deal is better than no deal for both countries, period. And I believe that will prevail because we both know that," Wilkins said, while attending the conference.
"We are closer today than we were a month ago or six months ago. So we're getting closer."
Let's hope he's right, for the sake of both sides. Unfortunately, common sense doesn't always prevail when personalities and politics get involved.
Batten down the hatches for a weekend of tough negotiations. The Canada-U.S. trade talks are finally headed into the home stretch.
Chris Varcoe is a Calgary Herald columnist.
You can read more of the news on source