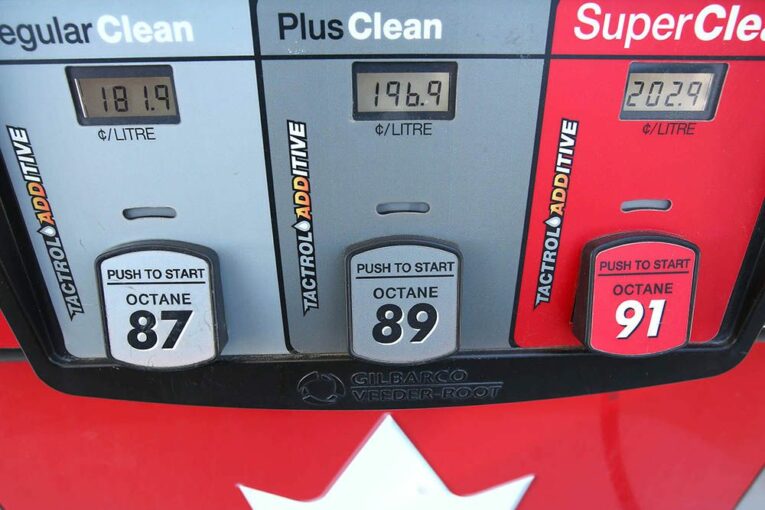 Calgary gas prices remain high, even as fuel has begun trading at lower prices with experts pointing to retail margins as a key reason why.
We apologize, but this video has failed to load.
Try refreshing your browser, or
tap here to see other videos from our team.
'We won't accept any games': Kenney wants competition bureau to probe Alberta's high gas prices
Back to video
The cheapest gas in Calgary on Friday according to Gasbuddy.com was being sold at Costco outlets for 147.9 cents per litre while one of the cheapest non-Costco options was Safeway selling at 178.9 cents per litre. The average price in the city was 180 cents per litre. Meanwhile, Edmonton's average gas price was 175 cents per litre and Red Deer was averaging 178 cents per litre. Several locations across southern Alberta were trending around similar to prices to Calgary while areas near Edmonton were seeing prices as low as 167 cents per litre on average.
University of Calgary economist Trevor Tombe said the main reason prices remain high is retailers have set high margins for fuel.
"Alberta, as a whole, the retail margin for this current week up to (Friday) morning is 38 cents a litre and nationally it's only 16," said Tombe. "I don't honestly know what's behind that. It basically fully is absorbing the provincial tax reduction now."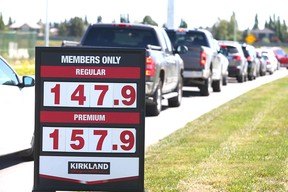 Earlier this year, the province introduced a tax break that saw the 13 cents per litre provincial tax on gasoline temporarily removed as West Texas Intermediate gas continued to trade at high prices. Premier Jason Kenney said at the time the province would be watching retailers closely to ensure those savings were passed on to the consumers. WTI was trading around $95 a barrel Friday, down from a high of around $123 a barrel in March.
Tombe said while the relief measure looks to have all but disappeared for the consumer, he said prices may have been even higher than what Albertans are facing now if that relief measure was not introduced. He said the government should start exploring why margins are as high as they are, adding it the province improve data collection and reporting around gas prices.
Kenney released a statement Friday saying consumers initially benefited from the gas tax relief but over the past 10 days that no longer appears to be the case. He said he met with the Canadian Fuels Association to express Albertans' frustrations with gas price trends and added he plans to ask the Competition Bureau of Canada to investigate potential price fixing.
He has also directed Service Alberta to explore if there are any tools the province could use under the Consumer Protection Act on the matter.
"As I said when we announced this measure in March, we won't accept any games being played with this," said Kenney. "Under the Competition Act, it is illegal for competitors to mutually agree to set prices. Albertans deserve to know if this is going on."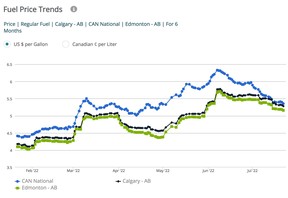 Tombe said he wonders if there are underlying market factors at play keeping the margins high and all it would take is for one or two retailers to undercut the others to cause a domino effect of lower prices.
Thomas Holloway, a senior instructor at the University of Calgary's Haskayne School of Business, said while gas prices are high, there are small things drivers can do to help keep their costs down. He said driving slower, shortening trips and driving less frequently are all measures that can be taken.
"One of the things about gas prices in the short term is you feel powerless. Last week you spent $20, this week you spent $25 and there's absolutely nothing you can do about it," said Holloway. "That's what makes us the most frustrated, is that it feels like we have an inelastic demand. But what I try to remind myself is there is some elasticity."
In addition to gas prices being high, inflation and the cost of living have been steadily rising across Canada. Holloway said it is difficult to look at local inflation and relate it to gas prices but that the cost of fuel often takes on such a focus is because it is volatile and is an expense people are taking on regularly.
"You know, literally there's a big sign on the road with a number and so we're very aware of it even if we drive by even if we're not filling up," said Holloway.
You can read more of the news on source