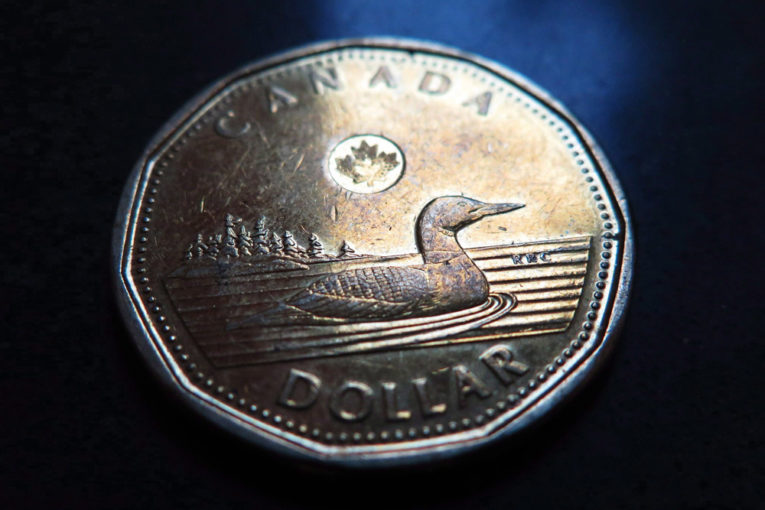 Canadian dollar bulls, on their back foot for much of the past two months, may be about to catch a break from the surge in oil.
With West Texas Intermediate rallying to the highest since 2015, there are signs that the link between crude prices and the Canadian dollar is reviving. That connection, which had faded as crude held to a US$45-to-$55 a barrel range for the brunt of the last year, could re-emerge as oil prices climb toward US$60, said Mark McCormick, a strategist at Toronto-Dominion Bank.
The relationship may help boost the Canadian dollar to $1.22 per greenback by year-end, a level last seen in September, from about $1.2730 now, he said.
"I think we'd start to see a recoupling of the correlation between commodity currencies — particularly CAD — and oil prices if we're moving from US$55 to US$60," McCormick said. "Our oil guys think for the next year we'll be trading north of US$60."
The 90-day correlation between movements in the loonie and crude has rebounded to about 0.2, after sinking this month to around 0.1, the lowest since 2014, amid a renewed focus on interest-rate differentials. A correlation reading of 1 signals they're moving in perfect lockstep.
The yield gap between two-year Canadian and U.S. yields emerged as the pair's dominant driver after the Bank of Canada surprised traders with back-to-back rate hikes in July and September.
The spread, at about 22 basis points, will probably stabilize in a range of 15 to 25 basis points as expectations for BOC rate hikes ebb, according to Shaun Osborne, currency strategist at Bank of Nova Scotia. A stabilizing spread will make way for the loonie-oil correlation to gain traction as oil busts out of its range, he said.
Bank of Montreal also expects oil to play a more central role in driving the currency as central bankers' comments will probably be more aligned with market expectations than in recent months. With the BOC warning last month that it would be cautious toward future hikes, the market-implied probability of a December increase has dropped below 20 per cent, half the level from a month ago.
"The correlation has broken down before, and eventually it will re-establish itself," Osborne said. "That time may be now, because we're starting to break out on the top side of the range that we've recently been in for crude oil, whereas spreads have recently stabilized."
Bloomberg.com
You can read more of the news on source