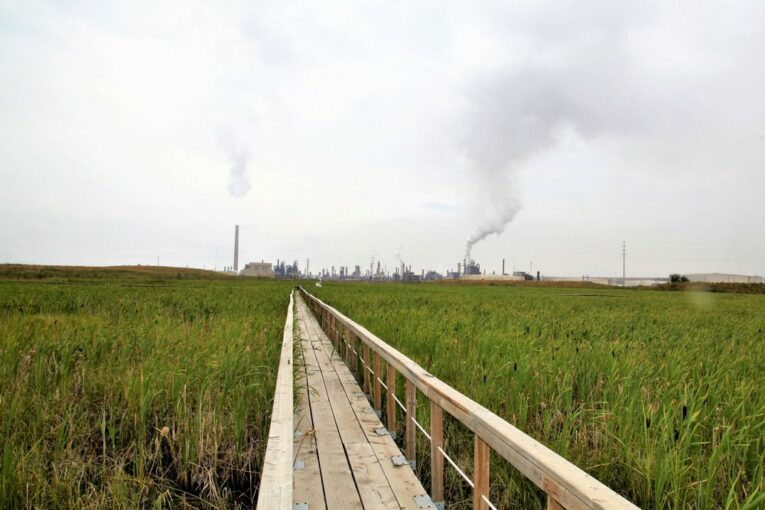 The United Nations' 26th annual climate change conference in Scotland drew to a close this week, and in a shift, Canada staked out several policy positions that put it ahead of the U.S. and China, its two major trading partners, at least in terms of limiting future emissions.
Where the U.S. and Canada both pledged to reduce methane emissions 30 per cent below 2020 levels by 2030, Ottawa went one step further and also agreed to cut methane emissions from its oil and gas industry 75 per cent below 2012 levels by 2030.
While Canada pledged to end all investment in future coal power generation, China and the U.S. have been less aggressive. These come on top of Canada's prior commitments to carbon pricing, zero-emission vehicle targets and other policies.
It marks a reversal as the U.S. has been setting stricter climate goals, targeting a 50 to 52 per cent reduction in emissions by 2030 while Canada is only aiming for a 40 to 45 per cent target.
But setting goals and achieving goals are two separate matters, and as Canada charts an ambitious course for the next decade, both the industry, concerned about costs of regulations, and climate activists, concerned about the pace of change, are watching the effects of these regulations closely. At stake is whether regulations can be balanced to reduce industry emissions, while also increasing the marketability of fossil fuels.
"That is really the big question and it's not a straight cut and clear answer," said Tristan Goodman, president of the Explorers and Producers Association of Canada, a lobbying group for oil and gas. "We are always interested in the Canadian energy business in how we remain competitive in a global market."
Regulations that add costs, and thus chip away at profit margins always concern industry. That's especially true as other oil and gas rich nations compete on the global market with the same products.
But Goodman, who praised Canada's ambitious methane reduction target as "pragmatic" because it has been incremental, added, "There are actually opportunities in the Canadian product being much lower in (greenhouse gas) emissions than other products in North America or globally."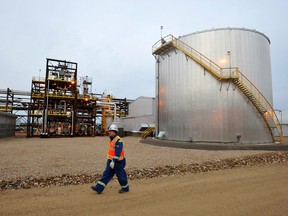 As many corporations look to lower their overall carbon footprint, and increasingly tally their emissions from their diesel, gasoline and other fossil fuels, products that are less intensive to produce could gain an edge.
Carbon border tax adjustments — basically a fee on imports based on the emissions incurred during their production — could reinforce such an advantage. Thus, if Canada can produce less carbon-intensive oil or gas, it may help them sell more for longer, according to Goodman.
"Everyone's trying to get this correct balance, during a period of energy balance to say we have to reduce our (greenhouse gas) emissions," he said, "and in the same vein we have to make sure consumers have access to the product that's the base of our economy."
Of course, even if climate advocates agree there could be a market for less carbon-intensive fuel, there's a wide gulf on their perspectives toward regulations.
Simon Dyer, deputy executive director of the Pembina Institute in Edmonton, who attended the Glasgow Conference, said Canada has done less to reduce its emissions than the U.S. and other countries.
We're putting the right policies in place, and saying the right things, but if you actually look at our performance, we are the worst in the G7 in terms of reducing our emissions

Simon Dyer
For example, since 2000, the U.S. has reduced its overall share of global CO2 emissions by 43 per cent while Canada's emissions dropped by 31.5 per cent, according to the U.K.-based Global Change Data Lab.
During the same time period, annual emissions per capita in the U.S. started off 15 per cent higher than in Canada, but steadily dropped to reach par with Canada at 14.2 tonnes by 2020.
"It's fair to say Canada showed up pretty well at this COP (climate-change conference)," said Dyer, adding, "We're putting the right policies in place, and saying the right things, but if you actually look at our performance, we are the worst in the G7 in terms of reducing our emissions."
He said the most significant development from this year's conference was the Glasgow Financial Alliance for Net-Zero, announced by former Bank of Canada Mark Carney. It brings together 450 financial firms, representing US$130 trillion in assets, all committing to align their lending and investing activities with net-zero emission goals.
That should buoy the market for less carbon-intensive fuels, and means that regulations that reduce the emissions-intensity of Canadian fossil fuels are going to make industry "more competitive," said Dyer.
Of course, there is room for debate on how much that marketability will ultimately affect fossil fuels.
James Meadowcraft, a professor of public policy and administration at Carleton University, who studies the energy transition, said the market for fossil fuels is going to dramatically shrink over the next two decades.
Price and geopolitical considerations, in addition to carbon-intensity of the product, are likely to play a key role in which oil producers can sell their product in the future.
"The more we reduce the emissions of oil and gas, the more it's relatively appealing," said Meadowcraft. "It helps the marketability of Canadian oil and gas … but they have quite awhile to achieve this and everybody else won't be standing still during that time."
Financial Post
• Email: [email protected] | Twitter: GabeFriedz
_____________________________________________________________
 If you liked this story, sign up for more in the FP Energy newsletter.

______________________________________________________________
You can read more of the news on source