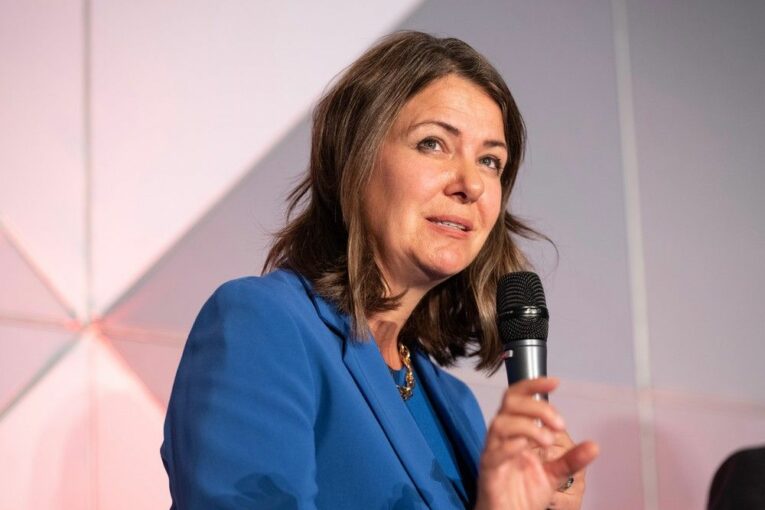 While wealthy nations may be able to achieve carbon neutrality by 2050, their leaders should recognize that less developed jurisdictions will be less likely to reach those climate targets as they grapple with "energy poverty."
We apologize, but this video has failed to load.
Try refreshing your browser, or
tap here to see other videos from our team.
Less wealthy nations will struggle to reach global 2050 net-zero target, WPC panel says
Back to video
That was the consensus of an hour-long ministerial panel's discussion on Tuesday at the World Petroleum Congress in Calgary, where more than 5,000 delegates have gathered to discuss the energy sector's transition toward net-zero emissions.
The panel included Alberta Premier Danielle Smith, Libya's minister of oil and gas Mohammed Oun, and Tutuka Ariadji, the director-general of oil and gas and ministry of energy and mineral resources for Indonesia. The talk was moderated by Dr. Amrita Sen, the founder and director of research for U.K.-based Energy Aspects — a global research house that advises companies on the world energy market. 
The topic was whether the world is on track to reach net-zero emissions by 2050 — an objective set out by the International Energy Agency and the overarching theme of this year's congress.
The panellists' consensus appeared to be that a global transition to net-zero in the next 27 years is likely not realistic, considering so much of the developing world is still suffering from a lack of reliable and affordable energy sources.
But they stressed that doesn't mean wealthier nations shouldn't lead by example in finding pragmatic solutions to reducing their own carbon footprints by 2050.
When asked if transitioning to net-zero emissions is feasible by then, Smith responded "yes and no," elaborating that she meant yes for developed jurisdictions such as Alberta.
"Yes for us, but we have to be more patient with those nations that have (tackling) energy poverty as their principal goal," she said.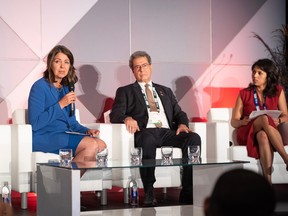 The premier added she won't judge any country that wants the same quality of life as Canada.
"We have to be mindful," Smith said. "But I think our job in the wealthier nations is to get to net zero — aspirationally by 2050 — so that technology can be exported, so we can assist in accelerating that transformation while the other nations deal with the joint problem of carbon neutrality as well as energy poverty."
Focus is transitioning away from emissions — not oil and gas: premier
Citing examples of local energy transition and carbon capture technologies, Smith promoted various Alberta-based companies, such as Avatar Innovations' CarbonTech Accelerator, and a proposal to use hydrogen to completely fuel the community of Bremner in Strathcona County, east of Edmonton.
Smith also discussed Heidelberg Materials, a company that's attempting to construct the cement industry's first carbon capture utilization and storage (CCUS) facility in Edmonton. The full-scale project expects to capture more than one-million tonnes of carbon dioxide annually by 2026, according to Heidelberg's website.
"Those are the kinds of innovations I think are going to be extraordinary," Smith said.
Related Stories
Decarbonizing aviation sector without government support will cause steep increases to ticket prices: WestJet CEO

'Tone deaf': Smith, provincial politicians blast federal energy minister's remarks at WPC

Gondek looks to showcase Calgary with World Petroleum Congress

Global oil leaders warn of clash between rising oil demand and 'wishful thinking' on energy transition
The premier also promoted the Alberta government's petrochemical incentive program, which offers a 12 per cent rebate to companies that invest in the province's petrochemical sector with carbon-neutral technology. Dow Chemical Company is one example of a company that has accessed that program as it develops a net-zero emission ethylene plant.
Smith highlighted Environment Minister Rebecca Schultz's announcement Tuesday that Alberta is funding a $7-million multi-year study with Cenovus to investigate if small modular reactor technology can be deployed in Alberta's oilsands.
The technology involves scalable and versatile nuclear reactors that could potentially supply non-emitting heat and power to the province's oilsands, according to a government news release.
"The issue for us is transitioning away from emissions — it's not about transitioning away from oil and natural gas," Smith said.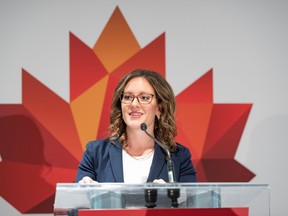 'We have no other immediate resource'
The panellists also touched on the high cost of global energy transition and the debate over peak oil demand.
All four appeared to agree the world's continued appetite for fossil fuels in the coming years means it's too early to move away from oil and gas production. Oun referenced a recent forecast that oil demand will rise above 104-million barrels per day next year.
He also said revenues from Libya's oil production will be required to finance the country's gradual transition toward cleaner energy technologies.
"In Libya, for example, we're still producing below our OPEC quota," he said. "We have not reached our quota and we need to be allowed to produce, to have income to . . . try and reach the net-zero emissions by 2050."
Libya's energy minister added it's "obvious" the world still needs to tolerate fossil fuels, arguing there's "no other immediate alternative" that is as affordable or as reliable as oil and gas.
"(But) I agree with you we should make specific targets to reduce emissions and CO2," he said.
---
No Facebook? No problem.
Meta has blocked news articles from appearing in Canada through its social media platforms Facebook and Instagram, so skip the gatekeeper and come straight to the source.
Go to our homepage and bookmark it for easy access to all your news anytime, anywhere.
Subscribe to support trusted local journalism you can't get anywhere else.
Sign up for our newsletters to have headlines and more delivered right to your email inbox.
You can read more of the news on source