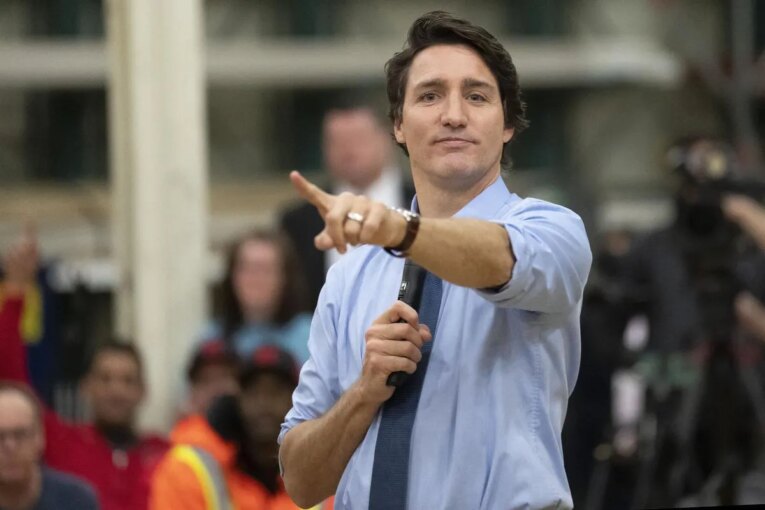 The "Canada is broken" rhetoric from the Conservatives in Canada is out of Donald Trump's failed political playbook, Prime Minister Justin Trudeau said Tuesday evening.
"There's an ease out there in political circles" with saying "oh, everything's broken. It's all broken. It's we have to change and start over," he said at a gathering of the United Brotherhood of Carpenters in Vaughan.
Conservative leader Pierre Poilievre has often used the phrase "everything is broken" in press conferences and on social media to describe what he sees as the failures of the Trudeau government. In a recent video, Poilievre asks: "Do you ever feel like everything's broken in Canada?"
In January, Poilievre criticized Trudeau during a two-day caucus retreat to plot out priorities in the House of Commons by listing off ways he feels Canadians are suffering under a Liberal government.
"What is happening in our country? Everything feels broken," said Poilievre. "Oh! I just offended Justin Trudeau. He gets very angry when I talk about these problems."
Trudeau does not usually talk openly about his frustrations with the former president, who was more public about his antagonism toward the prime minister from 2015 to 2020, which made the comparison between Trump and Poilievre notable.
"Well, you know what? They tried that down in the United States. Someone who said he was going to fix everything and fed into anger and disconnect, frustration by so many people in the United States. It didn't leave them any better off."
His comments come as Poilievre called Tuesday for the closure of the Roxham Road migrant border crossing in Quebec within 30 days, echoing a similar plea by Quebec Premier François Legault. Poilievre accused Trudeau of encouraging irregular crossings at that location and failing to address a growing backlog of refugee claims.
"The job of protecting our borders belongs to us, and in particular to the prime minister of Canada," he told reporters in Ottawa. "We as a country can close that border crossing. If we are a real country, we have borders."
SHARE:
JOIN THE CONVERSATION
Conversations are opinions of our readers and are subject to the Code of Conduct. The Star does not endorse these opinions.
You can read more of the news on source