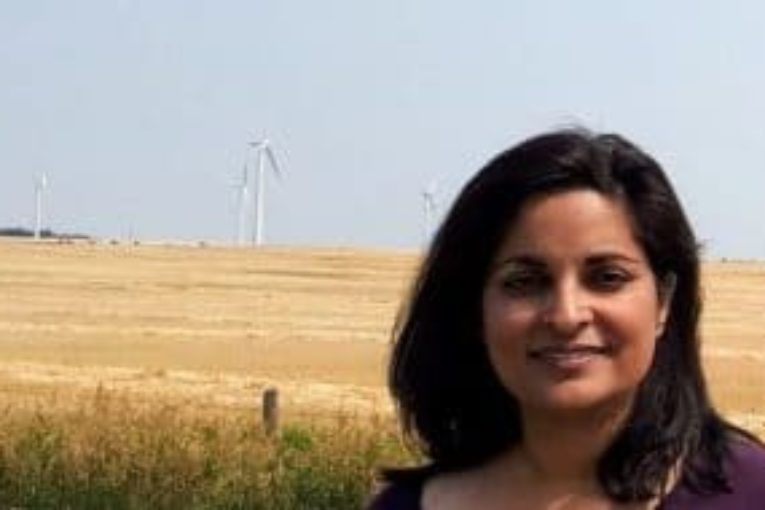 CanWEA is responding with a new Public Affairs Advisor to support policy advancement and communications in the region.
If you've been reading our blog over the past year, you will know that western Canada's wind power industry is experiencing unprecedented growth. Both Saskatchewan and Alberta are proposing significant increases in renewable energy production over the next 15 years.
The Canadian Wind Energy Association (CanWEA) is continuing efforts to building a stronger presence in these provinces and we're pleased to welcome a new team member into the fold.
Ameera Shivji joined our team in August as Public Affairs Advisor for the Prairies. Based in Calgary, she'll play an integral role in advancing our government relations and communications activities in the region.
She has hit the ground running having worked in the power industry for fifteen years, most recently as communications lead for Alberta-based BluEarth Renewables.
She described her passion for renewables and drive to move things forward in her home province in the Q&A below.
Why wind energy? Why CanWEA?
I have been working in power for 15 years and I'll admit it, I have had a bit of an obsession with renewables since seeing my first wind turbine in Pincher Creek many years ago. There's so much untapped wind power potential in both Saskatchewan and Alberta, and with recent policy changes to get the ball rolling, I see a great opportunity.
I'm so pleased with the great work CanWEA is doing to drive policy and best-practices in the industry. Along with that, they translate lessons-learned from other jurisdictions to ensure that the new wind installations will be developed in the most effective, responsible and sustainable way.
What in your background prepares you for this role?
Working for CanWEA is a new chapter for me professionally. I started working in stakeholder relations for a utility when electricity deregulation was in its infancy in Alberta. I have worked for three wind developers developing communications plans and consultation strategies, so I know firsthand the misinformation that circulates about wind power.
It drives me crazy when people say that you have to backup wind power megawatt for megawatt. When studies like the Pan Canadian Wind Integration study tell us on average, the level of back-up needed is less than two per cent of the total wind generating capacity being added.
I'm excited to use my communications background to get this kind of information out along with positive outcomes – economic or environmental – in other jurisdictions that have a lot of wind power.
Did you know there were over 8000 indirect and direct jobs supported by the wind industry in Iowa?
It's stats like that that get people talking and it'll be my job to contribute to the dialogue.
What will your role look like?
With Alberta and Saskatchewan wind power procurements currently underway, I am eager to support CanWEA on advancing policy, as well as communicating the opportunities for both provinces that will come out of adopting more wind. In fact, right now a study is being completed on opportunities for participation in the wind industry over the coming decade that will help to diversify Alberta's energy economy and result in new investment and employment benefits province-wide. I can't wait to share the results.
Anything else you want to add?
Wind power has a long history in the Prairies with the first commercial wind turbines being installed here over 20 years ago. We're continuing that proud heritage with these new procurements and I'm proud to be part of a strong association which will ease the transition to a safe, clean and reliable source of energy.
That's it for our introduction with Ameera, CanWEA's new Public Affairs Advisor in Calgary. Ameera can be reached at [email protected], or by phone at (403) 815-1407.
Director of Media and Communications at the Canadian Wind Energy Association.
You can read more of the news on source