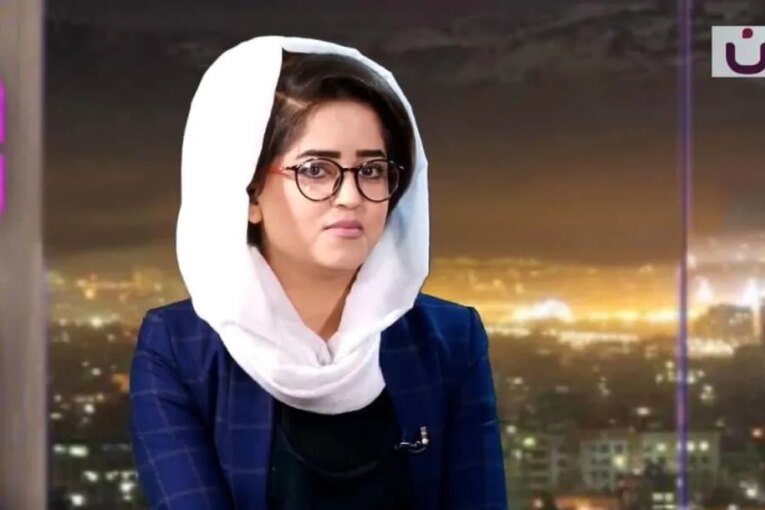 Khatira Ahmadi had a dream job as a TV host for a popular morning show, which gave hope and motivation to young girls on a women's specialty channel in Afghanistan.
The 24-year-old would speak with guests about women's issues. She came on screen with a fresh and smiling face to give energy to Zan TV's audience in the war-torn country.
"Being a journalist was a love for me, not a job, a love through which I always wanted to be the voice of my generation," said Ahmadi.
When the Taliban returned to power, taking over Kabul a year ago in August, Ahmadi was on her way to the passport office with her sick uncle. Her uncle had to go to Pakistan for treatment, and because the passport department was very crowded, she went to help her uncle. She didn't think that day would see the fall of her hometown.
"My family called and said that I should return home as soon as possible, because the Taliban had entered Kabul. Everything changed overnight," Ahmadi told the Star, speaking by phone in Persian. "I noticed on the street, all the people were running away, and the Taliban on their motorcycles waving their flags."
"The Taliban's white flags mark the beginning of our darkest days."
The Taliban used the same white flags in their first regime, from 1996 to 2001.
Today, Ahmadi is trapped in four walls in a guest house in Pakistan, waiting for her ticket to safety in Canada.
She has been living in Islamabad for a year now. For a pregnant woman, being far from home is a challenge.
"We don't have permission to work, we don't even have permission to study language. I spent one year in boredom and meaninglessness."
After the Taliban took control of Afghanistan, a large number of female journalists lost their jobs, she said, and the few who remain in the media are now tightly restricted, and must wear a mask (a type of niqab).
When news broke that the new regime started killing and kidnapping journalists and civil activists, especially women, she knew she had no choice but to escape.
"I couldn't go out of the house and also there was a risk of capture by the Taliban, because I have worked with a TV channel and the Taliban count us as an enemy," said Ahmadi.
Ahmaid struggled to go abroad, but the doors were shut. Finally, she found the website of the Canadian organization Journalists for Human Rights, and they paved the way for her to leave and settle in Pakistan.
Ahmadi applied for Canada's humanitarian visa.
Despite the group's support, more than eight months' waiting in Pakistan's capital was tough.
Then two months ago, she and her family were finally contacted by Canadian immigration officials to proceed with their medical exams and submit their biometrics — the last requirements before a visa is issued.
Ahmadi now feels safe, but uncertain about the future. She says she does not know how it will be to start again and live in Canada, with a different language and culture.
"There are 28 other men and women journalists with us in Pakistan, which are more than a hundred people (including families), and they are also waiting to go to Canada," Ahmadi said.
Ahmadi is part of 40,000 Afghans who the Canadian government promised to help resettle.
"Now we have been waiting for the flight for two months."
According to a recent report by the Afghanistan Journalists Centre (AFJC), since the Taliban returned to power, 130 cases of violence against journalists have been reported.
Recently, the centre announced that hundreds of Afghan journalists have left the country and half of the media outlets have been closed due to financial problems and restrictions by the Taliban. At least four journalists have been killed by unknown gunmen in the country.
A few kilometres away from the hotel where Ahmadi lives, another female journalist spends day and night in a small, dim room of a guest house with her family of 13. Nawida Khorasani, 25, came to Pakistan with a journalistic background working for a private TV channel, Noorin.
Khorasani was one of the protesters in Kabul's streets against the closing of girls' schools after the Taliban takeover. 
Khorasani, who lived under Taliban rule for three months, said that after the Taliban arrested and imprisoned female protesters and broadcast their forced confessions on television, they were forced to leave for Pakistan.
She said they had been in Pakistan for eight months. Then three months ago their application for a Canadian visa was accepted, but even though the medical check-up and biometrics process is over, they are waiting for the flight.
"All our savings were consumed and life is getting harder for us day by day. As far as I know, the absolute majority of Afghan journalists and civil activists who fled to Pakistan, Iran, Tajikistan and Turkey are in a bad economic situation," she said over the phone, speaking in Persian.
"Millions of Afghan women live in despair, fear and possible death, and this is a source of sadness for every free person in the free world."
Rachel Pulfer, executive director of Journalists for Human Rights (JHR), which is helping Afghan journalists, said Afghans awaiting for evacuation have so many concerns, from family safety to concerns about how they can safely continue to the asylum process.
She added that JHR has helped to evacuate over 1,500 Afghans — about 400 journalists and family members — in partnership with the non-profit group Aman Lara; of those, 930 have made it to Canada, about 127 have been resettled in Canada, and 25 are on their way.
"This situation is particularly challenging for some of the female journalists we have been working to support. Some of them are pregnant, and obviously concerned not to have their babies in such a limbo situation."
According to the immigration department, over 21,000 Afghans have resettled in Canada. The target following the fall of Kabul in August 2021 is 40,000.
SHARE:
JOIN THE CONVERSATION
Conversations are opinions of our readers and are subject to the Code of Conduct. The Star does not endorse these opinions.
You can read more of the news on source