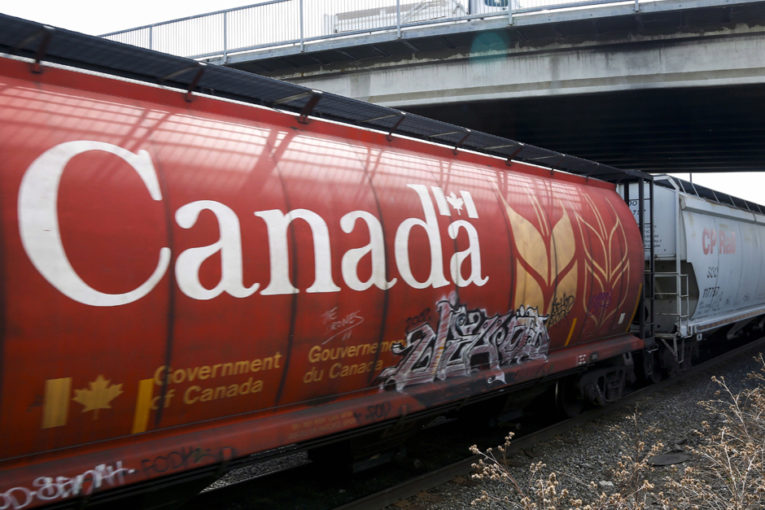 OTTAWA — Business groups are warning that a recent motion introduced by the Minister of Transport could put shippers at a further disadvantage to Canada's rail firms, leaving companies worse off than before Ottawa introduced its sweeping transportation bill last year.
A coalition of business associations said the minister's rejection of two key Senate amendments reinforces the control of Canada's two rail giants, Canadian National Railway Co. and Canadian Pacific Railway Ltd., over so-called "captive" shippers who have suffered from severe backlogs in recent months as carriers fail to keep up with demand.
"The whole system is in complete and utter disrepair, because of railway behaviour and railway choices, and the minister goes and supports the railways over shippers — it's absolutely mind-boggling," said Pierre Gratton, the president and CEO of the Mining Association of Canada.
Gratton is part of a broader coalition of business groups representing chemistry producers, forestry companies and other sectors, which last month called on Ottawa to give the Canadian Transportation Agency more authority to intervene in disputes between shippers and carriers, and also give shippers the right to present cost analyses during final offer arbitration (FOA) hearings.
The group said the alterations to Bill C-49, Ottawa's Transportation Modernization Act, would give shippers much-needed leverage in disputes with carriers, which they say wield outsized influence over firms that depend on a single rail provider to move their products.
Transportation minister Marc Garneau rejected both recommendations in a motion late last week, after the Senate introduced several amendments to the bill. Garneau rejected the Senate amendment to include cost-based analysis in the FOA hearings, writing that FOA "is not intended to be a cost-based remedy but rather a commercially-based process."
FOA is a dispute mechanism used between shippers and carriers. Mining, forestry and other companies who are captive to a single carrier have long struggled to make competitive bids on shipping contracts, the mining association has said, in part because they aren't able to assess shipping costs of CN and CP during the FOA process.
The bill is now set for another vote in the House of Commons following Garneau's motion. Garneau is expected to offer a rationale for the government's stance on Wednesday.
Gratton said his association has been broadly supportive of the sweeping Transportation Modernization Act, which he said goes further than past attempts to "level the playing field" between shippers and carriers, but warns that the rejection of the two amendments threatens to undo any progress made elsewhere in the bill.
"They essentially neutered it — they strengthened the hand of the government, and in doing so weakened the independence of the agency," he said. "We would have rather they had done absolutely nothing."
CN spokesperson Patrick Waldron would not comment about specific amendments, but said "we are for swift passage of the bill."
Anxieties over Bill-49 come as a shortage of railcars continues to plague miners, oil producers, forestry companies, grain farmers and others, costing firms billions in foregone revenues.
Potash and fertilizer giant Nutrien Ltd. last week announced temporary layoffs for around 600* people at its Vanscoy and Allan mines in Saskatchewan, partly as a result of backlogs in shipments.
Richard Downey, the vice-president of Nutrien's investor and corporate relations, said rail backlogs were only one small factor in the layoffs, but said an increase in potash output this year has indeed restricted some shipments. He emphasized that the layoffs were only temporary.
"We're down for a few weeks — that's not quite very uncommon," he said.
In early March, Garneau sent a letter to both CN and CP compelling them to outline plans to reverse the persistent rail backlog. Both companies blamed the colder-than-average winter and high production of grain as a reason for the shortfall.
Oil producers have also felt the pinch amid the railcar shortage, and will continue to face a crunch as Canadian oil production continues to increase, according to Martin King, the director of institutional research at GMP FirstEnergy.
King said in a presentation in Calgary on Tuesday that he expects oil-by-rail shipments to peak at 400,000 barrels per day next year, which is lower than other estimates around 700,000 bpd.
That would place further constraints on oil producers that have already faced steep discounts on their heavy crude as Canada's pipeline system nears capacity, forcing more barrels to move by rail.
Calgary-based Imperial Oil Ltd., a major oilsands producer, said it trimmed production as much as 12,000 bpd over the first quarter of 2018 due to a shortage of takeaway capacity. The company produces roughly 350,000 bpd in total.
"On any given day, we had capacity to produce, but no place to put the oil," Rich Kruger, the chief executive of Imperial Oil, said in a recent conference call with analysts.
Husky Energy Inc. and Cenovus Energy Inc. also involuntarily cut back production over the quarter.
Canadian oil producers have struggled to find sufficient rail cars to move their barrels since TransCanada Corp.'s Keystone pipeline spilled in South Dakota last year and have turned to securing railway cars to move their barrels, a situation which has exacerbated problems for farmers moving their grain off the prairies.
Canadian farmers remain months behind on contracts to sell wheat, barley and other products, due to a backlog in rail shipments that has persisted for months, and continues to scratch away at farmer profit margins.
"It's still significant," said Jeff Nielsen, the president of the Grain Growers of Canada, a coalition of various agricultural associations. "We're going to be carrying grain well into the new crop year."
Even so, Nielsen said Bill C-49 could go a long way in relieving farmers' concerns the next time they face a rail shortage.
In particular, he said the association supports the bill's improved data transparency, expansion of long-haul interswitching, and the introduction of reciprocal penalties. Their support was shared with the Alberta Wheat Commission and other groups on Tuesday.
"We've seen the struggles (of farmers) and we fully believe that the bill itself and the amendments will really make a difference," Nielsen said.
Reciprocal penalties would force carriers to pay a fine if they fall behind on certain orders, a stipulation that previously only applied to shippers who had missed deadlines. Expanded long-haul interswitching will effectively open up more single-service rail lines to competing railway companies, in turn creating more competition for captive shippers. The mechanism was a central request made by many shippers and business associations during public hearings over the bill.
Nielsen said the FOA process is not typically used by grain shippers, so the association said it doesn't have a strong position against that particular amendment.
"Each shippers' needs are different, and grain producers have access to different tools," he said.
With files from Geoffrey Morganand Alicja Siekierska
*An earlier version of this story stated Nutrien Ltd. could temporarily lay off 1,300 people at its two Saskatchewan mines. The total number of jobs directly impacted is in fact closer to 600. 
• Email: [email protected] | Twitter: jesse_snyder
You can read more of the news on source