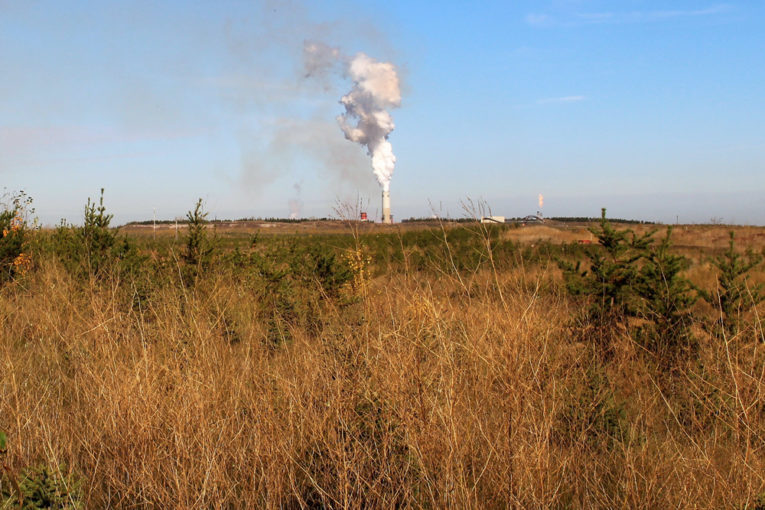 A decision by Norway's trillion-dollar sovereign wealth fund to fully divest of its fossil fuel holdings would mean battered Canadian oil and gas equity shares currently valued at US$2.86 billion could soon be back on the market.
Norges Bank, the country's central bank, on Thursday wrote a letter to the finance ministry urging it to cut its exposure to oil and gas markets to "reduce oil price risk in government wealth." The recommendation would ultimately lead Norway's sovereign wealth fund, Norges Bank Investment Management (NBIM), to shed all investments in oil and gas names.
The central bank said the divestment would have a muted impact on the fund's performance, as oil and gas stocks tend to move in line with broad equity indexes, and potentially introduce unwanted volatility.
"The vulnerability of government wealth to a permanent drop in oil prices can therefore be reduced by not investing the fund in oil and gas stocks."
The NBIM move could impact 61 Canadian oil and gas equities that it is invested in with a combined value of US$2.86 billion, according to data gleaned from NBIM. Some of the fund's largest equity positions include a US$541 million stake in Suncor Energy Inc., a US$358 million stake in TransCanada Corp., a US$313 million stake in Enbridge Inc. and a US$285 million stake in Canadian Natural Resources Ltd.
Other major equity positions in Canadian companies include Encana Corp. (US$104 million); Cenovus Energy Inc. (US$111 million); Imperial Oil Ltd. (US$105 million) and Teck Resources Ltd. (US$100 million). The S&P/TSX Capped Energy Index, Canada's benchmark energy index, has a market cap of $240 billion.
The retreat by the world's largest sovereign wealth fund would come at a time when the Canadian oil and gas industry has witnessed a massive sell-off by international producers from its oilsands sector. ConocoPhillips Co., Royal Dutch Shell PLC, Statoil ASA and others have sold stakes in the heavy oil space totalling nearly $30 billion.
Norway's finance ministry would still have to sign off on the bank's recommendation, and a final parliamentary decision would come in June 2018 at the earliest, according to a report by Reuters.
Still, such a divestment would mark a substantial withdrawal. The fund's global oil and gas positions currently account for just over six per cent of its portfolio, or US$37 billion.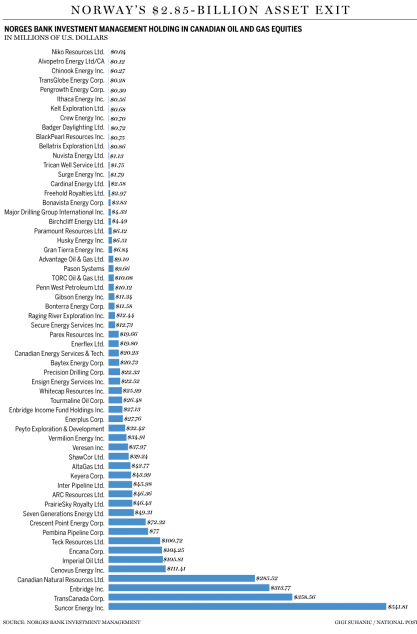 The NBIM currently oversees a total US$938 billion of assets, about US$12.8 billion of which is parked in Canada. Of that, the fund owns US$2.8 billion in equity and US$630 million in fixed income investments in Canadian oil and gas companies.
Energy stocks internationally have been in a slump over the past three years as oil prices have remained around the US$40 and US$50 per barrel. Investors chasing more predictable returns have as a result piled their capital into less volatile sectors. And looming over volatile prices, existential fears that oil demand could peak within the next decade has drawn some circumspection from potential investors.
Even so, the bank's decision to sell comes at a time when asset prices in oil and gas are around their lowest levels in recent memory.
Oil prices have been on the rise in recent months, with futures contracts for West Texas Intermediate currently trading around US$55 per barrel, far below the triple digit levels enjoyed in the early part of the decade. Analysts warn recent gains could be limited amid ongoing oversupply concerns in the market.
Norges Bank noted that its "advice is based exclusively on financial arguments. It does not reflect any particular view of future movements in oil prices or the profitability or sustainability of the oil and gas sector."

You can read more of the news on source