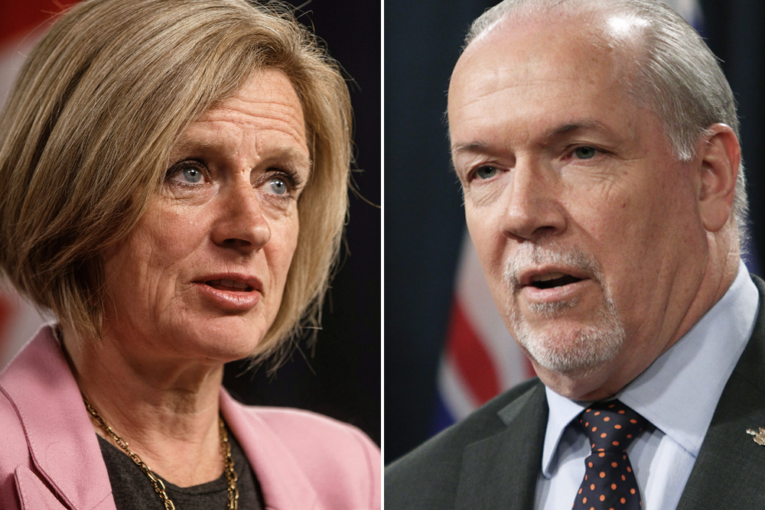 With only 10 days until the May 31 deadline for a pipeline deal, the Alberta government says reprisals against B.C. could be triggered immediately if talks break down.
"If at any point between now and May 31 we feel it's not the outcome we're working to, we would act," Cheryl Oates, Premier Rachel Notley's communications chief, said Monday afternoon.
Triggering Bill 12 — the new legislation allowing Alberta to limit fuel exports — "is something we would have to consider," she added.
Earlier, Notley added to the air of crisis by saying she will not attend the Western Premiers Conference in Yellowknife this week because the pipeline deal requires her full attention.
"With 10 days remaining before Kinder Morgan's deadline, my only priority is to make sure the pipeline gets built," the premier said on Twitter.
"It would be surreal and exceptionally tone deaf for anyone to think we could politely discuss pharmacare and cannabis when one of the players is hard at work trying to choke the economic lifeblood of the province and the country."
She was obviously referring to B.C. Premier John Horgan, who had said he expected to get along fine with Notley at the conference because they've been friends for 20 years and agree on many things.
"They are not close friends and never were," Oates snapped. "They were just acquaintances who happened to work for the same organization (the B.C. NDP.)"
Horgan has regularly infuriated the Albertans by continuing to insist he hasn't done anything provocative and publicly wondering what all the fuss is about. He must know that talking about his supposed friendship with Notley does her no good at all.
For her part, Notley is surely aware that widespread anger in Alberta will turn to boiling rage if the talks fall apart and the pipeline seems on the brink of failure. She would have broad support for trade retaliation, including a squeeze in supply of oil, gasoline and diesel to the supply challenged Lower Mainland.
"The only thing that is acceptable for Alberta, and Albertans, is to have agreement by May 31 that ensures the pipeline resumes construction this summer," Oates said.
B.C., of course, isn't even party to the talks. Those are going on with Alberta, the federal government and Kinder Morgan, owners of the Trans Mountain project. All three blame Horgan and the B.C. government for intentionally stalling the federally approved pipeline with court challenges and regulations.
At this stage, Oates says, Notley talks to Federal Finance Minister Bill Morneau nearly every day. Alberta and Ottawa officials meet regularly. But there's still no clear public picture of what a rescue deal would look like.
Morneau appeared to make the deadline more flexible last week, when he talked about bringing in new players to "indemnify" Kinder Morgan.
Major public ownership by the federal government now seems less likely. Polls show most Canadians are against that solution, even though a majority wants the pipeline built.
But Notley told me for publication April 10 that Alberta would buy the whole multibillion-dollar project, if that's what's needed to get it built.
Asked Monday if that pledge still stands, Oates said "yes."
The next 10 days are going to be very tense. There is clearly no deal yet. At any moment, B.C. could be under boycott.
The best hope, it seems to me, is still for a last-minute compromise that would allow Horgan to back down. But there is still no hint of storybook salvation.
Twitter: @DonBraid
Facebook: Don Braid Politics
You can read more of the news on source