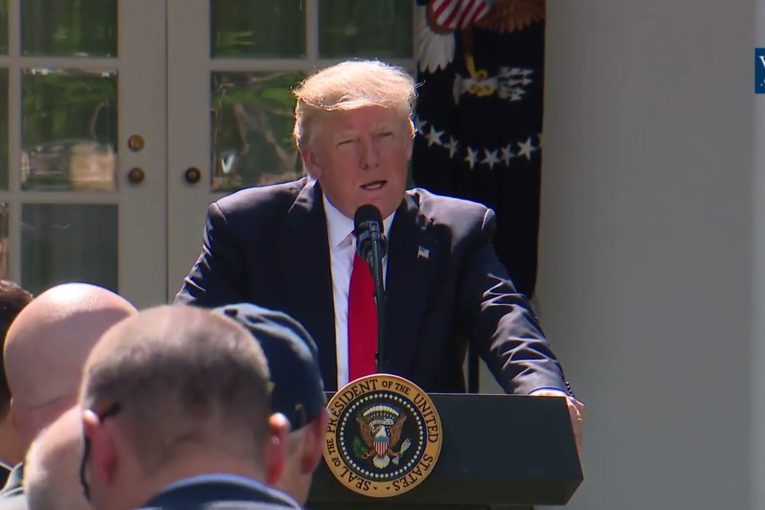 After kicking the can down the road multiple times before making a decision, today U.S. President Donald Trump followed through on his campaign promise to remove the United States from the Paris climate agreement.
Trump's indifference—or outright skepticism—about climate change is unequivocally negative for the environment. But that would remain true whether or not the U.S. remained in the Paris Agreement.
According to analysis by the Rhodium Group, America is actually on track achieve Obama's 2020 climate commitment. But with Trump's repeal of Obama's efforts, the picture worsens beyond that milestone. The U.S. (barring a significant ramp-up of municipal, state and business efforts) will likely end up well short of its 2025 Paris Agreement target.
Some have even made the case that, under this administration, the U.S. could actually do more damage by staying on Team Paris than by withdrawing from the agreement.
"If the U.S. wants to walk away from climate action, then Canada will be more than happy to eat its cleantech lunch."
Regardless, it has become abundantly clear over the past several days that one fear—that other countries would join Trump in leaving the agreement or reducing their efforts—is unfounded. The European Union, China and India—as well as Canada—have all clearly affirmed their commitment.
So what, more specifically, might this mean for Canada? After all, the U.S. is our largest trading partner and next door neighbour.
If, like the federal opposition, you're steadfastly opposed to putting a price on carbon pollution, you may view Trump's Paris exit as one more excuse to pull back on Canadian efforts to address climate change.
But it doesn't need to be: good policy design can address the competitiveness concerns critics invoke to argue in favour of slowing down on carbon pricing, or for following Trump's lead to do less on climate change in general.
Concerns about reduced competitiveness can be legitimate, but they tend to be grossly exaggerated. After all, 95 per cent of Canada's economy has little to fear from pricing pollution—and potentially much to gain. Governments can also design policy to help the remaining five per cent (emissions-intensive companies that compete internationally and are therefore trade-exposed). For example, offering targeted rebates—as Ottawa proposes to do—can help guard against companies relocating, while still encouraging improved environmental performance. (The Ecofiscal Commission has a great explainer on "output based allocations" and carbon pricing, for those wishing to get into the weeds.)
Even more importantly, global efforts to address climate change are being bolstered by a clean energy transition that is irreversibly underway—and creating tremendous opportunity. Since 2012, the world has built more renewable power capacity than fossil fuel power each year, thanks to over $2 trillion in investment in clean electricity. This has also led to a growing global workforce that now employs nearly 10 million people, according to the International Renewable Energy Agency.
Canada's clean energy technology and services sector—which spans green buildings and energy efficiency, clean transportation, renewable power, energy storage and grid infrastructure—is poised to capitalize on the global clean energy transition. The opportunity for Canadian firms only increases as the U.S. retrenches, reducing federal support for American companies looking to export their clean energy solutions abroad. Or as Prime Minister Justin Trudeau put it, "We know that this is the way the world is going and if the United States wants to take a step back from it, quite frankly, I think we should look at that as an extraordinary opportunity for Canada and for Canadians."
The 2016 Global Cleantech 100 List, compiled by the San-Francisco-based Cleantech Group, identifies the companies best-positioned to solve tomorrow's clean technology challenges, spotlighting those with potential to make the most significant market impact in the next five to 10 years. Canada delivered an impressive 11 companies to the list, and five of those were in the clean energy field.
The opportunity is perhaps best summed up by Canadian cleantech investor Tom Rand, who recently said, "If the U.S. wants to walk away from climate action, then Canada will be more than happy to eat its cleantech lunch."
While many still see only dark clouds from Trump's withdrawal from the Paris Agreement, the silver linings are apparent. The Paris Agreement may grow stronger without Trump at the table, and Trump is walking away from the economic opportunity of delivering clean energy solutions to the world. In the end, both outcomes should prove positive for Canada.
You can read more of the news on source