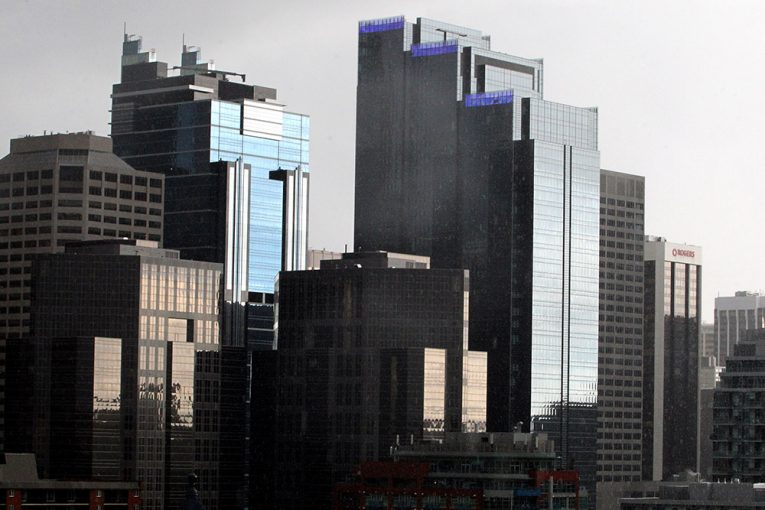 Coun. Joe Magliocca inquired during a meeting this week if Calgary Economic Development is interested in attracting the United Nations headquarters away from New York City.
"I've heard through rumours that the UN wants to move out of New York," Magliocca told CED chief executive officer Mary Moran during the group's annual meeting.
"Is there any ambition on going after that?"
If the local development authority was prepared to fight a bear to bring Amazon to town — the slogan of its 2017 campaign to attract the online retail behemoth — what would it battle to draw the world's most powerful intergovernmental organization here?
Hey, we've got floors upon floors of available downtown office space and The Economist has designated Calgary the most livable city in North America.
So UN Secretary-General Antonio Guterres, let's make a deal.
"Get on it, Mary, we've got lots of office space to fill," deadpanned Mayor Naheed Nenshi in response.
To be clear, CED said it made some calls and, no, the UN is not looking to relocate north, or apparently anywhere else.
More seriously, if ever there were a time to start thinking outside the box on how to fill up Calgary's downtown — and, more broadly, fix Alberta's economy — this is the moment.
The COVID-19 pandemic has sent the Canadian economy into a tailspin. Alberta is among the hardest-hit provinces as low oil prices and the coronavirus have caused huge economic disruptions.
As well, thousands of office employees have successfully transitioned to working from home, a trend that will likely accelerate in the future.
"We sit in our city at an inflection point in our economic history," CED chairman Joe Lougheed said at the meeting. "The collective decisions we make now will define how we rebound from COVID."
The short-term headwinds facing the economy are strong.
The official unemployment rate hit 13.4 per cent in May as the pandemic shut down or affected many businesses.
Earlier this week, WestJet Airlines announced 3,333 permanent layoffs, including 1,472 in Calgary.
A forecast from Canada Mortgage and Housing Corp. this week expects housing starts this year in Calgary to fall between 43 and 64 per cent from 2019 levels.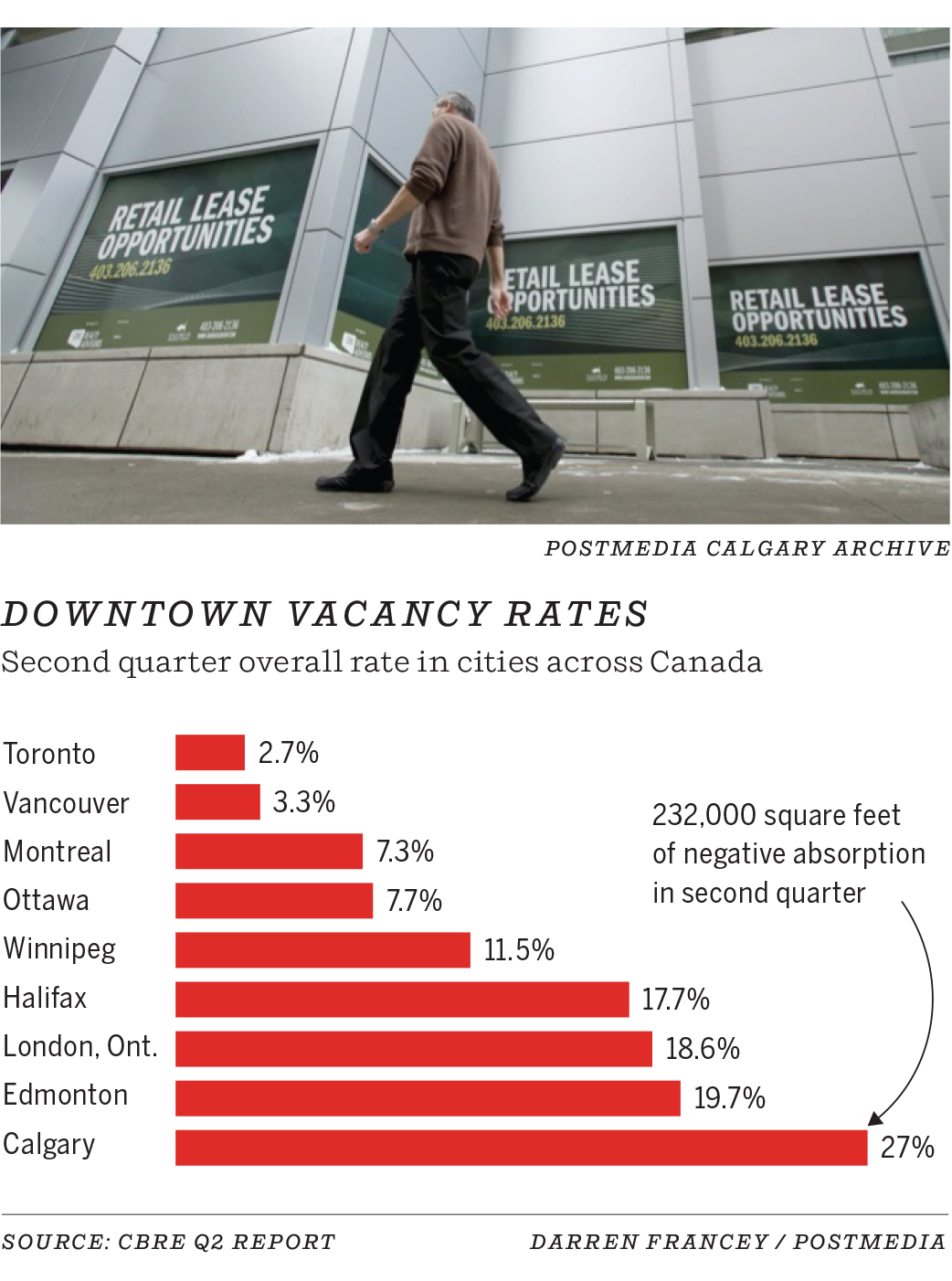 And a new report from commercial real estate firm CBRE Ltd. shows the continuing challenges for the city's core.
The downtown office vacancy rate, which soared after the collapse of oil prices five years ago and then slowly started to decline last year, climbed to 27 per cent during the April-June period, up from 26.5 per cent in the first three months of the year.
"We noticed it was basically COVID-19 related, a bit of a stagnation in both demand and supply," said Greg Kwong, CBRE regional managing director.
"What it's setting the table for, more so because of the oil prices, is potentially higher vacancies coming up in the next two quarters."
Any increase in empty space will speed up the treadmill for local officials trying to find ways to fill all of the nearly 43 million square feet of rentable downtown office space in the city.
That puts the focus on attracting new jobs, companies and investments to come to Calgary.
Nenshi said Friday many business leaders are still trying to determine what the future holds in a post-COVID world. As for the impact of the work-from-home trend on downtown office space, the mayor said that also remains uncertain.
"While the downtown is very quiet … it's not clear yet whether that is because people aren't working, or just because people are working from home and not yet back in their downtown businesses," the mayor said.
"We just don't know what the extent of the problem is."
Entering the year, Calgary Economic Development set a target to attract, retain and help support the expansion of 100 companies, which would lead to the creation or retention of 11,000 direct and indirect jobs.
Now, the development agency has chopped those numbers in half.
"We know there's still lots of interest in Canada and Calgary by companies, but decisions are being deferred," Moran said in an interview. "We are now four months into this (pandemic) and we know that it will slow down our process and ability to go and meet people.
"It doesn't mean that the work stops. We are still building our pipelines … around lead generation and opportunities for Calgary."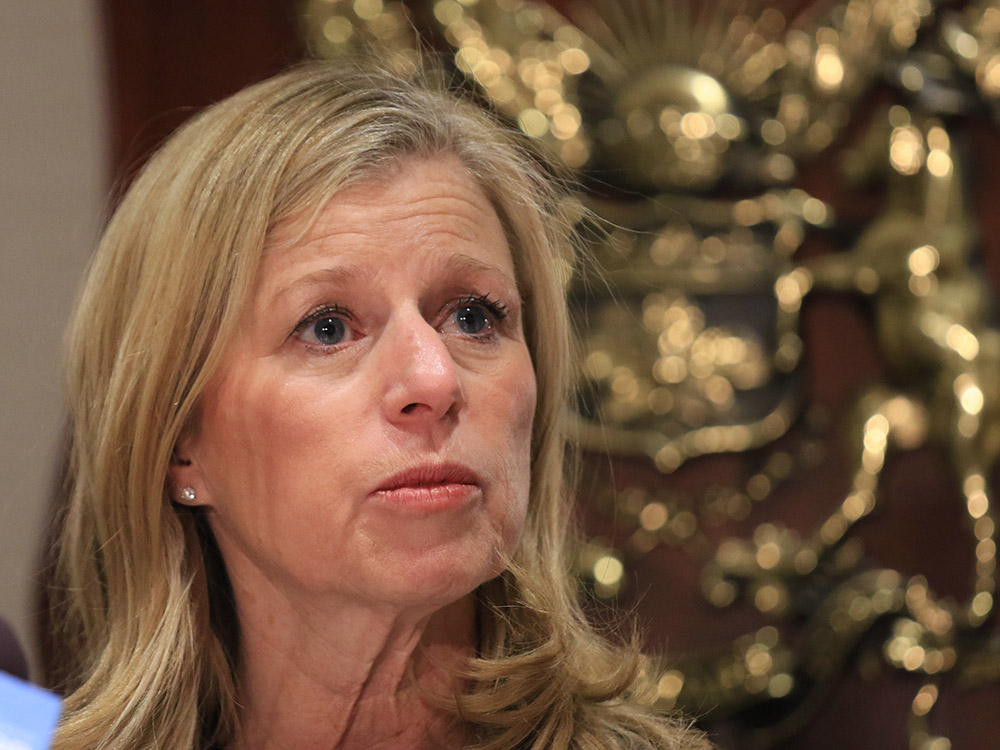 In the past, waiting for higher oil prices was the answer to the city's economic woes, but there are no such assurances for the future.
Instead, a comprehensive, co-ordinated strategy from all levels of government is needed to target growth in several sectors, including technology, transportation and logistics, agribusiness, financial services, as well as energy.
These are important issues to watch for when the province unveils its economic recovery strategy on Monday in Calgary. Premier Jason Kenney said Thursday it will contain industry-specific plans and a program to stimulate investment in the information technology and digital innovation sector.
As Moran noted, technology-related jobs increased by 27 per cent in Calgary last year.
Nenshi said he's pleased to hear the province is building an economic recovery strategy with several sector-specific plans and points out some areas, such as travel, tourism, film and creative industries, are still largely closed down because of the coronavirus.
The province also needs to get more directly engaged in helping solve the economic problems of Calgary and the downtown, the mayor added.
"It will take very big, very bold choices. Chipping away at this problem is not going to solve the problem," Nenshi said.
"Business as usual is probably not going to bring us back to where we need to be."
Chris Varcoe is a Calgary Herald columnist.
You can read more of the news on source