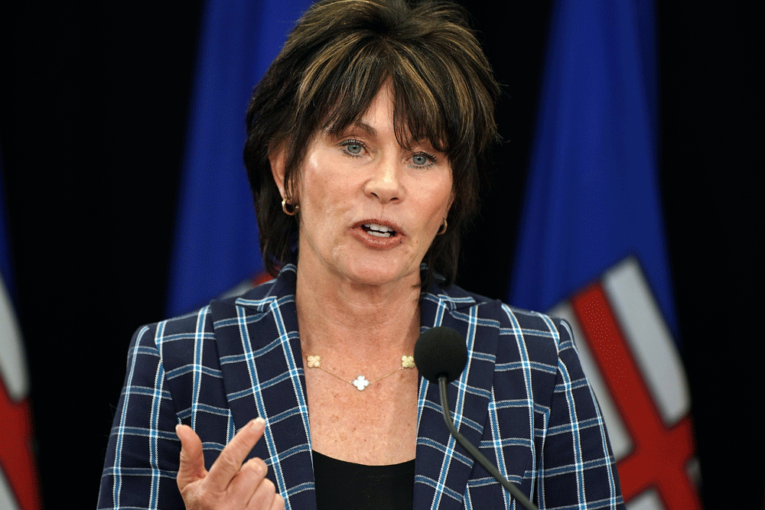 On the heels of punishing new bans on Russian oil and gas imports announced Tuesday by the U.S. and U.K., Alberta's energy minister said Canadian oil should be "part of the solution" as volatile markets seek alternatives.
Benchmark West Texas Intermediate (WTI) prices rose to nearly US$130 a barrel Tuesday, their highest level since 2008, following news that the Biden administration's intention to ban fossil-fuel imports from Russia — a move which will be partly matched by the U.K. government.
Russian oil made up about three per cent of all the crude shipments that arrived in the U.S. last year. With the addition of other petroleum products, including unfinished fuel oils that can be used to produce gasoline and diesel, Russia accounted for about eight per cent of U.S. oil imports in 2021, according to figures from Bloomberg.
Alberta Energy Minister Sonya Savage said Tuesday that it is "unconscionable" to be buying Russian barrels and there is a role for Canada to play in easing the supply crisis:
"Alberta is part of the solution, especially for North American energy security," Savage said in an interview with the Financial Post.
"Venezuela is not the solution to replacing Russian barrels, Saudi Arabia is not the solution — if Alberta barrels are right next door."
Savage said in the near term, there is additional pipeline capacity now available from Enbridge's Line 3 expansion and spare private sector rail capacity amounting to around 200,000 barrels a day.
The energy minister also echoed calls that have been voiced in both Canada and the U.S. in recent days for a resurrection of the Keystone XL (KXL) oil pipeline project, which would have carried Canadian oil to U.S. refineries.
"In the long term, we're going to need to look at more energy infrastructure," said Savage, who was in Houston, Texas, Tuesday for the CERAWeek energy conference.
"And I think it's just one of the largest blunders and tragedies of energy policy to have seen KXL get vetoed."
TC Energy said Tuesday that its KXL project, which had a planned capacity of 830,000 barrels per day, will not be revived.
"The Keystone XL Pipeline Project was terminated and will not proceed," a spokesperson said in an email.
The Alberta government had previously pledged to invest in the project and provide billions in loan guarantees for its construction. As of last July, when the province joined TC Energy in a lawsuit against the Biden administration over the project's cancellation, the stymied pipeline had cost the Alberta government $1.3 billion.
Savage dismissed the suggestion that Alberta is being opportunistic in pleading the case for energy infrastructure projects amid the war in Ukraine.
"It's not opportunistic to talk about it. It's realistic," Savage said. "And it's just acknowledging the fact that you need to weed out those Russian barrels and it has to be replaced with something."
Canada remains a significant supplier of oil to the U.S., with the U.S. importing nearly 4.3 million barrels per day last year. And while Canada could increase exports to the U.S., experts say ramping up production and supply would take time.
Michael Tran, managing director of global energy strategy at RBC Capital Markets, said if KXL had proceeded, the ripple effects being felt in North American from the current shocks to the oil market would be much smaller.
"We squandered the opportunity to make major strides to become closer to North American energy independence or North American energy sufficiency," Tran said.
Tran also said Canada isn't immediately poised to alleviate the supply concerns facing markets worldwide, particularly following a decade where policy makers took energy supply for granted while prices were cheap and the focus shifted to the transition away from fossil fuels.
"There's just not enough of a global spare capacity surge that can fill that gap now and this is why I think we're setting ourselves up for a summer of disarray as it pertains to global oil markets."
With files from Reuters and Bloomberg News
Twitter: @mpotkins
You can read more of the news on source