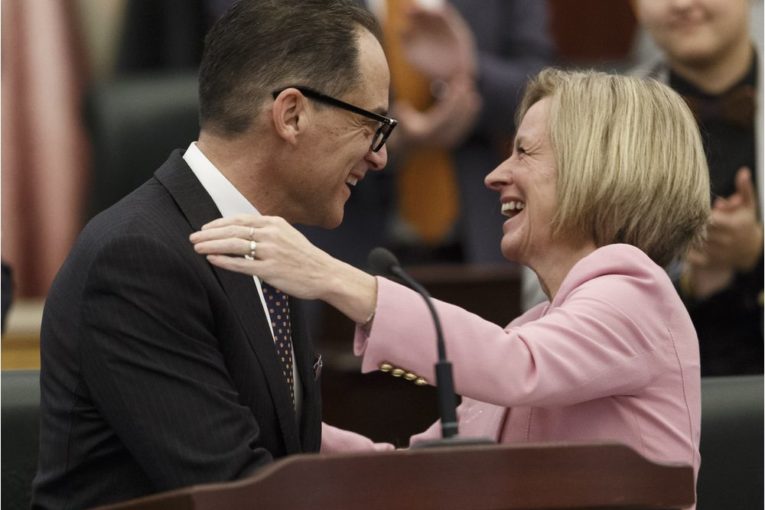 It may still be more than a year away, but Rachel Notley has already lost the next election.
Last week's provincial budget, with its projected $96-billion debt by 2023, killed whatever credibility the premier has built up — especially within the business community.
Many Albertans have given her credit for how she has challenged the B.C. government of Premier John Horgan over the Trans Mountain pipeline expansion.
It has been a long time since Albertans have witnessed such a strong and credible voice on the national stage — challenging Horgan's flawed logic and pushing Prime Minister Justin Trudeau to ensure the project is completed.
This no-holds-barred approach to building pipelines — not exactly from where Notley started — won over business leaders, who said things like, "I didn't vote for her, and I don't support the NDP, but I have to give her credit for the way she has been speaking out on the pipeline issue."
But that only goes so far.
The private sector — which knows a thing or two about budgets — is widely horrified by the budget presented to Albertans last Thursday.
For starters, to count Trans Mountain in future revenue numbers is like an investment banker counting on a bonus that may or may not materialize.
The government is also counting on a rise in resource revenues. While it's using conservative oil price forecasts, it doesn't appear to have factored in the impact of a widening pricing differential between West Texas Intermediate and Western Canada Select.
Until transportation constraints can be solved, that difference will get bigger, not smaller — which translates into a revenue hit to the government.
When Trans Mountain is built — and last Friday's Federal Court of Appeal decision to dismiss the B.C. government's move to challenge the National Energy Board ruling allowing Kinder Morgan Canada to bypass local bylaws during construction was positive — the impact on Canada's oilpatch will not be felt in the short term.
But count on Burnaby to live in its own, unrealistic world.
Burnaby Mayor Derek Corrigan, showing a limited understanding of Constitutional law, directed his staff Tuesday to file an appeal to the Supreme Court of Canada.
Good luck with that, Mr. Corrigan.
In the interim, it casts more uncertainty for companies looking to invest in Alberta, which is decidedly unhelpful from an economic standpoint.
Alberta's growth for the past fiscal year surprised to the upside — clocking in at 4.5 per cent — but when you start from a very low benchmark, those growth numbers are easier to achieve.
Things don't look as positive for the government for the current fiscal year.
The combination of the aforementioned pipeline constraints, widening differentials and muted capital expenditures by oil and gas players doesn't underpin a repeat of last year's growth numbers.
The troubling part, according to CIBC Capital Markets, is that the government is clearly counting on rising resource revenues to drive revenue growth between 2021-2024 and balance the budget.
What's missing is it doesn't appear the government is appropriately 'risking' its projections, as the private sector would be doing.
And the private sector knows a thing or two about budgets and debt.
It knows what happens when a company is over-levered. Borrowing costs go up, which constrains the ability to grow as more money is used to service the debt rather than finance growth-related expenditures.
According to CIBC, Alberta's debt servicing costs will rise to almost $3 billion by fiscal year 2020-2021. That's not pocket change.
And there is no easy fix to Alberta's finances.
A sales tax would allow the province to become independent of the sine wave of fluctuating resource revenues. But that conversation is still considered political suicide.
But so, too, was this budget.
It was an opportunity to make the carbon tax revenue neutral, to look for ways to meaningfully pare back government spending and outline a credible path to a balanced budget.
Instead, it reinforced the reality the private sector has taken the brunt of the economic downturn, with public sector largely unscathed.
It's tough to justify the borrow and spend mandate when the economy is recovering — albeit more slowly — and interest rates are on the way up.
The government's argument is that on a net debt basis, Alberta's balance sheet is still strong relative to other provinces, thanks to the Heritage Trust Fund.
But that doesn't give any government a free pass from responsible budgeting.
There were hopes the Notley government would take a page out of former Manitoba premier Gary Doer's 10-year pragmatic rein in that province.
Support for pipelines and the chess game Notley has played to get the requisite federal approvals to develop access to new markets might fall into pragmatic territory, but it's fair to say it ends there.
Even overtures by non-partisan members of the business community — yes, they do exist — to offer advice from the economic and financial perspectives were rebuffed on the assumption their advice would never fit with the ideology of the NDP.
In the end, with this budget, the government couldn't part with its ideology.
And because of that, it has effectively signed its own death warrant, destined to become a one-term blip in the long line of conservative governments that have ruled Alberta.
Deborah Yedlin is a Calgary Herald columnist
You can read more of the news on source