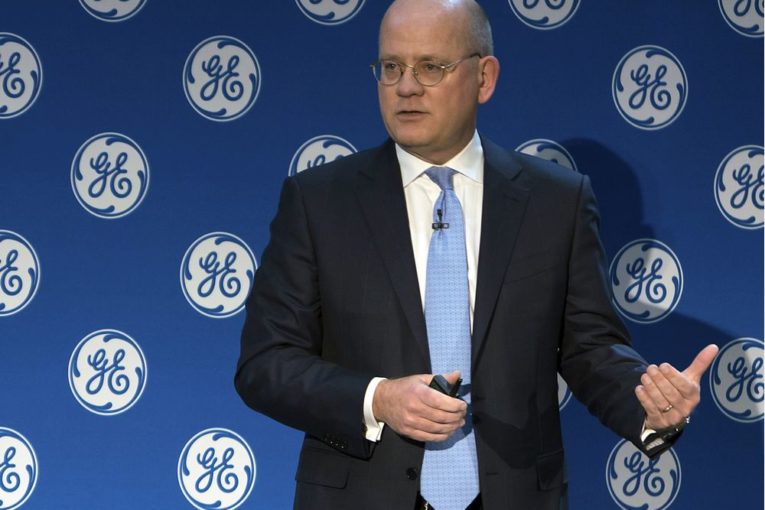 Many questions surround the future direction of GE under its new chief executive, John Flannery, including where GE Canada fits into the strategy.
Since taking over from Jeff Immelt last August, Flannery, a 30-year veteran of the industrial conglomerate, has announced profound changes at the company, including slashing its dividend, downsizing its power business and putting its locomotive and lighting divisions on the block.
The fact GE's share price hit a six-year low Wednesday — closing at US$17.45 — suggests the market is not yet buying Flannery's strategy.
He has telegraphed that everything is under the microscope, including the previously announced acquisition of oilfield services firm Baker Hughes, in which GE holds a 63 per cent stake.
Many have wondered what all of the changes might mean for GE's Customer Innovation Centre, which opened in June 2012 on the top floor of Eighth Avenue Place.
It was a first for GE in North America, a statement to the province, the country — even the world — of the importance of energy and Canada's growing role in the global energy space. It was also the place where energy-related challenges — such as efficiency, water usage, the overall environmental footprint or optimizing transportation — would be tackled.
GE Canada president Elyse Allan quickly put to rest any doubts with regard to the innovation centre's future.
The centre is still in Calgary and remains important to GE. What's changed is its location.
"We made the move to invest in people, rather than in rooftops," Allan said in an interview.
The deal with Baker Hughes meant there was space to be used and it made sense to put everyone under one roof.
That means GE's innovation centre staff are now located alongside Baker Hughes in Gulf Canada Square, as is Zone Startups Calgary, a joint venture between GE Canada and Ryerson Futures, which has 14 companies in the incubator and is working with five other startups.
Another question that has arisen is what the changes could mean for GE's commitment to the Canadian Oil Sands Innovation Alliance.
GE has supported COSIA, pledging $20 million in November 2013 to support projects aimed at decreasing emissions and water consumption in the oilsands. In July 2014, it launched the $1-million global Ecomagination challenge aimed at accelerating the development of emissions-reducing technology in the oilsands.
Immelt wanted GE to play a role in cleaning up the oilsands and making it competitive on an emissions basis with other sources of crude oil around the globe.
Solving the emissions variable as it pertains to the oilsands remains very important — but so, too, is the ongoing challenge to decrease costs to make Canadian oil production competitive from both the emissions and cost perspectives.
This is where the application of GE's digital strategy in the oilpatch remains critical.
One could argue GE — through Immelt — was at the forefront of harnessing the potential of digital processes to old world industrial companies long before other companies, when it established GE Digital in 2011.
The cornerstone offering from the digital division has been Predix, a software platform aimed at optimization in a wide array of industries — from energy to health care and aviation.
Rumours had Predix scaling back and declining new clients. That's true in the sense GE has decided to "core up" its focus and not try to be all things to all industries and sectors.
"We just were focusing on way too many markets . . . we went after everything. What we said was we have to focus on integrating the digital capabilities into our own product lines and then focus on our customers," Allan said.
What's changing is that the company's digital offering has expanded outside Predix — thanks in no small part to the acquisition of two Vancouver-based companies — Bit Stew and Wurldtech.
Bit Stew analyzes data gathered from sensors and Wurldtech develops software that protects big industrial sites such as refineries and power plants from cyberattacks.
"Canada is delivering a lot to GE for the world . . . the investments we are making are providing better resources to the company that can be used on a global basis," said Allan.
As digitization has continued to grow, and companies see the potential in terms of efficiency and cost effectiveness, Allan says more sectors are paying attention, including the oilpatch.
When GE Digital got going, Allan said it was difficult for the energy sector to understand the potential of digital application — whereas today companies are actively looking to harness the capabilities digitization presents.
She said it's important companies consider the possibilities and not lump IT (information technology) and digital transformation under one umbrella.
"Many customers are trying to figure out how digitization works within their companies and what capabilities they need to lead a digital transformation in their company. It's a different way of working . . . you actually change the way you operate," she said.
The Baker Hughes deal gives GE a unique window into the potential of digitization in the oilpatch; one area of focus at the CIC as a result of the partnership is the digitization of the frac field, which could yield significant long-term benefits to the energy sector in terms of efficiency, profitability and capital allocation.
None of this can happen overnight — neither the big wins in the oilpatch in terms of realizing the potential from digitization nor a reinvention of GE, as is underway.
The trick is not to give in to short-term thinking. In a world that is moving ever faster, it's tough to do — but even more important.
Deborah Yedlin is a Calgary Herald columnist
You can read more of the news on source