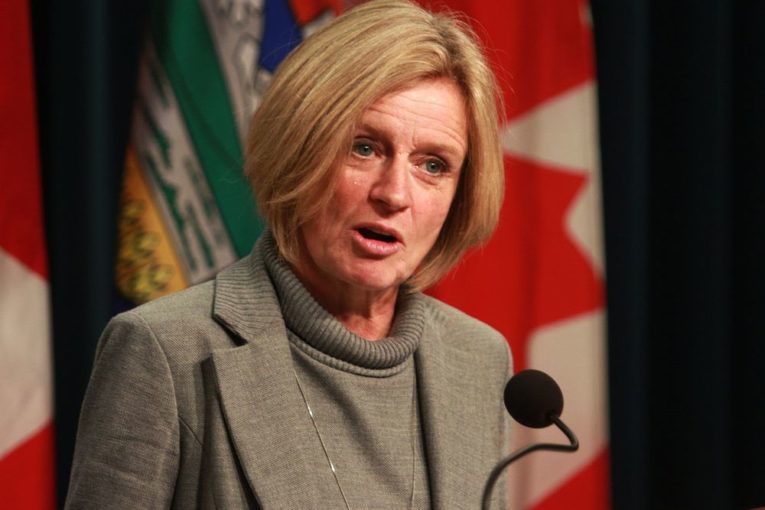 Alberta's NDP government will push Ottawa to increase capacity for oil and gas on rail as one means of tackling the differential between the price Canada receives for its oil and the product's trading value on the global market, Premier Rachel Notley said Monday.
Calling it a "short to medium term" solution, Notley told reporters at McDougall Centre Calgary that the federal government needs to look at tools at its disposal to close the widening differential "like, for example, increasing the efficiency and availability of rail capacity to move our products."
"We need more cars. We need to order more locomotives in order to get more cars onto rail. That's the bottom line," said Notley, following a meeting with energy industry leaders.
"There are some other ideas out there but I think rail is one of the most immediate. What we know is that storage is becoming less and less available and so we're looking at other ideas as well."
The price difference between West Texas Intermediate (WTI) and Western Canadian Select (WCS) heavy oil sat close to $45 a barrel on Friday, with WTI trading at close to $70 a barrel.
Notley said that differential isn't sustainable.
"If it continues, it is going to have a significant impact, frankly, on Ottawa's bottom line," she said. "We are calling on them to do that and we will be engaging with them in terms of the different options that they have at their disposal to do that."
Notley said Environment Minister Shannon Phillips will be meeting with federal officials in Ottawa later this week to address the province's concerns. Phillips will also push for changes to federal Bill C-69, Ottawa's proposed legislation overhauling Canada's energy regulatory process.
Dubbed the Impact Assessment Act, the bill would change the rules for project approvals and replace the National Energy Board with a new Canadian energy regulator. It passed in the House of Commons in June and is currently before the Senate.
The premier has argued the bill hurts Alberta and oversteps provincial jurisdiction.
"Bill C-69 proposes an unfair, unpredictable and uncertain regulatory regime that will harm investor confidence," Notley said. "Both issues highlight the urgent need to build new pipelines so that Alberta can get its oil to markets sufficiently, safely and at a fair price…
"In the coming weeks, Alberta will continue pressing for pipelines across the country and we will be stepping up our efforts to get more value out of our products."
Twitter.com/SammyHudes
You can read more of the news on source