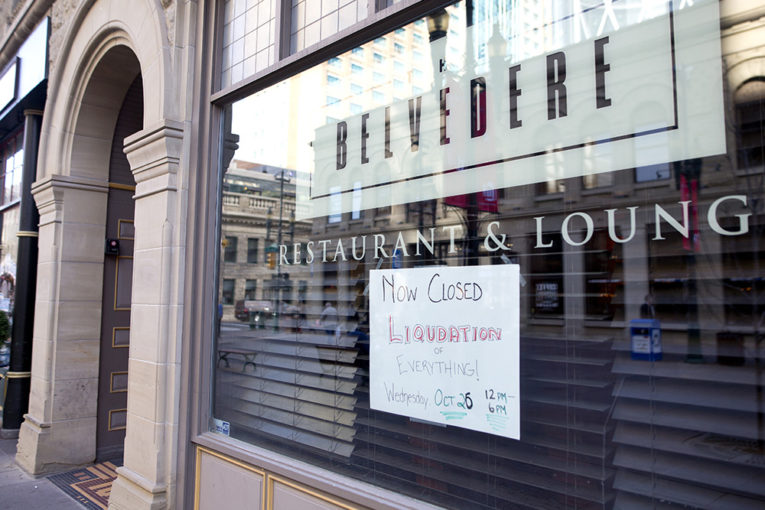 Calgary is the fourth-most livable city in the world, but it still has a big-league problem on its hands.
Despite oil prices rallying this year, a new civic report finds total employment in the Calgary region actually dropped by 4,200 between June and July, and fell 9,200 from the same period in 2017.
This comes as the Economist Intelligence Unit ranks Calgary as the fourth-most livable city on the planet, trailing only Vienna, Austria, Melbourne, Australia, and Osaka, Japan.
Calgary undeniably has a great quality of life to offer. But the ability of residents to find a job is also crucial.
For the thousands of Calgarians searching for work, the unemployment rate in the city is still too high, sitting at 7.9 per cent last month. That lags behind Edmonton at 6.5 per cent.
Employment in Calgary's service-producing sector was hit hard in the past year, with the accommodation and food services industry witnessing the steepest decline, as 8,800 jobs disappeared.
That more than offset employment gains from the mining, oil and gas sector.
Why is the job market so slow to rebound, particularly with crude oil trading around US$67 a barrel, compared with $47 a year ago?
Much of it is tied to weak oilpatch investment levels. Others sectors, such as downtown real estate, are still facing difficulties.
While it's not the only factor at play, the rapidly rising minimum wage is to blame for some of the pain, say restaurant and bar operators.
"It's just too much, too quickly, at exactly the wrong time," said Mark von Schellwitz, a vice-president at Restaurants Canada.
"What we're seeing is that young people are, in essence, being frozen out of those jobs; we just can't afford to hire them."
In Calgary, the youth unemployment rate has jumped to 15.3 per cent from 12.9 per cent in the past year.
How much of this can be laid at the doorstep of recent minimum-wage hikes?
Economists say it's difficult to gauge, but it's obviously one of several factors at play.
Regardless, the minimum wage will be going up again on Oct. 1 as the Notley government pushes to keep its campaign promise of reaching the $15-an-hour rate this year.
It will come with a price.
According to a survey of Restaurants Canada members conducted in April, 97 per cent said they will likely boost prices to customers when the province increases the minimum wage.
Another 83 per cent plan to cut staff hours.
P.J. L'Heureux, president of Craft Beer Market in Calgary, said the string of wage increases since 2015 have had a "drastic" effect on his businesses, which employ 600 people across the province in the food services and beverage industry.
His 11 Alberta outlets have introduced more technology to improve efficiency, although labour still makes up 30 per cent of the company's expenses.
Previous minimum-wage hikes since 2015 led to higher prices for customers and fewer hours for staff. He expects the next jump will require a 2.5 per cent to three per cent bump in prices and a similar cut to labour costs.
"What we've had to do is reduce jobs. Ultimately, prices can only go up so high," he said.
"We will have to do a price increase, and we're continually working on labour, both from eliminating positions to cutting hours to . . . make it work."
Aside from restaurants and bars, the Canadian Federation of Independent Business says small business optimism remains muted in Alberta and the effect of the next minimum wage increase will be felt.
A survey of its members in February found 55 per cent said they have already reduced or eliminated plans to hire new or additional workers as Alberta reaches its $15-an-hour wage target.
"Hit the pause button until we can assess if it's helping the people they intend to help," said the CFIB's Amber Ruddy.
The Notley government disputes the notion a higher minimum wage has cost jobs. It contends the policy is part of a push to ensure Albertans make a living wage while strengthening the overall economy.
"We know who is benefiting from the minimum-wage increase: it's women, it's single parents, it's families," Labour Minister Christina Gray said in a statement.
While Alberta's economy is growing, the reality is not everyone is seeing the benefits.
University of Calgary economist Trevor Tombe points out young men under 25 with lower levels of education have been hit hardest by the downturn and finding work.
He noted the unemployment gap between Edmonton and Calgary is widening again this year, although that wouldn't be caused by a provincewide policy such as minimum wage.
Related
Rising minimum wage blamed as 25,700 jobs vanish in Calgary's service sector
National unemployment rate falls to four-decade low; Alberta's numbers are less rosy
Varcoe: Get ready for the next round of the $15 minimum wage battle
"We're seeing the same magnitude drop (for youth employment) in Saskatchewan, which did not increase their minimum wage," Tombe added. "It's very hard to disentangle the effects of economic conditions from policy changes."
However, it's worth remembering that a year ago, a report by the C.D. Howe Institute warned that Alberta's policy to increase the minimum wage to $15 an hour could lead to a loss of about 25,000 jobs.
University of Alberta economist Joseph Marchand, who wrote the report, said Tuesday it's difficult to know how much of Calgary's job losses could be attributed to this single government policy.
"But it points to employment still being the main problem of this province, whereas this policy is all about wages," he wrote.
The best time to have raised the minimum wage to prevent job losses would have been during an energy boom, not the bust seen in recent years, said Marchand. 
In other words, the timing was all wrong.
And as Calgary's employment picture continues to flounder, the next increase is coming in just 47 days.
Chris Varcoe is a Calgary Herald columnist.
You can read more of the news on source