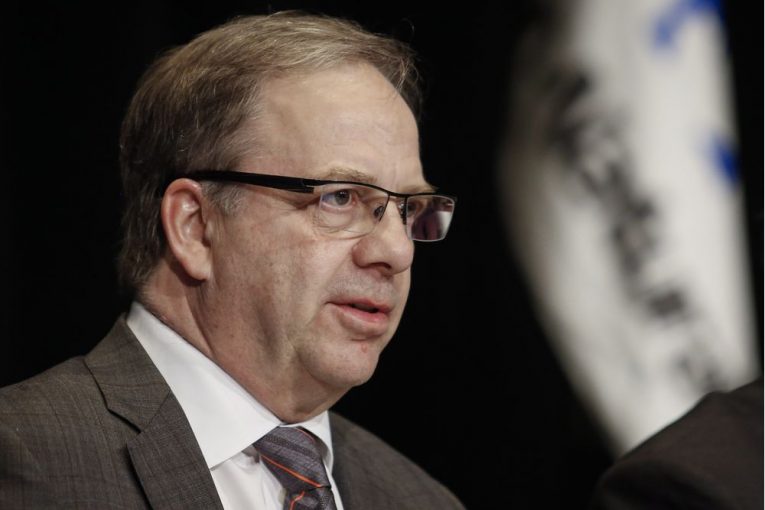 A big deal, big profits and a big request.
A flurry of third-quarter results triggered an avalanche of oilpatch news Thursday as Encana Corp. unveiled a major acquisition, oilsands producers generated strong profits and everyone faced questions about the pain caused by deepening oil-price discounts in Canada.
It even led to the country's largest producer, Canadian Natural Resources Ltd., supporting a return to a provincial allotment system on production, which would require companies to temporarily curtail oil output to shrink the sky-high price differentials battering the industry and government coffers.
"This is not a new situation. If you look back in history, Peter Lougheed actually did this in the '70s and '80s, curtailed volumes out of Alberta to manage the pipeline space and ensure Albertans got a fair price for the oil," Canadian Natural's executive vice-chairman Steve Laut said in an interview.
"The legislation is already there. Lougheed has already developed a playbook and it's there for them to look at and do."
The suggestion is sure to capture the attention of provincial officials in Edmonton who are examining options to resolve the steep discounts on western Canadian oil compared with benchmark West Texas Intermediate crude.
On Thursday, the differential for Western Canadian Select hovered around US$45 a barrel, while the light oil blend Edmonton Par faced a US$39-a-barrel discount.
The biggest corporate news of the day came from Encana CEO Doug Suttles, who announced an all-stock deal to acquire Texas-based Newfield Exploration Co. for US$5.5 billion, and the assumption of $2.2 billion in debt.
The acquisition will boost Encana's output to 577,000 barrels of oil equivalent per day, making it the second-largest producer of unconventional resources on the continent.
If approved by shareholders, it would give the Calgary-based company a larger presence in the United States, where it already generates 41 per cent of its production. That figure will grow to 62 per cent through the deal.
The prize for Encana is adding large shale holdings in the Anadarko Basin, which will become part of the company's core areas, joining its existing properties in the Montney and the Permian Basin in Texas.
"We know that being in the best rocks is critical to long-term success," Suttles said on a conference call.
Encana got an icy reception on the markets, however, with its shares falling 12 per cent.
"Investors will kind of struggle, at least initially, just accepting that shift, because they really haven't talked about having to add a core play," said analyst Jennifer Rowland of Edwards Jones.
The deal also again raises speculation about the company's future in Canada, after Suttles relocated from Calgary to the company's Denver office in the spring.
Encana has about 1,100 employees in Canada and another 1,000 in the U.S., and that southern number will double with the takeover.
"We intend to run the Anadarko asset out of Houston," said Suttles.
"We call it a headquarter-less model. We'll have three locations: Calgary, Denver and Houston. Actually, the work happens where the people are, as opposed to the opposite."
But the broader question dogging the oilpatch is the financial distress producers are enduring from bargain-basement prices for Canadian crude because of ongoing pipeline bottlenecks.
Two of the largest oilsands players released strong third-quarter results Thursday, with integrated producer Suncor Energy Inc. reporting net earnings of $1.8 billion profit, and Canadian Natural Resources posting a similar-sized profit.
While their net earnings were identical, the two companies are taking vastly different approaches to managing the fire sale on Canadian oil.
Suncor and other integrated players with downstream operations such as Husky Energy Inc. benefit from lower feedstock costs for their refineries when oil prices fall.
On a conference call, Suncor CEO Steve Williams stressed his company has minimal exposure to widening differentials with ample processing capacity and pipeline access.
"What's happening is the market is working," Williams said.
"The higher-cost producers are having to pull back because they're not making any margin on their last barrel. We are not in that circumstance."
Canadian Natural Resources — led by chairman Murray Edwards — reduced its heavy oil drilling and expects to shut in between 45,000 and 55,000 barrels of oil per day in November and December.
"We refuse to sell our barrels in a distressed market," president Tim McKay said in an interview.
"My belief is you will see other industry players doing the same because when you work out the price you receive after this discount, it's not economical to produce."
But the $30 billion question for the oilpatch and the Notley government is what can be done in the short term to fix the problem until new pipelines are built, given the divergent views across the industry?
Enbridge's Line 3 replacement project isn't expected to begin operating until late next year and it's uncertain how quickly rail capacity can increase.
RBC Capital Markets has called on the province to consider a royalty holiday, effectively instructing producers to leave the government's royalty barrels in the ground temporarily until the glut is absorbed.
Another idea that has been floated is returning to the province's old production allotment system for companies. The province said it is studying a number of options with industry.
"The bare-bones legal authority for an allocation system does exist," Mike McKinnon, a spokesman for Energy Minister Marg McCuaig-Boyd, said in a statement.
"However, modern-day realities such as free trade agreements and integrated oilsands operations would make it far more complicated to simply institute a quota system."
Some analysts and industry players insist the market will eventually sort out the problem without government interference.
Laut favours a government-managed curtailment system, saying it would benefit the entire province.
"To be honest with you, the resources are owned by Albertans," he added. "They are Alberta's resources, so they should decide at what price they want to sell them at."
Chris Varcoe is a Calgary Herald columnist.
You can read more of the news on source