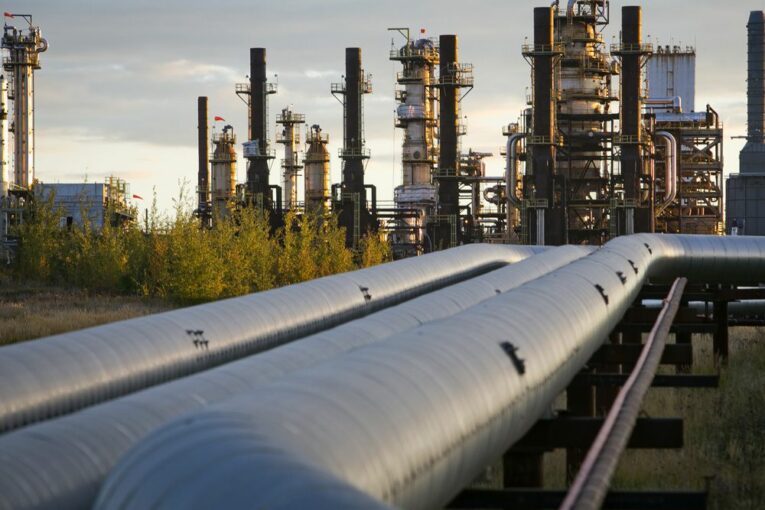 Just over a year ago, Canadian oilsands companies were struggling to keep their heads above water as pipeline cancellations and delays, environmental pressures and low crude-oil prices sent stock prices plunging and investors heading for the exits. While some of the challenges remain, especially on the environmental front, the oilsands appeared to have come out stronger from the ordeal even as some of its competitors face their own set of challenges and production declines.
Now, the decimation of crude exports from rival heavy oil producers has made the Canadian oilsands the last exporting blend standing in the Americas.
The latest tailwind for the Canadian energy sector could emerge from Mexico's decision to curtail crude oil exports.
Petroleos Mexicanos, the Mexican state-owned producer known as Pemex, is set to reduce daily crude exports this year by more than half to 435,000 barrels before phasing out sales to foreign customers in 2022, chief executive officer Octavio Romero said during a press conference in Mexico City late last year.
The ambitious — and some say improbable — endeavour is part of President Lopez Obrador's drive to expand homegrown production of gasoline and diesel that Mexico now mostly buys from U.S. refiners. Like many major oil-producing nations, Mexico lacks the processing capacity to convert its oil bounty into fuels and other end-products.
"It is highly unlikely that the administration will achieve its goals of refining all of Pemex's production domestically, given the financial and technical struggles of the state-run firm; nonetheless, this strategy indicates that Pemex will now focus more on downstream rather than upstream investment, which will not help to improve its finances and could strain fiscal accounts further," Daniel Kerner, managing director, Latin America at Eurasia Group, said in a note to clients.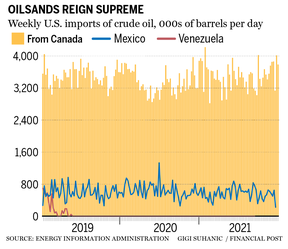 Mexican exports of crude oil and products to the U.S. hit a decade low of 226,000 barrels per day in the last week of December, according to the U.S. Department of Energy. In contrast, Canadian oil exports to the U.S. were trending near record highs to 3.8 million bpd during the same period.
"Looking ahead, Canadian crude exports out of the U.S. Gulf should continue to show strength — particularly if we start to see Mexican crude exports starting to slip," Matt Smith, lead oil analyst for the Americas with Kpler, a research consultancy, said in an email. "The U.S. is the largest recipient of Mexican crude, averaging just under 600,000 in 2021, so it will take the biggest hit should exports drop."
Heavy Canadian oil competes with crudes of similar density from Mexico and Venezuela, and are prized by Gulf Coast refineries and many Asian refineries that are configured to process the heavier grade. Over the past few years, Venezuelan oil exports to the U.S. have fallen to zero from 634,000 bpd as recently as 2019, creating yet another opening for Canadian Natural Resources Ltd, Suncor Energy Inc., Cenovus Energy Inc. and Imperial Oil Ltd., among others.
The declines in Venezuelan and Mexican crude exports to Asia have coincided with the opening of a new export avenue for Alberta's major producers: a reversed Capline crude oil pipeline, which connects U.S. MidWest refineries to the massive oil complex located in the Gulf of Mexico giving Canadian producers a new export avenue to Asia and other markets.
Jointly owned by Marathon and Plains All American Pipeline, Capline can now ship crude from Patoka, Ill. refineries to reach St. James, La., with initial volumes of 200,000 bpd. The pipeline connects to Enbridge's Mainline pipeline through its Southern Access Extension pipeline, which has the capacity to transport 400,000 bpd. Another avenue for Canadian crude to access Capline is through a Keystone Pipeline spur connecting to Pakota.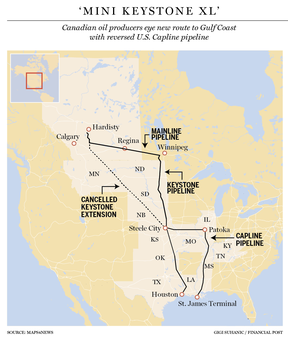 Shipments on the Capline are expected to be "100 per cent Canadian crude," Jeremy Goebel, chief commercial officer at Plains told analysts at a press conference in November. The Capline's capacity could be expanded to 1.2 million bpd, but would require further investment.
"I think there's a number of projects potentially restructuring how crude gets across the Canadian border and what markets it goes to. And so, once there's clarity with Enbridge and its shippers and TransCanada and its shippers, I think we'll see… how many barrels flow to Patoka and the potential to expand it. So we definitely think there's opportunities to increase from where it is today, but there needs to be certainty of which barrels end up in Patoka and U.S. shipper industry to get there."
Canadian crude oil exports out of the U.S. Gulf Coast averaged 266,000 in December alone, with exports averaging around 180,000 in 2021, Kpler data shows, with Indian oil refining giant Reliance Petroleum buying more Canadian crude to offset the loss of Venezuelan oil.
"With Venezuelan crude exports having tanked in recent years, and now with the prospect of Mexican crude being taken off the market, Canadian crude appears to be one of the leading beneficiaries of these changing dynamic," Smith said.
With additional reporting from Bloomberg News
• Email: [email protected] | Twitter: Yad_FPEnergy
You can read more of the news on source