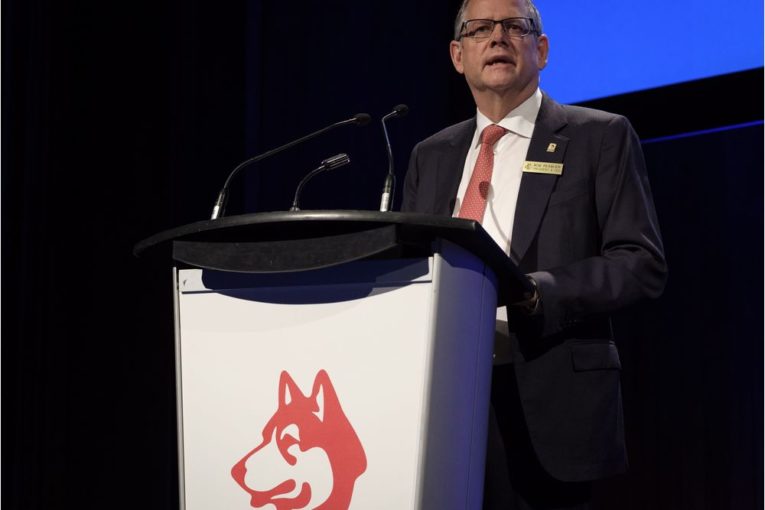 The chief executive of one of the country's largest petroleum producers says the profound problem moving oil out of Western Canada is "the slowest train crash" he's ever seen.
"From about 10 years out, you could see it coming, and yet we walked right into it as a nation, so a pretty, pretty sad statement on Canada," Husky Energy CEO Rob Peabody said Thursday.
The trouble Peabody is talking about is the bottleneck affecting Canada's oil transportation system and the wide price discount hammering petroleum producers this fall.
It's costing industry and governments an estimated $84 million a day: $54 million to producers, $18 million to Alberta and another $12 million to the feds, according to the provincial government.
But is part of the solution to a slow-moving train crash adding more locomotives on to the country's tracks to increase crude-by-rail shipments?
The Notley government thinks so. Peabody appears to like the idea as well.
Federal Natural Resources Minister Amarjeet Sohi isn't quite so certain, at least not yet.
While the Edmonton MP knows frustration is building in the energy sector over the oil price differential, "there has to be more thought given to these kinds of proposals," he said Friday.
"It may work, it may not work. I don't know," Sohi said in an interview.
"It's not just a simple issue of government purchasing locomotive capacity. There are so many other things that need to be considered."
Earlier this week, Premier Rachel Notley said she wants the Liberal government to look at buying enough cars and locomotives to increase Canada's crude-by-rail shipments.
The province is looking for enough locomotives to power two large unit trains rumbling out of Alberta each day, capable of moving an additional 120,000 barrels per day (bpd) of oil. One estimate pegs the cost at about $400 million.
Canadian oil exports by rail have already been surging this year, but the country's crude transportation system remains backed up.
While it's more costly for companies to ship oil into the U.S. by train than pipeline, it would help reduce the price discount and lead to increased revenues for producers and governments.
The idea has the support of industry groups such as the Canadian Association of Petroleum Producers and the Explorers and Producers Association of Canada.
But if Ottawa decides to assist the oil sector, imagine how Canada's grain farmers and potash producers will feel if they encounter their own delays moving product by rail?
During a third-quarter earnings call, Peabody predicted the discount will continue to be volatile as Western Canadian crude production increases and existing pipelines run full.
The differential for Western Canadian Select, a heavy oil-oilsands blend, relative to benchmark U.S. crude has widened in recent weeks to US$50 a barrel because refineries in the U.S. were undergoing maintenance.
These refineries should be back online in the coming weeks, but it's no guarantee the discount won't deepen again in 2019.
When Enbridge's Line 3 pipeline replacement project is completed later next year, adding about 375,000 bpd of export capacity to the U.S., it will provide some relief to the congested transportation network.
But as output keeps growing, there will still be too much production in Western Canada for available pipelines.
"We are assuming that high differentials continue, certainly the rest of this year, all of next year, all of the year after that," Peabody added.
According to CAPP data, Western Canadian oil production is set to rise to 4.3 million barrels per day this year from 2.5 million bpd in 2010, before reaching 4.65 million bpd in 2020.
Yet, with export pipeline takeaway capacity of about four million barrels per day, the transportation network is now full.
Peabody believes the answer to the dilemma is rooted in market-based solutions.
If nothing is done to fix the issue, the differential will contract as producers have no choice but to shut in their highest-cost oil, he said.
As for the government getting involved in a rail solution, Peabody seems to support the idea.
"I think it would work for both the industry and governments," he said.
"It has merits there, even for the government, because they can actually create a return around the investment."
Others aren't so sure.
Former TransCanada CEO Hal Kvisle likes the idea of Ottawa having to pay a penalty for fumbling the ball on approving pipeline projects, but believes it would take too long to get new locomotives ordered and railway operators organized to resolve the situation.
By the time they arrive, new pipelines should be under construction or operating.
"It might just prove to be too little, too late. I think decisions like that are always best left to the private sector," said Kvisle, who is also chairman of ARC Resources.
The issue isn't going to fade away quickly. The stakes remain high.
In a report released Friday, the Royal Bank noted the energy industry accounts for about 10 per cent of the country's economy and has the potential to grow, although infrastructure investment are needed.
RBC chief executive Dave McKay told a Calgary audience that governments could earn another $195 billion in revenues between now and 2030, if the country seizes the opportunity ahead.
"I fear we have an incredible opportunity in front of us that is slipping through our fingers. We have these resources we can't get to market," he told a Calgary Chamber of Commerce luncheon.
"There is a mini crisis brewing, in the sense of the cash flow and the (oil price) discount."
When the head of Canada's largest bank says a crisis is unfolding in Canada's energy sector, let's hope the rest of the country pays attention.
Sadly, this slow-moving wreck has been ignored for far too long.
Chris Varcoe is a Calgary Herald columnist.
You can read more of the news on source