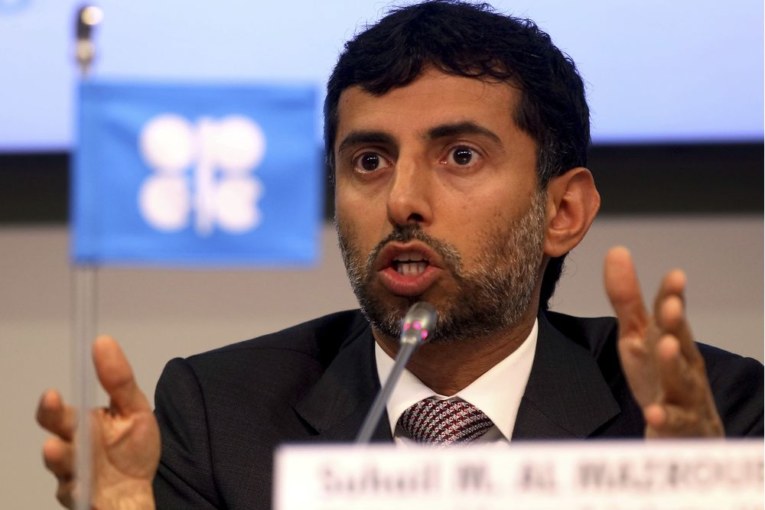 You know Canada has a profound problem building major energy infrastructure when even the president of OPEC laments the country's long-standing pipeline conundrum.
But a lack of sufficient infrastructure — from pipelines to liquefied natural gas (LNG) facilities — is apparent both at home and abroad, and must be tackled as the country struggles to attract foreign investment into the energy sector.
During an interview in Calgary, United Arab Emirates Energy Minister Suhail Al Mazrouei spoke Monday about his country's major investments in Alberta, the state of energy markets, as well as the need for LNG and pipelines to stem the price discount facing Canadian oil and natural gas.
"If those projects do not happen and those things do not change, it's not going to be incentivizing investors to come and increase those investments," he said after talking to the 2018 Stampede Investment Forum.
"The governments need to consider some of those major infrastructure projects if they are serious about keeping and retaining those investors and bringing more — because the resources you have are needed." 
Canada does have world-class supplies of oil and gas that the world wants, as global energy demand continues to increase.
Yet, both commodities are facing steep discounts due to various bottlenecks, putting the spotlight squarely on the need to find new export markets for Canadian resources.
About half of the UAE's $30 billion of Canadian investments have been made in Alberta; the UAE is Canada's largest export market in the Middle East.
Nova Chemicals is wholly owned by Mubadala Investment Co. of the Emirate of Abu Dhabi, and the company announced last year it's embarking on a major $2-billion expansion in Ontario.
The UAE also owns a majority stake in Abu Dhabi National Energy Co., with the firm's North American subsidiary, Taqa North, based in Calgary. It has 460 employees and produces about 78,000 barrels of oil equivalent per day, primarily gas from its core properties in Alberta.
Taqa commanded headlines by spending more than $7 billion buying Canadian energy companies last decade. It entered the oilpatch with the acquisition of Northrock Resources in 2007, followed by the takeover of Pioneer Canada and the $5-billion acquisition of PrimeWest Energy Trust.
"They are happy with their oil now, but the gas — with the discount you get if you want to send your gas to the United States — you should not be very happy losing $1 on the gas price if you're a gas producer," Al Mazrouei said.
"I talked about the need for Canada to consider LNG exports, to consider major improvements in the midstream (sector) to allow those investors to stay and to make a decent return on their investments."
Indeed, Western Canadian natural gas prices remain in a funk, while the differential for Western Canadian heavy oil compared with West Texas Intermediate crude stood at US$21.85 a barrel on Friday.
The steep discount is also why both the Alberta and federal governments are pushing to see the Trans Mountain expansion, Line 3 replacement project and Keystone XL pipelines built as oilsands production increases.
At her annual Stampede breakfast Monday, Premier Rachel Notley noted construction on Trans Mountain is moving ahead this summer after Ottawa agreed to buy the project for $4.5 billion.
Alberta could be on the hook for up to $2 billion if Trans Mountain faces any additional cost overruns, but will receive an equity stake if that occurs. Speaking to reporters, Notley said there's a "good likelihood" Alberta will end up with an equity stake.
Before her cabinet meeting, the premier said she will stress at the investment forum Tuesday that Trans Mountain now has more certainty.
"When we speak to those international investors … we'll be able to make the point that Canada continues to be a good place for investment," she said.
But the first step is to get more energy infrastructure built to address the oil price differential that is costing the Canadian economy — governments and investors — billions of dollars annually.
"If you look at the (oil) discount today, it's ridiculous. If you had infrastructure, you wouldn't have that huge discount. So again, investors would like to have optionality when they are exporting," Al Mazrouei added.
It's worth noting the UAE continues to invest in Canada, while several other international players, particularly those in the oilsands, pulled out after oil prices tumbled.
The minister, who also serves as president of the Organization of Petroleum Exporting Countries, spoke about the state of global oil markets after the group agreed last month to increase production by up to one million barrels a day.
It comes as WTI crude prices have risen from US$60 a barrel at the beginning of 2018 to close Monday at $73.85.
The minister emphasized OPEC does not have a price target in mind to reach, but is striving to keep markets in balance. He believes the additional production will be enough to make that happen.
However, the cartel and its allies are facing pressure from President Donald Trump, who criticized "the OPEC monopoly" last week for high pump prices in the United States.
OPEC's president said they are closely watching markets, "but there are things we don't know. How much is coming from the U.S., from unconventionals? How much is coming from Canada? There are other producers around us, so it's not only OPEC that is responsible for bringing production. It's the whole world," he said.
As for the tweets from the president, Al Mazrouei said the group is taking it as feedback from a major consumer — "you cannot ignore them" — along with talking to other countries, such as China and India.
"We understand … that if you want to protect the healthy demand growth, you need to balance supply and demand, which means you need a price that's good for the consumers, but also fair for the producers," he added.
Chris Varcoe is a Calgary Herald columnist.
You can read more of the news on source