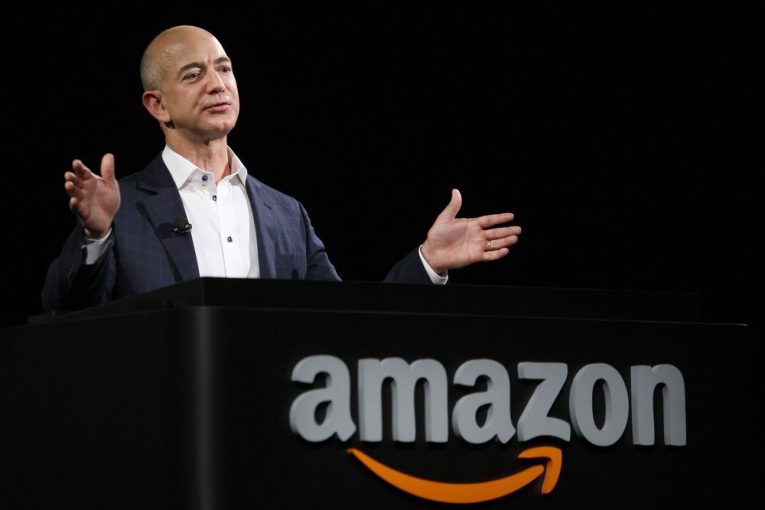 You can't win if you don't play the game.
These aren't simply the words of a midway carny luring a customer to a ring toss.
It's the motto of cities across Canada and the United States interested in attracting online retailing giant Amazon as the company looks for a place to build its second headquarters.
A number of Canadian cities have expressed interest in pursuing HQ2, as Amazon calls it, including Toronto, Vancouver, Winnipeg, Edmonton and Calgary.
On Wednesday, Calgary Economic Development (CED) began to flesh out its pitch, bringing some high-profile executives on board to help. This includes CEOs such as WestJet's Gregg Saretsky, Gianna Manes of Enmax and Adam Waterous of Waterous Energy Fund.
Along with creating an executive advisory group, CED has launched a website to crowdsource ideas on how to promote Calgary to company CEO Jeff Bezos, calling it the "Amazon HQ2 elevator pitch challenge."
All cities must submit their bids to the Seattle-based company by Oct. 19.
"I only want to get involved in things I think we can win," Waterous said Wednesday.
"I see this as a two-way race between Denver and Calgary. If we have competitive government incentives to (offer) Amazon, this race is ours to lose."
Waterous, previously the global head of investment banking at Scotiabank, understands the complexities of assembling big deals.
And he points to Amazon's bid documents as a key reason mid-sized cities such as Calgary and Denver are in the running.
The e-commerce giant is looking for communities with more than one million people, strong job growth and a pool of available talent.
But it's also considering centres that have affordable costs, limited traffic congestion, attractive recreational opportunities, strong transportation links and other amenities to attract staff.
Mayor Naheed Nenshi, who is also on the executive committee, said if Amazon wants to locate HQ2 outside of the United States, Calgary will have a compelling and competitive proposal.
"Let's be clear, we are going to get this one. But even if we don't, yes, it gives us an opportunity to kind of take off our training wheels and really ride with the big boys," said Nenshi, noting CED is seeking to attract other companies to the city.
"If I'm looking at Canada, then the other cities don't really match up to Calgary's opportunities."
Civic cheerleading aside, that raises an interesting question: just how serious is Amazon in setting up a second headquarters outside of the United States?
The company already has a presence in Canada: four "fulfilment centres" in the Toronto area and two more around Vancouver. It has corporate offices in Ottawa, Toronto and Vancouver.
Some observers believe a U.S. centre such as Denver, Atlanta, Pittsburgh, Boston or Chicago will ultimately win the day, noting Amazon could face a fierce political backlash from President Donald Trump if any jobs are moved outside the country.
With Amazon explicitly including Canada in the process, Calgary Economic Development CEO Mary Moran believes there's a real opportunity to grasp.
"I think they're serious about Canada, for immigration reasons but also for trade policy reasons. Look, they're a big internet, international company, so operating two headquarters in two countries isn't a big deal," she said.
"The Canadian cities have a big chance."
Vancouver and Toronto are larger than Calgary and already have an Amazon presence. The technology expertise of communities like Ottawa and Kitchener-Waterloo is impressive.
But Calgary has plenty to offer.
Will the city have enough incentives to offer Amazon, however?
In its documents, Amazon makes it clear that provincial, state and community incentives to offset the initial capital expenses and operating costs will be significant factors in the final decision.
Nenshi said it's important the federal and provincial governments create a level playing field for all cities that might be bidding, including Calgary.
Federal, provincial and municipal government must step up to ensure "we don't arrive with a peashooter and the other guy arrives with bazooka," added Waterous.
The size of the prize is enormous and, for most cities, irresistible.
Amazon expects to spend more than $5 billion building its new headquarters, and to create up to 50,000 jobs.
It prefers a city with a "stable and business friendly environment," that can attract strong technical talent and "think big and creatively" when considering locations and real estate options.
Although Calgary has been battered by the downturn in oil prices, the labour force is young and highly skilled, downtown office space — with a vacancy rate approaching 30 per cent — is cheap, and the city's transit system is expanding.
But as Kyle Murray, vice-dean of the University of Alberta's School of Business, points out, the odds are stacked against all cities, simply because of the number of communities chasing the bonanza.
Regardless, he believes it's important cities like Calgary and Edmonton that are trying to diversify their economies make a strong bid, even if they don't win.
"This is where the rubber hits the road," said Murray. "If we throw in a limp pitch here, the tech world is going to see that and then we should stop talking about being in that game."
So Calgary will join the Amazon sweepstakes. So will plenty of other competitors.
The chances of success are low.
But if we don't step up and play for the giant prize, we'll never have a chance to win.
Chris Varcoe is a Calgary Herald columnist.
You can read more of the news on source