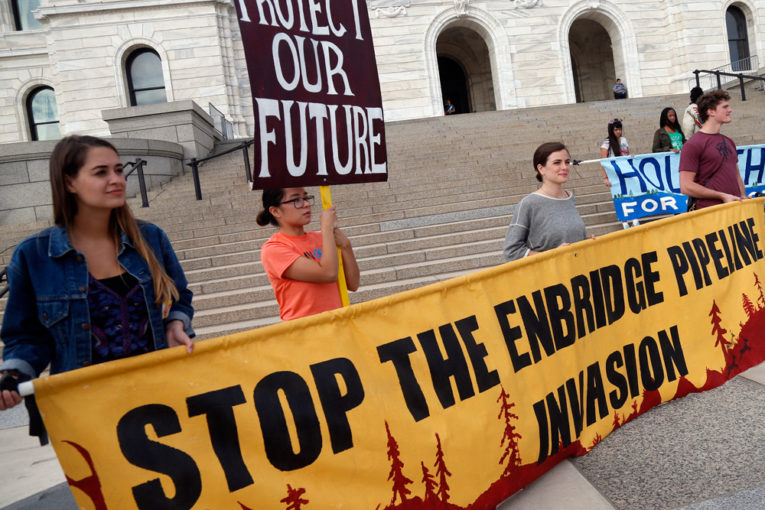 ST. PAUL, Minnesota — Indigenous bands and environmental groups took aim on Wednesday at Enbridge Inc's preferred route for its rebuilt Line 3 oil pipeline, while others panned all options ahead of an expected decision this week by a Minnesota regulator to determine whether the project can proceed.
Enbridge wants to replace the aging 1,031-mile (1,660-km) pipeline that runs from Alberta, Canada to Wisconsin. It needs approval from the five-member Minnesota Public Utilities Commission, which must decide whether the project is needed, and the route.
Public scrutiny has focused on Enbridge's preferred route, which would follow Line 3's existing corridor partway through Minnesota before veering south to miss the Leech Lake reservation and avoid a nine to 12-month pipeline shutdown. An administrative law judge recommended in April that Line 3 follow the existing corridor instead.
The commission this week has also unexpectedly looked at lesser-studied route alternatives.
"You may find that all of them suck," said Paul Blackburn, lawyer for activist group Honor the Earth.
The Sierra Club environmental group echoed that view, saying Line 3 should operate as is until regulators ultimately shut it down.
Enbridge's preferred route is "a non-starter," said David Zoll, a lawyer for Mille Lacs band, adding that the best solution might be more time to study alternatives.
"We should not feel compelled to make uninformed decisions," he said.
Enbridge's favoured route is "by far the worst," said Seth Bichler, lawyer for Fond du Lac band.
But Leech Lake said Enbridge's preferred route is the best option as it means the pipeline will no longer bisect the reserve.
Line 3, which began service in 1968, operates at half its capacity because of age and deterioration. Its replacement would allow it to return to approved capacity of 760,000 barrels per day.
Selecting a route is a tricky task for the commission, which must balance concerns about indigenous wild rice harvesting areas and culturally important sites with possible construction delays and a pipeline shutdown that could harm refiners.
Bottlenecks in Alberta have steepened a price discount for its heavy crude this year, while refiners in Minnesota and surrounding states say Line 3 is necessary to increase crude supplies.
"This is a very important project for Canada," Canada's Natural Resources Minister Jim Carr told Reuters in Washington D.C. where he attended a gas conference.
"We're very hopeful that there will be a positive result."
But if three projects proceed, the industry could soon see surplus capacity transporting Canadian crude.
Line 3, the Ottawa-backed Trans Mountain pipeline expansion and TransCanada Corp's Keystone XL would raise Canada's crude export capacity to 5.5 million barrels per day from nearly 4 million bpd in 2017, according to the Canadian Energy Research Institute (CERI). Canada's crude oil production is not forecast to reach 5.5 million bpd until 2030.
Terry Lamb, a volunteer with activist group MN 350, used to build pipelines for a living. Now he spends part of his retirement protesting them, first the Dakota Access Pipeline in North Dakota, and now Line 3.
"We don't want to take the chance of (a spill)," Lamb said. "It's another big giant corporation rolling over everyday people."
Phillip Wallace, business representative for Pipeliners Union 798, said its members will have to leave Minnesota for work if the project is defeated.
"If this is shut down, it would be another trophy for (activists)," he said. "They'll get more confidence. But let's face it — we need crude."
© Thomson Reuters 2018
You can read more of the news on source