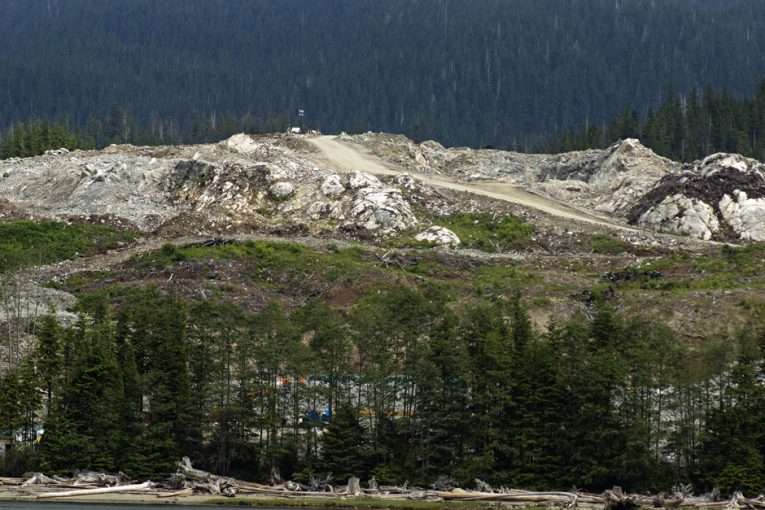 CALGARY – Despite multiple liquefied natural gas project cancellations recently on Canada's West Coast in recent weeks, the mayor of Kitimat, B.C. is still confident at least one will be built in his town – and even some of the more pessimistic analysts are beginning to agree.
"We're still extremely positive," Kitimat mayor Phil Germuth said of the prospects for two LNG projects proposed in and around his northern B.C. town. He said preliminary site work is underway at both Chevron Corp.'s Kitimat LNG project and the Shell Canada Ltd.-led LNG Canada project.
Neither project has been sanctioned, but Shell has asked contractors to re-tender their bids for work on its development in an attempt to drive down costs ahead of a final investment decision next year.
Rio Tinto also recently wrapped up an almost $5-billion modernization of its aluminum smelter, a project that brought 1,500 construction workers to the town of 8,000 people.
An LNG project, Germuth said, will likely bring 4,500 or more construction workers to town. The mayor isn't concerned that Malaysia's Petronas and China's CNOOC Nexen had cancelled their multi-billion-dollar proposed LNG projects in nearby Prince Rupert and doesn't expect Shell would follow suit.
Natural gas market experts based in Calgary agree.
I've always said 'no way' to greenfield B.C. LNG, and I've changed my mind
"I've always said 'no way' to greenfield B.C. LNG, and I've changed my mind," Stream Asset Financial Management principal and long-time natural gas analyst Dan Tsubuchi said, adding that he's gone from bearish to bullish on prospects for a West Coast LNG project.
Tsubuchi published research Wednesday that said global LNG markets are already coming back into balance because there is currently no surplus of LNG cargoes looking for a home in places like Europe.
Tsubuchi also cited a Bloomberg interview with Royal Dutch Shell Plc's head of LNG Maarten Wetselaar in which the Shell executive said, "Over the last 18 months, every LNG cargo that could technically be produced in this world has been produced and has found a well-paying customer. So this market is more in balance than people perhaps perceive."
Tsubuchi also cited China's plan to generate 15 per cent of its electricity from natural gas by 2030 as a "game changer" for global natural gas markets that would create an undersupply of LNG two to three years earlier than expected.
"And if so, we believe BC LNG will be back and there is a higher probability than ever before for a Shell FID on its B.C. LNG project in 2018," he said.
Similarly, analysts at Bernstein Research note that LNG demand has grown 12 per cent year-over-year and further growth would lead to projects being sanctioned in Canada.
"Everything depends on what buyers want and projects in Mozambique and Canada cannot be ruled out given interests from buyers in further supply diversification," the analysts wrote in a report, noting that Canadian projects could compete directly against those in the U.S.
LNG Canada spokesperson Susannah Pierce said LNG demand is currently growing at a rate of 5 per cent per year and there will be an opportunity for LNG shipments from Canada to find markets after 2022.
"So when we think about the LNG Canada, we are anticipating that we need to have this project sanctioned in such a time that we can meet that new wave of demand," she said, adding the project would likely take 4 to 5 years to complete.
Pierce confirmed the company is currently decommissioning and dismantling the old Methanex Corp. facility in Kitimat, where LNG Canada's project is located, and the project will be ready for construction as soon the owners make a decision.
Shell and its Asian partners – PetroChina, Korea Gas Corp. and Mitsubishi Corp. – are expected to make a decision next year to build their LNG terminal in Kitimat, which would include two liquefaction trains to chill natural gas to its liquid state for export.
Recent LNG project cancellations are not an indication that other projects in Canada are not competitive and will not be built, Western Canada Gas Monetization Group senior vice-president Bill Gwozd said. "The idea that LNG on West Coast won't go forward is just not true," he said.
While projects have been cancelled in the short-term, in the medium- to long-term, worldwide demand for LNG will rise even as other gas exporting nations such as Indonesia exhaust their supplies of natural gas, he said.
"It's coming. It is not dead. It is short sighted that politicians in B.C. that are not still advocating. It's coming. They need to be on the bandwagon," Gwozd said.
B.C. Minister of Energy, Mines and Petroleum Resources Michelle Mungall said the province offered many advantages for LNG exporters, including shorter shipping distances to Asia, and that many First Nations have told her that they support the industry's development.
Twitter.com/geoffreymorgan
You can read more of the news on source