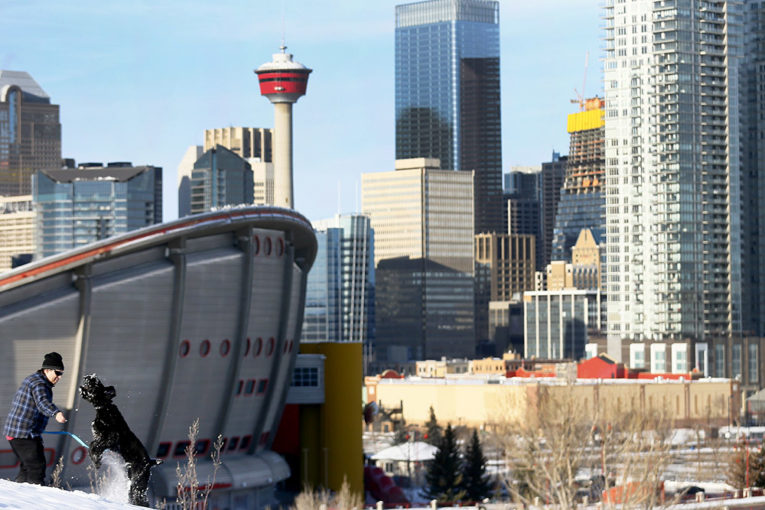 Economists tell us the Alberta recession is over, but there are some days it sure doesn't feel that way.
Thursday would be one of those moments, as the City of Calgary released its annual property assessment report, highlighting the continued deterioration in the value of downtown office buildings.
The good news for Calgarians is that the assessed value of a typical residential property — as of last July — increased two per cent from the previous year, showing stability has finally returned to a key segment of the real-estate market.
But among the shimmering highrise office towers, home to Canada's largest energy companies, the buildings continue to shed value as the downtown office vacancy rate sat at a miserable 27.7 per cent by the end of last year.
The slide in the overall value of all office towers continues, even as two new ones — the Manulife building and Brookfield Place — have opened in the downtown, adding a combined value of more than $850 million to the city's tax rolls.
Yet, all of the office buildings in the city's core lost more than nine per cent of their assessed value last year, or $1.6 billion.
That's on top of the whopping $3.8-billion skid witnessed last year.
Put another way, in just two years, all of the office buildings that anchor Calgary's core have been cut in value by one-quarter following a drop in oil prices, waves of layoffs and the simple fact fewer people work downtown.
"We still have a large amount of vacancies in the downtown core and that's how buildings are valued," explains Greg Kwong, regional managing director for commercial real estate firm CBRE Ltd.
"It's nice to see economists say we've got two quarters of economic growth, but you have to take that with a grain of salt.
"It comes down to people working, and until that unemployment rate starts dipping down substantially, I don't think Calgary is out of the woods."
A stroll past some of the priciest real estate south of the Bow River shows the punishing impact of the recession on property values.
The iconic Bow building, home to Encana and Cenovus Energy, saw its assessed value drop six per cent to $957 million.
At the Suncor Energy Centre on Fifth Avenue, the valuation tumbled five per cent, while at the popular Bankers Hall on Ninth Avenue, the building's assessment dipped six per cent.
The broader reason for the drop is the glut of office space downtown and lower rental rates now in the market.
As these buildings generate less revenue, their values fall.
Although commercial real estate experts say the market is slowly stabilizing, it remains difficult for landlords to find new tenants.
"It's tough, you have to fight for each one of them, and you have to give as many concessions as you can," said David Wallach, president of Barclay Street Real Estate in Calgary. "The ball now is in the tenant's court."
The city's assessment report isn't all doom and gloom.
Overall, total property assessment went up more than two per cent to $311 billion, after an ugly $6-billion drop the previous year. That's a positive sign, particularly for Calgarians who have a lot of their personal wealth tied in their homes.
But the value of all non-residential properties — including industrial, retail and office space — continued to decline, sliding by five per cent for 2018.
Across the entire city, office building assessments plunged 11 per cent, showing the vacancy woes aren't isolated to the core.
On the flip side, industrial properties increased in value by five per cent, and retail properties rose modestly by one per cent.
But that means many of these business owners will be facing tax hikes in 2018.
Due to the "revenue-neutral" property reassessment system, the city still needs to generate the same amount of tax revenue to pay for municipal services.
Industrial and retail owners are in for another year of picking up the slack of less tax revenue being generated from the tall towers.
In fact, the drop in municipal taxes from downtown office structures will be about $15 million this year.
According to city documents, more than 3,800 non-residential property owners — roughly one in three — will face a tax hike of 10 per cent or more due to the reassessment shuffle.
"The bottom line is for a lot of businesses, they are going to see an increase from this," says Scott Crockatt of the Calgary Chamber of Commerce.
"What this shows us is that the real estate market — especially the business real estate market in Calgary — remains in a difficult and tough position and one that is unlikely to be resolved anytime soon."
Harvey Fairfield, acting director of city assessment, points out that in 2017 about 10,000 businesses were facing double-digit tax hikes because of the annual process. This year, the number is about 3,800.
City council has taken note of the tax shift. Last year, as enraged business owners reached for their pitchforks, council agreed to cap property tax hikes at five per cent for non-residential accounts.
In November, council agreed to extend the program another year, although details are still being worked out.
Councillors wisely decided to use city reserves to create some breathing room for businesses still trying to recover from the recession.
But a longer-term solution to the problem must be found, particularly as it may take a decade for the downtown office market to return to balance.
"We are facing a new reality," said Amber Ruddy of the Canadian Federation of Independent Business. "We can't continue on as business as usual when things have changed."
Times have changed and the economic recovery is slowly happening. But when it comes to Calgary's downtown, the rebound can't arrive fast enough.
Chris Varcoe is a Calgary Herald columnist.
You can read more of the news on source