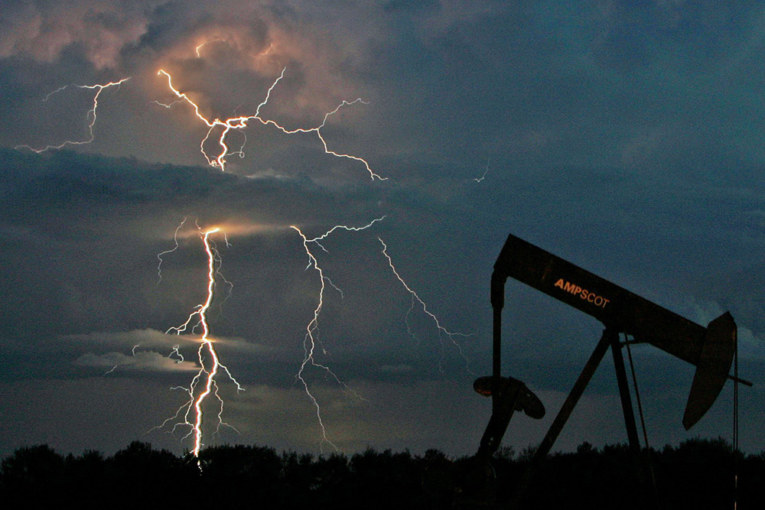 More locomotives. More upgrading. More tax writeoffs.
But more importantly, more pipelines.
Alberta faces an economic squeeze because of plunging oil prices — West Texas Intermediate crude dropped more than $3 to close at US$53.43 a barrel on Tuesday — while the wide price differential pounding Alberta oil is intensifying the pain.
Today, the provincial government is searching for solutions, both in the short and long term.
Plan A is to see more oil pipelines built, but Enbridge's Line 3 replacement project won't be operating until later next year while Trans Mountain and Keystone XL are both stuck in stasis.
It's time to break the glass in case of oilpatch emergency.
Premier Rachel Notley is discussing a series of steps to remedy the plight of Alberta heavy crude, which sold for less than US$18 a barrel on Tuesday. The light oil blend Edmonton par sold for less than half of U.S. benchmark prices, according to data from Net Energy. 
On Monday, the premier announced a team of three envoys will sit down with energy company executives to come up with options to tackle the crisis.
They will have to grapple with the divisive idea of government curtailing oil output as some producers call for the province to take such steps.
Notley made another move Tuesday, more than doubling the amount of incentives offered by the province — increasing them to $2.1 billion — to help Alberta upgrade and add more value to its oil and natural gas resources.
The province announced two initiatives on this front in the spring.
In one expanded program, the province will make $1.1 billion in royalty tax credits available to companies willing to build new petrochemical facilities in the province, up from the initial amount of $500 million.
It will mirror a similar 2016 program that spurred construction of a $3.5-billion propane dehydrogenation and polypropylene complex in Strathcona County. (A decision on a similar petrochemical facility is expected later this year.)
Projects chosen to receive the next round of tax credits will be announced in the coming weeks.
A second program unveiled last spring, called the Petrochemical Feedstock Infrastructure Program, has been doubled, now offering $1 billion in available loan guarantees and grants to industry.
Earlier in the year, the government said the money would be used to "incentivize investment in new straddle plants to separate high-value natural gas liquids (NGLs) from Alberta natural gas."
There is no shortage of prospective players eyeing Alberta's cheap energy feedstocks or the government's new incentives. The province received 23 applications for both programs.
"This will absolutely get us on the radar and will attract a lot more interest in Alberta and, I believe, we will certainly get more value-added projects being built in the province," said David Chappell, chair of the Resource Diversification Council, which represents petrochemical and midstream companies.
One can debate the philosophical merits of getting deeper into the subsidy game. But moving Alberta up the value chain remains a long-term strategy that will take years to nurture.
On the short-term front, the Notley government previously asked Ottawa to invest in new locomotives that could move more oil by rail out of the province, cutting a discount that is costing the country an estimated $80 million a day.
The premier has also requested the Trudeau government give oil transportation priority over other products — except grain — that move by rail.
The province noted Ottawa has taken similar action to unclog grain backlogs on the Prairies in the past.
Canada's two main railway companies did not respond Tuesday when asked about the idea, but the proposal will face stiff opposition from other sectors that rely on trains — think coal or potash — if they are forced to wait on the sidelines.
"I don't think it makes much sense," said Robin Campbell, president of the Coal Association of Canada.
"What you're going to do is penalize all the other industries for the sake of oil, which means you will have layoffs in other industries if they can't get their product to market."
On another front, the province recently wrote a letter to federal Finance Minister Bill Morneau, encouraging Ottawa to increase the accelerated capital cost allowances for Canadian industry to "align with the more generous depreciation recently introduced in the U.S."
In the 2017 federal budget, the Trudeau government altered tax treatment that allowed petroleum producers to deduct all expenses from discovery oil and gas wells in one year — something that's available in the United States — moving Canada's oilpatch instead to a 30-per-cent annual deduction rate.
"We are competing for capital with the U.S., as well as other jurisdictions," said Tim McMillan, head of the Canadian Association of Petroleum Producers.
"This has been something that has helped drive investment into the U.S., at the expense of Canada."
More news on this file could come Wednesday when Morneau unveils his new fall economic update.
All of these issues — rail, tax treatment and resource upgrading — will help, but ultimately they don't get to the heart of the matter: Canada needed more pipelines years ago and Ottawa didn't deliver.
Immediate solutions are now needed to mitigate Alberta's oil supply glut as the oilpatch is "on the verge of losing the winter drilling season," warned Peter Tertzakian, executive director of the ARC Energy Research Institute.
"The reality is we have a really urgent situation," he said.
"This is a Category Five hurricane hitting us right now and we are talking about cleaning up six months from now."
Federal officials say they are monitoring the situation. Alberta is scouring for other ideas.
But this problem needed to be addressed several years ago.
Now, the energy sector, Albertans and all Canadians are about to pay the price for the country's ongoing pipeline paralysis.
Chris Varcoe is a Calgary Herald columnist.
You can read more of the news on source