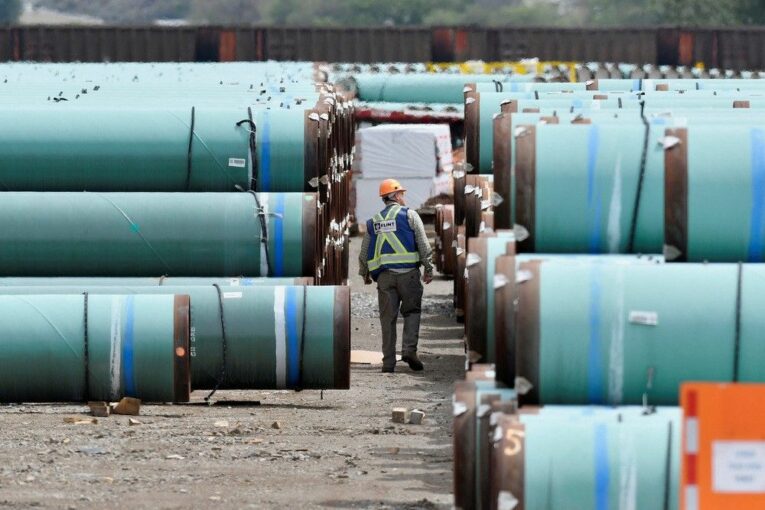 Another year, another cost overrun for the Trans Mountain expansion project.
We apologize, but this video has failed to load.
Try refreshing your browser, or
tap here to see other videos from our team.
Varcoe: At $30B, here's another TMX cost overrun to set your watch by
Back to video
You can almost set your watch to it, like preparing for daylight time.
On Friday, the federal Crown corporation that controls the Alberta-to-B.C. oil pipeline announced the price tag on the long-awaited expansion has gone up again.
It will now cost an estimated $30.9 billion to finish. It will be in service in the first quarter of 2024.

It was only back in February of last year that the total estimated costs soared to $21.4 billion from $12.6 billion.
And in February 2020, it jumped to $12.6 billion from $7.4 billion.
In December 2013, it sat at $5.4 billion.
That's a 472 per cent increase in a decade.
"Clearly, we have a problem," said Tristan Goodman, head of the Explorers and Producers Association of Canada.

"At this point in time, there's been so much investment, we have to get this done. Obviously, this is a piece of nation-building infrastructure and it's got to get across the line here."
Getting the Trans Mountain Expansion (TMX) across the finish line in this long-running saga underscores just how difficult it's been over the past decade to build major energy infrastructure in the country.
However, it's still needed as oil production in Western Canada continues to grow. Global demand is rising, expected to hit almost 102 million barrels per day this year.
"It's a project that's really important and we need to complete TMX and get it in service as quickly as possible," Alberta Energy Minister Peter Guthrie said in an interview.
"This is definitely in the best interest of Alberta to complete this project."
Once built, the project will almost triple the capacity of the existing line to 890,000 barrels per day, moving more oil and refined products from the Edmonton area to a terminal in Burnaby, B.C.
The initial regulatory application to expand the pipeline, which was built in 1953, was filed in 2013, and Canadian regulators approved it three years later.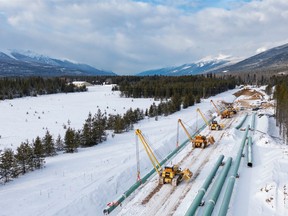 The federal government purchased the pipeline from Kinder Morgan Canada in 2018 for $4.4 billion. The private-sector owners were preparing to walk away as the expansion faced a series of political hurdles and fierce opposition in British Columbia.
Several factors have driven up the costs in this latest round of increases, including rising inflation, supply chain challenges and conducting construction in difficult mountain terrain.
Trans Mountain Corp. also cited the effect of flooding in B.C., unexpected major archeological discoveries, unexpected water disposal costs and earthquake standards in the Burnaby Mountain tunnel, along with costs to build infrastructure in densely populated areas between Sumas and Burnaby.
The project's expanded scope and lower-than-expected contractor productivity — due to labour shortages and challenging weather — also played a part.
This comes on top of the previous cost overruns because of the pandemic and a nearly year-long delay tied to a court ruling after Ottawa bungled consultation with affected Indigenous communities in B.C.
Former TransCanada Corp. CEO Hal Kvisle said there are legitimate reasons behind the escalating expenditures, although he's surprised costs now top $30 billion.
The price tag to build the Coastal GasLink pipeline has also risen over the same time. The gas pipeline is projected to cost $14.5 billion, up from an earlier estimate of $6.6 billion.
The TMX project has 11 shippers who are locked in with long-term contracts to take 80 per cent of available capacity, giving their product access to tidewater.
Recommended from Editorial
Trans Mountain pipeline construction costs balloon again, this time to $30.9B

Opinion: A $100-million hummingbird nest and other Trans Mountain absurdities
While producers will face rising tolls because of the higher costs, Kvisle said Ottawa will likely have to absorb a chunk of them.
"It's difficult to put all the blame on the federal government, but they certainly didn't do their homework before they bought into it," he said.
"There's no way that the government should be off the hook here. They own this thing."
No additional public money will be invested in the project and Ottawa still intends to sell the development to the private sector once it's completed, federal Finance Minister Chrystia Freeland said in a statement.
Environmental critics maintain the latest cost overrun proves the federal investment was a bungle from the beginning.
"Right now, Justin Trudeau is wishing he had a time machine so he could go back in time and not buy this pipeline," said Keith Stewart, Greenpeace Canada's senior energy strategist.
"They're never going to recoup their money."
However, many energy experts and Alberta officials insist the expansion is required and will significantly increase taxes and royalties for governments, and revenue for producers.
With rising oil output in the country, the project is needed, said Kevin Birn, vice-president of S&P Commodity Insights. Western Canadian supply could exceed available pipeline capacities early in 2024 in the absence of Trans Mountain, he said.
If the project wasn't completed, the price discount hitting western Canadian heavy oil would widen on a sustained basis.
"It's definitely a big number, but we think it's worth every dollar from a number of standpoints. This project is needed to get Canadian energy to market," said Adam Legge, president of the Business Council of Alberta.
Ottawa hired BMO Capital Markets and TD Securities to examine the project and they concluded third-party financing is feasible to finish the expansion, which is now almost 80 per cent finished.
At this stage, the Trans Mountain expansion has to be completed.
There will be plenty of time for finger-pointing over what went wrong this time — you can set your watch by it.
Chris Varcoe is a Calgary Herald columnist.
You can read more of the news on source