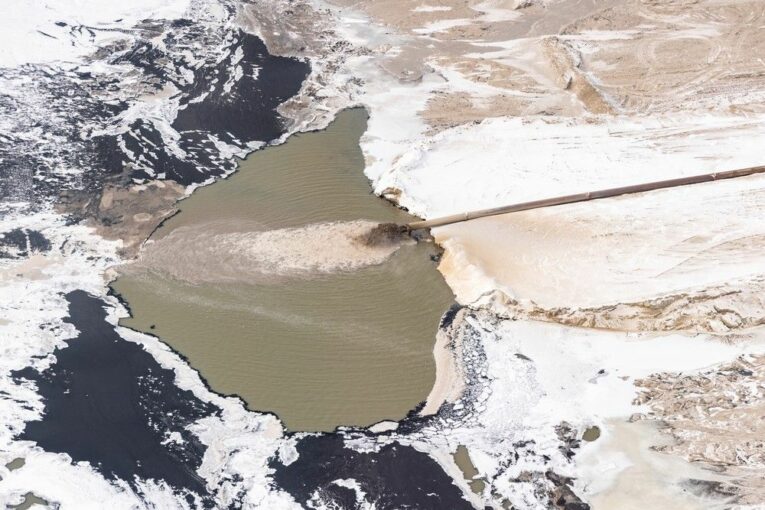 Radically transparent.
We apologize, but this video has failed to load.
Try refreshing your browser, or
tap here to see other videos from our team.
Varcoe: A spill and unpaid tax bills weaken trust in Alberta oilpatch firms
Back to video
This is Premier Danielle Smith's advice when it comes to oilpatch companies communicating with Albertans.
And it seems like there's a need for a boatload of improved transparency and action as the industry suffered two self-inflicted wounds during the past week.
First came the revelation that integrated oil producer Imperial Oil discovered industrial wastewater seeping from its external tailings area at the Kearl oilsands mining site last May — but didn't do nearly enough to tell or update the nearby Athabasca Chipewyan First Nation (ACFN) about the problem.
In an interview Wednesday, ACFN Chief Allan Adam called for an investigation into the entire matter, along with the response by the Alberta Energy Regulator (AER).
"An independent investigation will determine all of the flaws — everything — and when we get that, then we'll determine what we're going to do," Adam said.
Meanwhile, the Rural Municipalities of Alberta (RMA) announced Tuesday the unpaid property tax bill by oil and gas companies increased to $268 million last year — a six per cent increase from 2021 levels — despite crude prices surging above US$100 a barrel.
The RMA noted more than 40 per cent of unpaid taxes were tied to operating companies.
This news comes at a time when the industry is facing increased scrutiny from investors and critics to focus on environmental, social and governance (ESG) issues.
"We're proud of the industry. I have three wells on my land," RMA president Paul McLauchlin, who is also reeve of Ponoka Country, said Wednesday.
"But I'll tell you, are we all paddling in the same direction?"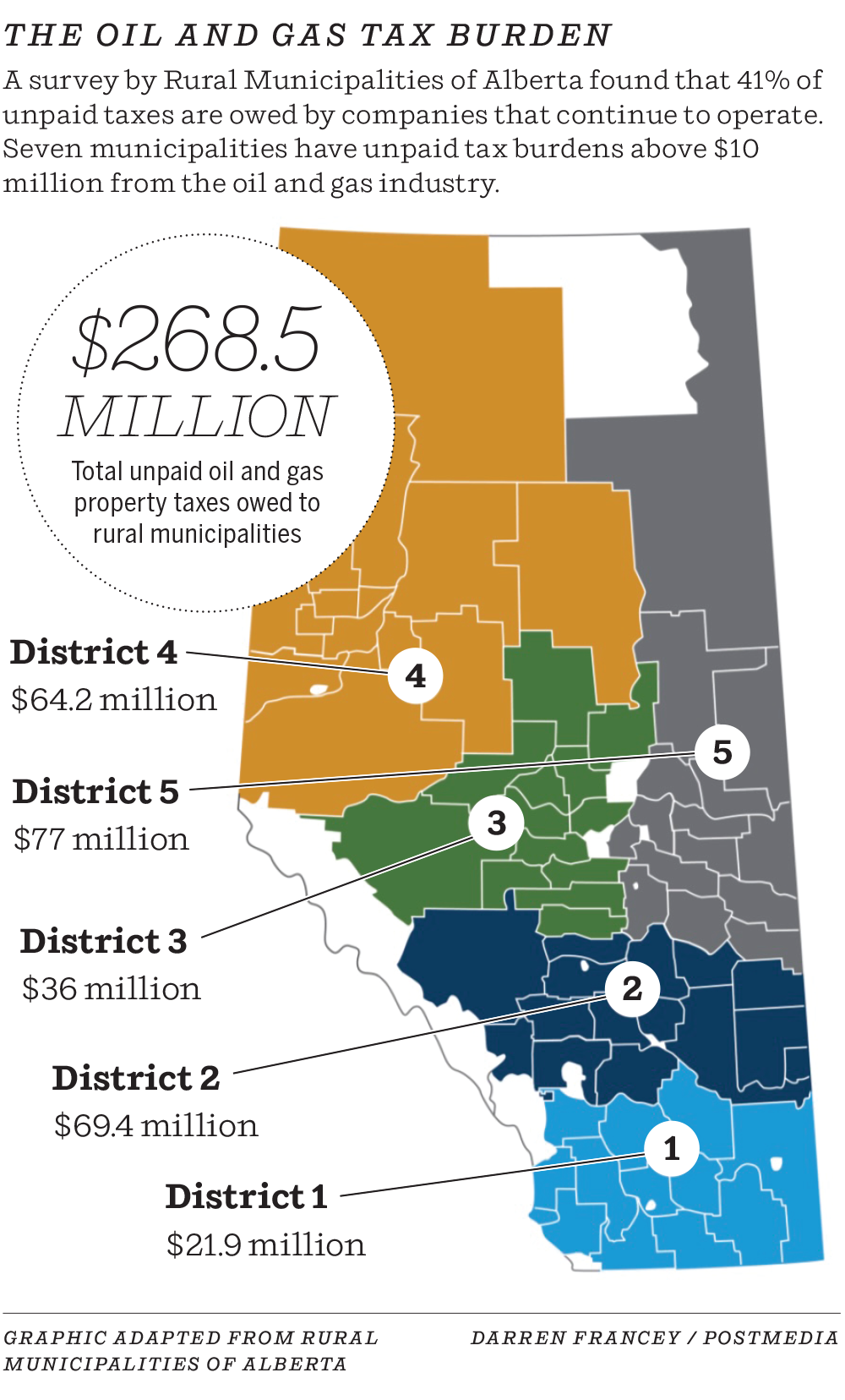 The issue involving Imperial came under the public spotlight last week, as Adam held a news conference and said the ACFN wasn't properly informed of the seepage at Imperial's Kearl oilsands mine.
The company discovered last May that discoloured industrial wastewater, containing dissolved iron and arsenic, seeped from the external tailings area, according to an AER environmental protection order.
Separately, about 5.3 million litres of wastewater overflowed from a process water drainage pond earlier this year.
Imperial said the released fluids didn't enter any waterways in the area and there haven't been any effects on local drinking water in either case, based on its monitoring.
ACFN continues to advise community members not to eat any meat or plants harvested downstream from the oilsands site since last May.
Recommended from Editorial
Chief Allan Adam accuses Alberta and premier of minimizing oilsands seepage, demands access to site

Imperial Oil's tailings spill in Alberta shows new wastewater rules needed: Jonathan Wilkinson

Alberta Premier Smith blames Imperial Oil for poorly communicating Kearl oilsands leak

Alberta Energy Regulator ignored law by not disclosing oilsands leak, lawyer says
Adam pointed out he'd had communication with Imperial officials several times after the initial seepage in May, but wasn't informed about the issue.
The company and premier insist waterways and public health have not been affected, although Smith said Imperial didn't do enough to communicate.
"It didn't get into the river, which means it didn't get into drinking water. It doesn't absolve the company from needing to do a better job to communicate that to the public," she said.
"If they had been radically transparent right from the very beginning, then it might not have turned into the story that it did."
In an interview, Imperial vice-president of upstream operations Simon Younger apologized and said action is being taken to resolve the problems.
He pointed out the company in May 2022 notified seven communities in the area about the seepage problem, but conceded its communication wasn't enough.
"We did not want to go back to the communities until we had a plan for how we would mitigate this issue," Younger said.
"In hindsight, that was a mistake. We could have, and should have, provided more regular updates."
The company has done testing and is "very confident" there's no risk to eating any game or plants from the area, nor any risk posed to wildlife. Imperial has done continuous monitoring since last May and there's been no impact to waterways, Younger said.
"We could have done a lot better with that communication, and we're committed to doing that," he added.
"We have lost some trust and we absolutely need to build that back."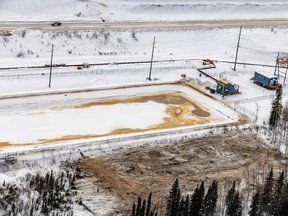 However, Adam said this is more than just a communications issue as the premier suggested earlier this week.
And the ACFN isn't willing to accept any apologies at this point, he added.
"When the problem is fixed properly and it's not leaking and I have no concerns for it, then maybe I will accept their apology," Adam said.
"It's a lack of trust — put it all together and what could be more detrimental than that?"
Mistrust is certainly brewing in rural municipalities that are seeing the unpaid tax bills of energy companies continue to rise, and wonder why the province and AER aren't doing more to tackle the issue.
McLauchlin said government changes made in 2021 to improve collection haven't solved the unpaid tax problem. He believes the regulator should require energy companies to pay all surface leases and property taxes if they want to operate in Alberta.
"We have a big trust conversation here," he said.
"There's a huge loophole that people are just driving their bus through. Imagine, at the highest free cash flow (by companies) ever seen, we actually have the largest unpaid tax this year. How is that even possible?"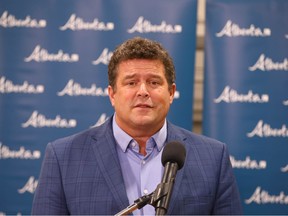 The RMA data shows there was more than $53 million in unpaid taxes from the industry last year, adding to the growing tally since 2018, which now stands at $268 million.
A statement from the province said it's exploring options to ensure taxes are paid as a condition of transferring a licence. The AER said it doesn't have jurisdiction to enforce payment of taxes.
Tristan Goodman, president of the Explorers and Producers Association of Canada, said the problem is "extremely limited" as most energy companies pay their taxes, but he understands the frustration of municipal leaders.
"We can quibble on the numbers to a degree but, in the end, we all recognize — and we're in agreement with — it's not acceptable to have healthy companies not paying their taxes."
Chris Varcoe is a Calgary Herald columnist.
You can read more of the news on source