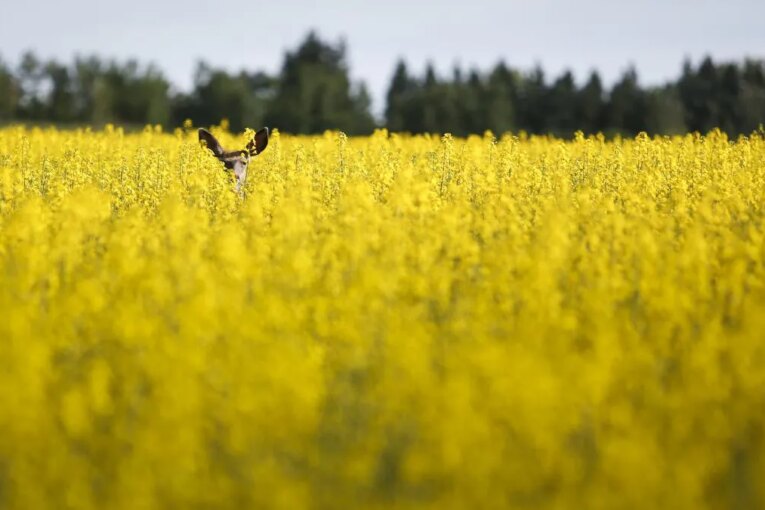 Researcher Debbie McKenzie sees twin threats looming on the Prairies' horizon.
One is a deadly scourge in the form of a prion disease that's sweeping animal populations in Western Canada.
The other, a funding structure that's feared to be on the verge of collapse, potentially compromising their research at the University of Alberta, with dire consequences to both deer and human populations.
As infected deer roam Saskatchewan, Alberta, Manitoba and soon, if not already, British Columbia, McKenzie, a professor who has studied prion diseases for 35 years, and her team, said they're scrambling to keep everything from falling apart at an important juncture in Chronic Wasting Disease (CWD) research.
CWD is part of a family of prion diseases — basically messed up, misfolded proteins — that afflict everything from mice to humans. The oldest prion disease is scrapie, which affects sheep, while CWD can affect deer, elk and moose. It is considered the most infectious of all.
Bovine spongiform encephalopathy is the most infamous prion disease. Known as Mad Cow Disease, it was discovered in the 1980s and found to have jumped to humans in the 1990s. It serves as a cautionary tale for researchers looking at CWD today.
The disease, sometimes called "zombie deer," is now being seen throughout Canada, sometimes ending up on dinner plates, as researchers struggle to keep up. In animals, CWD always causes death as they literally waste away, prompting a likening to the "walking dead." Studying the disease could become a lot more fraught if, as the groundbreaking research team at the University of Alberta's Centre for Prions and Protein Folding Diseases fears, provincial funding disappears.
"Always the elephant in the room with CWD is that we don't know … if it's going to jump to humans," McKenzie said. "The evidence experimentally suggests that it is possible. But again, no one's ever been identified as being positive."
That doesn't mean it couldn't jump in the future, warned McKenzie, who noted that Mad Cow disease took years to incubate in humans before it was discovered. It is spread by humans eating infected beef. The resulting disease in humans is called variant Creutzfeldt-Jakob disease, or vCJD, and about 230 people have been infected since it was first identified in the 1990s.
Meanwhile, "for reasons we don't quite understand," said McKenzie, CWD "exploded" in the early 2000s, soaring throughout Colorado, Wyoming and beyond.
Deer, when they're infected, look emaciated, explained McKenzie. They're prone to be hit by cars because their neurological function is damaged. The disease spreads through the saliva, feces and urine of infected animals and can stay in soil for a long time. It's very hard to get rid of, said McKenzie. The incubation period for deer is about two years.
Hunters may not be able to tell if a deer is sick, and even though the Alberta government will test a deer for the disease before a hunter eats meat from it, those tests can take a long time. Hunters sometimes take the risk.
It could be a long time before any sign of the disease is noticed in humans.
Holger Wille, a structural biologist and professor at the U of A, is the interim director of the prion centre. He's researching a potential vaccine for CWD.
He and his colleagues at the centre have received some funding to keep the research going. In January 2022, the province announced research grants of $250,000 for both McKenzie and Holger. McKenzie is looking at genetic resistance in white-tailed deer and caribou.
But those research grants don't last forever and often come with strict stipulations around how they can be spent.
Concerning the researchers is separate funding that, for years, the prion centre received annually to the tune of about $500,000. That all but dried up in the summer of 2022. The centre used to receive the $500,000 sum annually from the Alberta Prion Research Institute, part of Alberta Innovates, a provincial corporation. It used the money for operational costs such as taking care of animals and facility upkeep.
The researchers were told it was no longer going to be granted to them because the original intention was to study Mad Cow. That disease has mostly disappeared, so the team was told the funding would end. However, they believe their work is as crucial as ever.
The researchers themselves are able to access some research grant money through Alberta Innovates and other agencies, but this type of funding is different from the $500,000, a solidified annual amount that could be relied upon for a long time.
"There's just not a concentrated effort (or) the amount of funding available that we had before, particularly to maintain the animal facility and the containment facility and prion lab," Wille said. "That's why we were threatened with immediate extinction in August. And we survived this one with emergency funding from the university and some of our own funds that we could redirect."
The University of Alberta stepped up to provide money as it fizzled at the provincial level, but it's unclear if that money will continue as the province has seen widespread cuts to post-secondary funding under Alberta's UCP government.
A university spokesperson said it gave the research centre $112,000 in "bridge funding," to help with the facility's operations, and "is actively involved in sustainability planning for this unique centre."
"The Centre for Prions and Prion Folding diseases is a world leader in prion research as well as neurodegenerative and other diseases resulting from misfolded proteins," they said.
The centre was originally championed because Mad Cow was being detected in cattle in Canada, mostly in Alberta, said Wille. This was affecting the export market as countries backed away from Alberta cattle, causing losses of billions of dollars.
Already, dire signs point to more animals being infected with CWD.
One concern is the ongoing spread of CWD westward and northward, "which is particularly scary," Wille said because it could overlap with the caribou.
"We assume that the southernmost caribou population may already have infected animals. We just haven't seen it yet because of the incubation period," he said. "In caribou, we know it is also in the range of two to five years.
"Because of the population dynamics, of course they stay together in herds much more. The consequence of that one could be devastating."
In the Rockies, herds of caribou near Jasper, Alta., are already endangered, and the federal government is scrambling to protect them. There are four herds near Jasper, the largest about 50 members strong.
The prion centre also studies Alzheimer's and the prion disease that inexplicably develops in humans, also known as Creutzfeldt-Jakob disease, but different from the variant version developed from eating Mad Cow-infected cattle. The disease is very rare, affecting about one in a million people over the age of 55.
Alberta has tracked the spread of CWD since at least 2009, according to publicly available data.