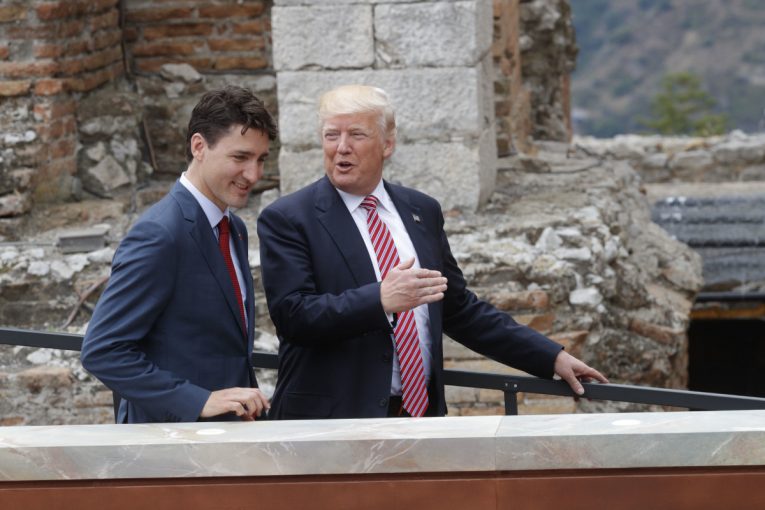 OTTAWA—U.S. President Donald Trump, who threatened to walk away from NAFTA after complaining Canada and Mexico were being "difficult" at the negotiating table, now says he and Prime Minister Justin Trudeau agree on one thing: they both want a new NAFTA deal quickly.
The White House released a statement saying Trump and Trudeau spoke Thursday about the North American Free Trade Agreement, and the two leaders "stressed their hope to reach an agreement by the end of this year."
Trudeau's office made no mention of this in an official summary to Canadian media of the leaders' conversation.
The Prime Minister's Office said only that Trudeau offered condolences and Canadian assistance for the recovery effort in flood-stricken zones in the southern U.S. (Public Safety Minister Ralph Goodale said the U.S. federal emergency management agency, FEMA, formally requested from Canada supplies such as hygiene kits and baby supplies for Hurricane Harvey victims.)
Mexico has been pushing for a trade deal according to Trump's timeline all along, ahead of presidential elections looming in Mexico next year.
And it is Mexico that provided the clearest picture yet of how wide the gaps are as the second round of NAFTA talks begins Friday in Mexico City.
Economy Secretary Ildefonso Guajardo told Mexico's Senate that failure at the NAFTA table is a real possibility, while the Canadians insist it's early days yet.
"We have to have an alternative plan perfectly prepared. A scenario without NAFTA is something we have to think about," said Guajardo, according to an Associated Press report.
Guajardo said key sticking points include U.S. demands to modify NAFTA's dispute resolution process and tighten labour standards, and that about 15 of the 25 negotiating groups have run into differences after the first round of talks that ended Aug. 20 in Washington. Canadian officials won't discuss this kind of detail.
Mexican President Enrique Pena Nieto dispatched top ministers to Washington to push back at Trump's heated political rhetoric and to stress the need for serious negotiations, not threats. Mexico says it will work on a "Plan B" to diversify its trade options.
In Montreal, Trudeau continued to project calm, telling the United Food and Commercial Workers Canada national convention on Thursday that his government is focused on increasing labour and environmental protections. "We're going to get a fair deal for Canadian workers," Trudeau said.
Speaking on condition of anonymity, several senior Canadian officials told the Star that Trump's threats are seen as "a negotiating tactic." It was always known that this was "an arrow in their quiver," said one official, although not one Canadians expected to be deployed at this early stage.
Another senior official said nothing has materially changed, and it is hard to see "how that really affects the dynamics in Congress, which is where a deal has to be ratified if a new one is on the table."
However the Canadians believe John Kelly's appointment as Trump's chief of staff was a "good development" overall, because, while he hasn't stopped the president from tweeting, the retired general knows Canada well. It's said that during the state visit to Washington in February, at a meeting between Canadian ministers and Trump cabinet members, Kelly, then homeland security secretary, said "the only problem we have with the northern border is that it's too slow."
Speaking from Mexico City, Jerry Dias — national president of Unifor, Canada's largest private sector union, representing more than 310,000 workers — called Trump's threats "comical," adding if the U.S. were to walk away now, it could hurt American autoworkers even more.
Dias argues if NAFTA is terminated and no longer applied to the auto industry, the default would be a 2.5-per-cent tariff that the U.S. applies to imported vehicles. "At least in Canada, our tariff on imported vehicles is 6.1 per cent," he said. Dias said American, German and Japanese auto companies would be happy to pay a 2.5-per-cent tariff and move even more production to Mexico, where labour and environmental protections are lax. Dias says if Trump is serious about raising labour standards to ensure a level playing field, he would have to insist on enforceability and significant penalties, which would, then, also mean taking on American states in the south that have right-to-work or anti-strike laws, and put up barriers to unionization or free collective bargaining.
"The emperor has no clothes," said Dias.
Dias says Canada has proposed adhering to international labour standards, but the U.S. is unlikely to agree, having signed only two of eight International Labour Organization conventions. "So they (the U.S.) are going to have to do a lot more than just talk tough, because it doesn't scare anybody."
You can read more of the news on source