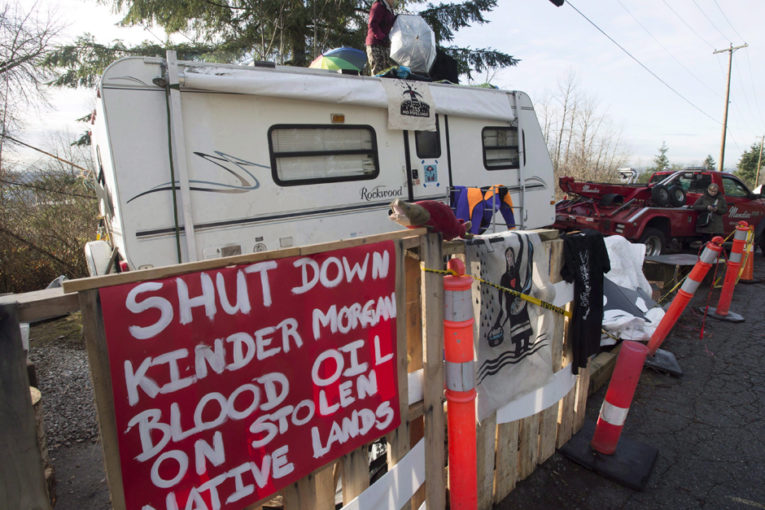 BURNABY, BC — It didn't take long Tuesday for a City of Burnaby lawyer to lay into Kinder Morgan Canada Ltd.'s vice president of operations, repeatedly grilling him at a National Energy Board hearing over whether he knew that a section of the proposed Trans Mountain pipeline expansion went through a designated conservation area.
"I think we'll get a lot quicker to where we want to go if you answer the questions I ask," Gregory McDade said pointedly to Kinder Morgan's Michael Davies. "Did Trans Mountain know this land was intended for the conservation area or not?"
Burnaby's intent was not clear, Davies replied, saying that maps the company obtained from the city showed that their proposed route did not go through the conservation area.
Did you ever ask Burnaby "flat out, is this or is this not part of your conservation area?" McDade pressed on, demanding a yes or no answer.
A company lawyer cut in, suggesting to the three-member panel that not every question can be answered with a simple yes or no.
"This isn't an episode of Columbo," he said.
The sparring came on the second day of hearings aimed at determining the exact configuration of the $7.4 billion expansion of the Trans Mountain pipeline meant to deliver Alberta crude oil to the B.C. coast and then on to Asian markets.
The federal government gave its conditional approval to the project in fall 2016, approving a 150-metre wide corridor within which the pipeline could be built. The current hearings are focused on a 35-kilometre stretch of the proposed pipeline that would go through parts of Burnaby, Coquitlam and Surrey.
At times taking on the tone of a feisty courtroom drama, other times lumbering along like a zoning bylaw meeting, the hearings — held under heavy security in a Burnaby hotel conference room — allow private landowners and municipal officials to air their grievances and question Kinder Morgan officials.
According to written submissions by the City of Burnaby, the proposed route — an expansion of an existing pipeline built in 1953 — would cut through public use green space and trails and impact sensitive ecosystems.
Throughout Tuesday's hearing, Davies told the panel the company chose the "best possible route" for the project and adhered to "standard" routing principles.
Given that the existing pipeline is now surrounded by heavy growth, it was not practical, he said, for the company to build along the existing route. So instead the company tried to align the route with other existing infrastructure, such as roads, railways and utility lines and do so with minimal impact on landowners, he said.
The company also carefully considered impacts on environmental spaces, Davies said, insisting that the city maps the company relied upon showed their route does not intersect the Brunette River Conservation Area but runs adjacent to it.
"What if your map is wrong?" McDade shot back, pulling out other maps, including one from the city's official community plan from 1998, showing different boundaries.
Earlier, McDade questioned whether the routing principles used by the company were standard for the industry.
"They're standard for the project," Davies replied.
"Let me be more direct," McDade said. "It's not usual to take a pipeline through the heart of major municipality, is it?"
"It's not something that happens frequently," Davies acknowledged.
McDade suggested the company "did not follow any objective process" and "targeted city lands that were open … for the taking," an assertion Davies denied.
Before this week's hearings began, one academic complained the National Energy Board failed to consider two fundamental questions: whether the expansion was even needed and whether alternative routes through less-congested areas were properly considered.
Tom Gunton, director of the resource and environmental planning program at Simon Fraser University, said if the proposed Trans Mountain pipeline expansion, Keystone XL pipeline (from Alberta to the U.S. Gulf coast) and Enbridge Line 3 pipeline replacement project (from Alberta to Wisconsin) all proceed, there could be more pipelines than are necessary, especially when forecasts call for diminished supply growth.
He also said there was a failure to consider routes that bypass Lower Mainland municipalities altogether, including one through Washington state.
But NEB spokesman James Stevenson said the project's feasibility and need were assessed in detail during the application phase of the project.
"Specifically, the board considered the availability of oil to the proposed pipeline, the existence of markets and economic feasibility. And in considering whether the project was in the public interest, the board concluded there would be a number of important benefits for Canada, including an increased access to diverse markets for Canadian oil, jobs, direct benefits and development as well as considerable government revenues."
A spokeswoman for the project added that the project came about "in response to requests from oil shippers to help them reach new markets."
dquan@nationalpost.com
You can read more of the news on source