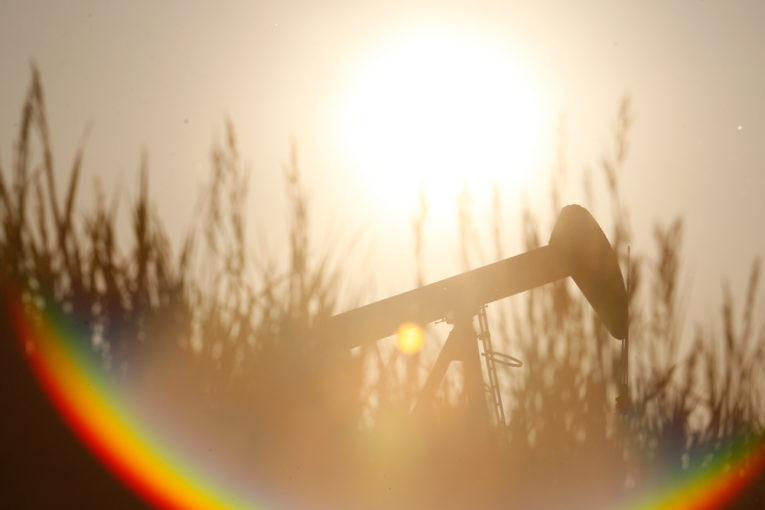 Hundreds of large, over-sized trucks carrying multi-tonne pieces of oilfield equipment are rumbling down the streets of Grande Prairie, Alta. in increasing numbers as the city rebounds from a province-wide recession.
"There's a whole bunch of equipment moving through the city," Mayor Bill Given said, adding that after more than two difficult years of low oil and gas prices, Grande Prairie's economy is showing signs of improvement.
In fact, the northwestern Alberta city's economy is outperforming the rest of the province by most measures largely because it's situated in a prolific natural gas and liquids hydrocarbon formation called the Montney that producers and pipeliners are spending tens of billions of dollars to develop.
During the prolonged downturn in Alberta, roughly 400 oversized trucks per month moved through Grande Prairie en route to drilling and hydraulic fracturing jobs in the Montney and the nearby Duvernay formation. That almost tripled to 1,100 at the end of 2016 and has remained elevated at 700 oversized movements per month through the first half of 2017.
"Our job is to sense patterns, and all of the leading indicators and all of the anecdotal conversations suggest that things are picking up," Given said, adding the city's unemployment rate has dropped for three straight months.
Statistics Canada pegged Grande Prairie and area's unemployment rate at 6.3 per cent in June, but that figure reflects a huge geographic region that includes places like Jasper National Park and towns closer to Edmonton, like Athabasca.
The city's economic development manager Brian Glavin said Grande Prairie's real unemployment rate is likely at or under five per cent, which compares especially well with a provincial average of 7.4 per cent. Fort McMurray and area's unemployment rate was 7.7 per cent in June.
The city, four-and-a-half hours' drive from Edmonton, is home to less than two per cent of Alberta's population but is home to five per cent of all hiring activity in the province, according to government data.
Job boards show oilfield service companies are hiring labourers and equipment operators as energy companies drill and fracture more and more wells.
In 2014, fracturing companies fracked a record-setting 483 wells and tied them into pipeline gathering systems in the area. That number fell to 328 in 2015 and then to 135 in 2016. So far this year, Glavin said the number of fracked and tied-in wells has climbed to 383.
"Probably in October/November, it really started to ramp up. We've added capacity and I think most of our competitors have as well," said Calfrac Well Services Ltd. vice-president, capital markets and strategy Scott Treadwell.
"Of our active fleet, it's probably close to two-thirds based in Montney," Treadwell said.
All of the leading indicators and all of the anecdotal conversations suggest that things are picking up
ARC Energy Research Institute director of research Jackie Forrest said Canadian energy companies are projected to spend $29 billion outside of the oilsands this year and more than half of that will be spent in the greater Montney region, which extends into northeastern B.C. The region also includes hydrocarbon plays like the Deep Basin, where producers are also active.
In addition to that capital spending, Forrest said pipeline companies and infrastructure companies have spent or plan to spend billions more expanding pipeline networks and on ever larger natural gas processing facilities. Across the border from Grande Prairie, near Dawson Creek, B.C., Encana Corp. and Veresen Inc. are spending $860 million on the largest gas processing plant built in 30 years.
In recent months, midstream companies like Enbridge Inc., Alliance Pipeline L.P., Pembina Pipeline Corp. and TransCanada Crop. have all announced plans for expanding their pipeline systems in the region, which carry a range of natural gas and valuable "liquids" like butane, ethane and pentane to processing facilities in the province and to farther-flung demand hubs like the Chicago and Toronto areas as a result of rising production from the formation.
The vast majority of Pembina's capital spending in recent years has been focused in the area, said the company's senior vice-president, NGL and natural gas facilities, Stuart Taylor.
"As some of the other formations in the province in other areas have less liquids, they've become a little more challenging economically but, this northwest Alberta area, we're excited about the resource," Taylor said.
At the beginning of July, he said Pembina (which is in the middle of acquiring Veresen and its 50-per-cent interest in Alliance) brought a new $3-billion expansion phase of its pipeline system in the area into service, boosting its capacity from 900,000 barrels per day to over 1.3 million bpd, and the company has the ability to further expand the system.
"I think it's just the beginning. The resource bases of the Montney and Duvernay are huge and I think producers will be drilling wells for many, many years and there will be new processing and pipeline expansions to manage that growth in the future," Taylor said.
Auspice Capital launched a new natural gas ETF this month and the firm's founder and chief investment officer Tim Pickering is bullish on the commodity, because utility companies expect to burn more gas and less coal for electricity generation across North America.
In addition, he said the U.S. is exporting more of its natural gas through LNG facilities to countries around the world and through pipelines to Mexico. "This could be the year we go into the winter (with gas storage) not quite full," Pickering said, noted that gas has been oversupplied in years past but the outlook is improving.
It is pretty challenging to be super optimistic when you have just been punched in the face
Mayor Given expects activity to continue ramping up given planned capital spending announcements by energy companies. He said the city tried to use the downturn to invest in municipal infrastructure to be better prepared for a return to record-setting activity levels.
Given said most city residents are still reeling from Alberta's recession and won't likely feel optimistic again until "Help Wanted" signs are hung in windows all over town.
"It's pretty challenging to be super optimistic when you've just been punched in the face," he said.
Forrest, who is from Grande Prairie, said that on a recent business trip to the city many business owners were still concerned about the province's economy but she said, "You've fared better than anyone else in the province."
Forrest and others expect the region to continue to be busy for years to come as energy producers, service companies and pipeline companies continue to ramp up in the area.
"Those formations and that area of the province are going to be viable economic drivers for many years to come," Pembina's Taylor said.
Canadian producers and global oil majors are increasingly exploring the Duvernay and Montney formations, which they say could rival the most prolific U.S. shale fields
Despite harsh, but not unexpected, words from the U.S., the sixth round of negotiating was not without its moments of optimism
The IEA expects Canadian production to hit a record 5.07 million bpd this year
The ruling means the duties totalling 292.21% imposed by the U.S. Department of Commerce won't be applied
You can read more of the news on source