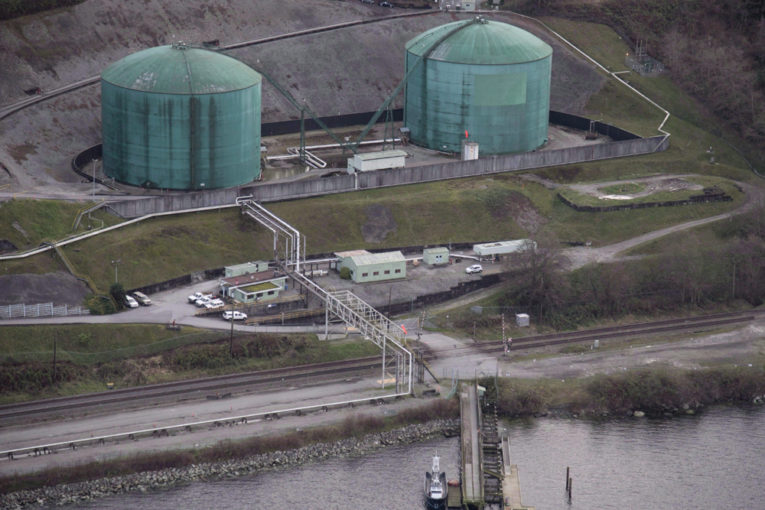 CALGARY — A fight over the federal government's bill to overhaul the National Energy Board has been playing out away from the public eye but is expected to take centre stage in the Senate in September.
Behind the scenes, lower levels of government, companies and think tanks have been suggesting changes to Bill C-69 — which would turn the NEB into the Canadian Energy Regulator and establish an Impact Assessment Agency for new resource projects with a new scope and timelines.
At a recent meeting of energy ministers in Iqaluit, Saskatchewan's Bronwyn Eyre said she and her counterparts in Alberta and Ontario raised concerns with the bill, which she called "an existential threat to our competitiveness."
"It is the least-reported development that poses the greatest economic risk. I think there are no bones about that," Eyre said, adding her government is considering appearing before the Senate to raise their concerns.
Similarly, Alberta Energy Minister Marg McCuaig-Boyd said her province, which has supported the federal government on several energy and climate initiatives, has "serious concerns including 'what does this mean for project timelines'." She said Alberta is seeking to influence the implementation of the regulations even though the bill has passed through the Commons.
McCuaig-Boyd, Alberta Environment and Parks Minister Shannon Phillips and Indigenous Relations Minister Richard Freehan wrote their federal counterparts earlier this summer, saying "energy leaders are voicing their concerns about many of the federal government's proposed changes and Alberta shares many of those concerns. Many have suggested they will not be making new investments in our country."
When the Senate resumes sitting in September, Bill C-69 will have its second reading in the upper chamber and then head to a committee hearing.
After months of formal and informal complaints, provincial politicians, policy analysts and industry groups are now seeking to propose amendments to weaken some of the bill's most contentious features.
While energy industry groups have been the most vocal opponents, independent Senator Doug Black, who opposes the bill, said he is concerned it is "so widely cast" that it would affect numerous other industries.
This bill is so seriously flawed that it cannot be effectively addressed with a series of amendments
"This bill is so seriously flawed that it cannot be effectively addressed with a series of amendments — you'd have to have hundreds of amendments," said Black.
There has been significant negative feedback as various industries have raised concerns about its wide-ranging changes that will affect the energy, mining and forestry industries and even projects such as port expansions, the senator from Alberta said.
While the Senate is typically home to less drama than the Commons, Black said he expects "the conversation will be very open and very spirited."
Calls for regulatory reform intensified this week when the Federal Court of Appeal overturned approvals for the Trans Mountain pipeline based on flaws in the NEB's process and failings of the government of Canada to consult.
Following the decision, Finance Minister Bill Morneau criticized the previous NEB process and said the country's regulatory structure needed to change. "Our government inherited a flawed environmental review process and we've made efforts to improve it," he said.
Still, industry groups and policy analysts are concerned the government's reform efforts need to be simplified.
Incomprehensible system
"We have a regulatory system in Canada that is so complex that not even the government or the regulator understands it," Canadian Association of Petroleum Producers president and CEO Tim McMillan said. He noted the Appeal Court took issue with the NEB's review process and with the government's consultation process — not with Kinder Morgan Inc.'s consultations with First Nations.
"We need a simpler, more straightforward easier-to-understand regulatory system," McMillan said, adding that the court decision this week was "extremely frustrating."
Some say they expect reaction to Bill C-69 could result in a back-and-forth round of changes between the Senate and the Commons, as with the government's cannabis legislation in June.
"I don't relish a battle between the Senate and the House," Canada West Foundation president and CEO Martha Hall Findlay said.
Hall Findlay, a former Liberal MP, said the Canada West Foundation is now working on suggestions to amend the bill that's "not good enough," partly because it hasn't had a thorough review in the House of Commons by the finance, international trade and natural resources committees.
"You cannot, in my view, from a governance perspective, have a bill of this magnitude and of this consequence, reviewed only by the environment and sustainable development committee," she said. "It now appears as though the Senate will have to do the job of the House of Commons."
Typically, bills are reviewed by only one committee, Natural Resources Canada spokesperson Emerson Vandenberg said, adding that the chair of the natural resources committee James Maloney was involved with the environment and sustainable development committee's review.
The details on how Bill C-69 will actually work in practice, if passed in its current form, are still being finalized, but the legislation is aiming to strike a balance between resource development and environmental concerns, said Nichole Dusyk, a federal policy post-doctoral fellow at Calgary-based energy and environment research group Pembina Institute.
"Overall, the bill does actually try to accomplish what the industry was asking for in terms of providing more certainty and shorter processes," Dusyk said.
Still, various industry groups and institutes such as the Canada West Foundation want the bill sent back to the drawing board. "We should just start again," Hall Findlay said.
Bill C-69 gained a lot of attention when it was first introduced in February because of an eye-catching clause that will require new resource projects to be analyzed according to "the intersection of sex and gender with other identity factors."
Environment and Climate Change Minister Catherine McKenna has previously said that gender-based analyses will help the government design better policies, including how climate change disproportionately affects women in the developing world.
While companies are concerned about resource projects being subject to undefined, wide-ranging analyses of social and wider climate policy issues, they say there are still bigger problems with the bill.
Unclear project list

Bill C-69 does not spell out what types of energy or mining or renewable power projects will fall under its jurisdiction. A project list is still being developed.
"Without a clear understanding of what the federal government intends to include in the project list, our government, investors, proponents and the Canadian public are unable to understand the implications of the proposed legislation," McQuaig-Boyd, Phillips and Freehan wrote in their letter to Ottawa. They requested the project list before the fall.
In addition to what industries are affected, the legislation has also not defined what constitutes a major project.
"There is no clear distinction as to what will constitute a major or minor project in the eyes of the government, or indeed, what actually constitutes a project for inclusion in an assessment," GMP FirstEnergy analysts wrote in a research report earlier this year.
The bill also eliminates the "standing test" for who can participate in a project review.
Previously, the NEB or other regulators would only grant standing to people who were directly affected by major resource projects but the new legislation "will increase engagement opportunities for all Canadians to intervene on major projects," according to Natural Resources' Vandenberg.
Enbridge Inc.'s Northern Gateway pipeline review process saw 4,554 applicants register to make oral presentations and 5,582 people filed letters of comment, some with fake names such as Captain Jack Sparrow and Venezuela's state-owned oil company, the Canadian Energy Pipeline Association (CEPA) said in its submission to the committee reviewing the bill. The federal government scrapped the contentious Alberta-to-B.C. project in 2016.
"One environmental group claimed to have signed up more than 1,400 of the applicants through a 'mob the mic' initiative," the submission noted. CEPA declined to comment.
Similarly, Canadian Association of Petroleum Producers executive vice-president Terry Abel said it's difficult for companies to prepare responses to wide-ranging and ill-defined comments. "If people are going to participate, we need to know what issues they're raising," he said.
Still open to political whim
In the past, federal cabinet held decision-making power for pipeline projects. Under Bill C-69, in cases where the Impact Assessment Agency has authority, that power is transferred to the Minister of Environment and Climate Change, unless the minister refers that decision to cabinet.
In both cases, industry groups have asked the government to issue a decision early, then allow the regulators to review the projects and grant permits.
"There is real concern over political discretion and political whim," Canada West Foundation's Hall Findlay said of the concentration of decision-making power in the bill.
Pipeline executives feel the same way.
"You need to have a reconstructed process where you get the politics out as early as possible, not as late as possible," said Dennis McConaghy, a former executive with pipeline giant TransCanada Corp.
He said Bill C-69 pays lip service to that idea by providing an impact statement after 180 days before the second phase of the process begins, but throughout both process phases, the environment minister has the power to stop or extend the review at any point.
"There's nothing definitive gained for the proponent that comes out of the first phase," he said. "Private capital has to know whether the government is aligned before it spends this much money."
Flexible deadlines

Bill C-69 sets up two phases for an impact assessment process, both of which tighten review timelines. But critics say the bill is also riddled with loopholes for extending those timelines.
"The timelines for a final decision, though appearing to sound more concrete and shorter, are actually vague at best," GMP FirstEnergy analysts note. "The proposed legislation also appears to have many sub-processes which have the potential for 'stopping the clock' on the IAAC review once it is in the second stage."
CEPA notes the bill includes the potential for timeline extensions "at least 40 times, significantly reducing the probability that any project will meet the legislated timelines."
Natural Resources Canada's Vandenberg said the government is working to create "clear timelines, including the establishment of a 300-day baseline for review panels involving federal regulators, and a 45-day timeline to appoint panel members."
• Email: [email protected] | Twitter: geoffreymorgan
You can read more of the news on source