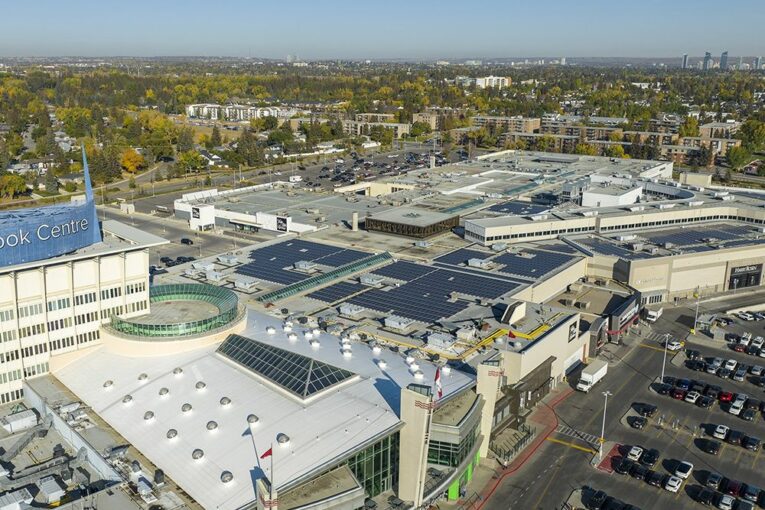 Enmax power and CF Chinook Centre have taken a big step in bringing solar power to commercial and industrial properties to enhance reliability in the provincial grid.
We apologize, but this video has failed to load.
Try refreshing your browser, or
tap here to see other videos from our team.
Solar panels atop Chinook Centre able to feed into power grid
Back to video
Enmax installed 1,900 solar photovoltaic panels on top of the shopping centre and switched them on in May. A first for North America, the system allows excess energy to be exported into the secondary grid, just as residential properties with solar panels can.
"This pilot wasn't really about volume, however, this was about proving out the technology that we could actually enable to a power flow," said Jana Mosley, president of Enmax. "Now we'll continue to work with other customers who are interested to enable this for them as well."
A secondary grid is used by many major municipalities to provide reliable and secure electricity.
Enmax modified the network's hardware, software and communications to enable the two-way flow without impairing the safety and reliability of the network.
Mosley noted other major centres such as Edmonton, Saskatoon, Toronto, San Francisco, Seattle and New York are closely watching this project as a potential blueprint for future infrastructure.
Recommended from Editorial
TC Energy spending $146 million to build solar power project in Alberta

Rush to rooftop solar in Spain accelerates as Europe reinvigorates renewable push

Developer proposes $340M solar farm project for Sturgeon County
Chinook Centre's panels, which cover the area of three NHL ice surfaces, have fed 5,000 kilowatt-hours back into the grid since they were turned on, about enough power to run a typical home for 10 months, all while the mall has also been running on solar power.
Paige O'Neill, general manager at CF Chinook, said over the course of the year, the array is expected to generate 900,000 kilowatt-hours of electricity for the mall — about 10 per cent of the demand — and mitigate 650 tonnes of carbon dioxide.
"It certainly does match and complements Cadillac Fairview's initiative to reduce our carbon footprint and electricity consumption," she said.
CF Chinook was approached by Enmax about the project, which also received $1.4 million from Natural Resources Canada and $820,000 from Alberta Innovates. The size of the rooftop of Calgary's largest shopping centre was a big factor in its selection as well as its high level of energy demand. Installation of the solar panels began in April 2021.
If the project continues to be successful, Enmax will look at more buildings on the secondary grid, including installing rooftop arrays on downtown offices and other shopping centres.
With the rising cost of power and a greater strain on the power grid, alternative sources of power are becoming more important.
Last week, the Alberta Electric System Operator issued two separate Grid Alerts, which required shifting to backup systems and calling on Albertans to dial back usage.
AESO also reported the average pool price for electricity between Sept. 22 and 28 was $308/MWh, more than double the year-to-date average pool price of $145/MWh.
While not a silver bullet, Mosley says this can be part of the long-term solution to decarbonization.
"We as a society are going to need all the tools in our tool kit to achieve the clean energy goals that we collectively have within our province and our country and globally," she said. "We're also going to need to look at ways where we can better use distributed energy sources right at the source, where we're needing to take less from the grid, and so that a project like this enables people to do that."
Twitter: @JoshAldrich03
You can read more of the news on source