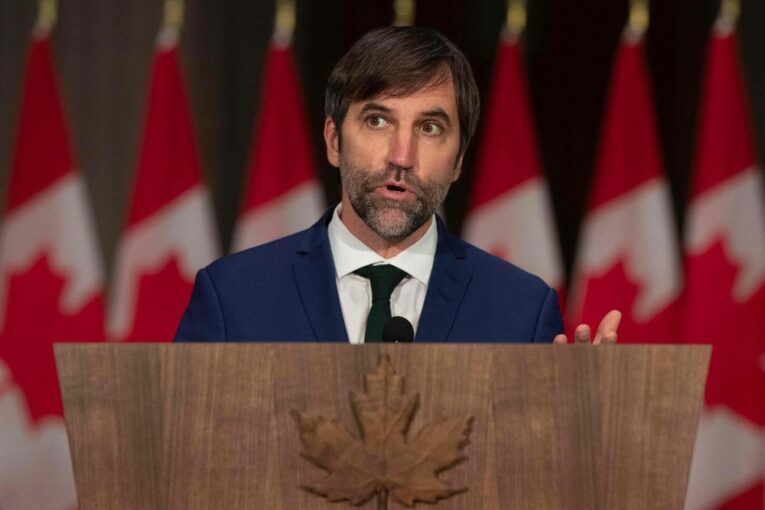 Environment minister Steven Guilbeault announced Thursday the federal government is launching a new $200-million fund that will offer grants of up to $25 million to projects that reduce carbon emissions as Canada seeks to cut emissions to net zero over the next three decades.
The money extends the government's Low Carbon Economy Fund , which since it was launched in 2018, has doled out $275 million for solar panel installations, city composting programs, energy-efficient retrofits and other projects.
"The Low Carbon Economy Fund is an important part of Canada's climate plan, helping to create cleaner healthier communities, and good jobs," Guilbeault said at a virtual press conference.
Almost any organization — from businesses, non-profits to provincial or municipal government bodies — can apply for between $1 million to $25 million from the fund, or for a cost-share of between 25 and 75 per cent.
In addition to reaching net-zero emissions by 2050, Canada is targeting a 40 to 45 per cent reduction below 2005-level emissions by 2030.
"Every project in this program brings us closer to our national target," Guilbeault said, before highlighting several examples from the past.
In Ontario, the city of Peterborough received $6.1 million to help fund a $15.3-million composting program to keep food and organic waste out of landfills.
We can't hope to fight climate change while continuing to financially encourage the production or consumption of fossil fuels

Steven Guilbeault
At the virtual conference. Gary Baldwin, a councillor in Peterborough, who called it a "major component" of the city's plan to get to net zero by 2050, said composting would eliminate approximately 80,000 tonnes of carbon dioxide between 2023 and 2050.
In Saskatchewan, Cowessess First Nation received $630,000 to install solar arrays that now account for about 60 per cent of its annual electricity consumption.
Cadmus Delorme, Chief of Cowessess First Nation, praised the project as an important part of Canada's reconciliation process with Indigenous people, and said workers received training from the experience that has enabled them to find employment in other parts of the province.
At the same time, the small-scale of the projects described helps offer context to the challenge that lies ahead for Canada if it wants to meet its emissions' reductions goals.
In 2019, the most recent data available from the government , the country emitted 730 million tonnes of carbon dioxide equivalent — up from 694 million tonnes in 2009. The oil-and-gas sector and transport sector accounted for 52 per cent of total emissions — roughly 379.6 million tonnes.
The government wants all new vehicles sold to be zero-emission by 2035, with interim targets along the way.
Meanwhile, the oil and gas sector has estimated that it will cost $75 billion to install carbon capture systems and other technology that will allow it reach net-zero emissions by 2050. An industry group has suggested that government should contribute as much as two-thirds of that amount.
Already, there is pushback, including a letter last week signed by more than 400 scientists, academics and others who contend that carbon-capture technology is unproven and expensive. They urged the government not to move forward with a proposed tax credit, available to companies that invest in carbon capture, because it would constitute "a fossil-fuel subsidy."
Guilbeault is expected to release his emissions-reduction plan by the end of the March and has said he is against new fossil-fuel subsidies.
"We can't hope to fight climate change while continuing to financially encourage the production or consumption of fossil fuels," he said.
Financial Post
• Email: [email protected] | Twitter: GabeFriedz
_____________________________________________________________
 If you liked this story, sign up for more in the FP Energy newsletter.

______________________________________________________________
You can read more of the news on source