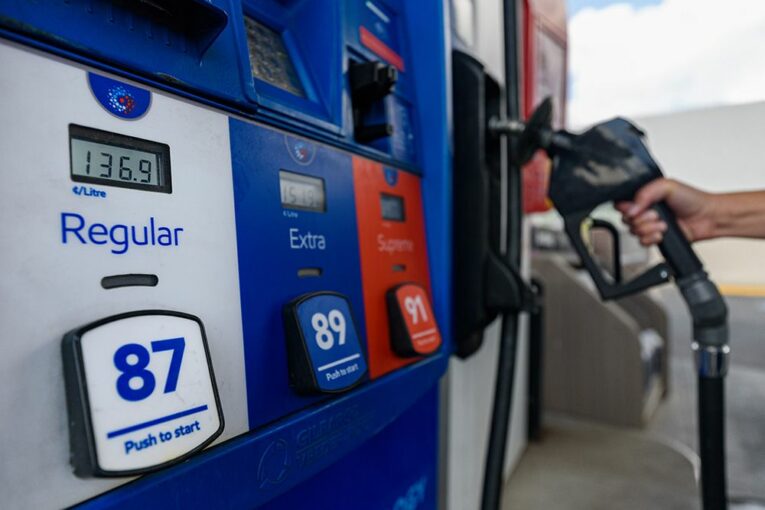 A gas war in Red Deer has many Calgarians green with envy as they look at prices north up Highway 2.
We apologize, but this video has failed to load.
Try refreshing your browser, or
tap here to see other videos from our team.
'Ridiculous': Red Deer gas war leaves Calgary drivers fuming
Back to video
A thread on Reddit sprung up overnight with more than 130 responses as of Thursday at noon. The gripe is the realization that gas 150 kilometres north of this city averaged 116.9 cents per litre, while customers at the pump in Calgary were shelling out an average of 139.0 for regular. Edmontonians, according to GasBuddy.com, were paying 131.4 per litre.
The original post summed it up.
"Why is that we are still seeing gas prices in the city about 1.40 when we just visited Red Deer an hour away and prices are 1.16 . . . 30 cents more than Airdrie," it said.
Dan McTeague, president of Canadians for Affordable Energy and the man behind Gas Wizard, which forecasts prices for the next day, ripped into gas stations pocketing unjust profits in July. But he said Edmonton and Calgary stations are now actually priced about where they should be according to rack prices — earning between seven and 12 cents per litre.
What's happening in Red Deer is an expensive anomaly for the gas stations.
"It's a gas war. There's no other way of describing it," McTeague said, noting stations in that city on average are selling six cents below rack prices and loyalty cards will cut a further three-to-five cents per litre.
He said the prices are coming with refinery support or a company willing to eat the loss to stay alive in the fight, relying on bulk sales to lower their price or retail to cover their losses.
Recommended from Editorial
Cost of gas in Alberta pumps inflation to higher than national levels

Looking for lower gasoline prices than in Calgary? Try Toronto

Breakenridge: Should Alberta consider gasoline rebates as next line of defence against $2-a-litre fuel?
Gas Wizard is forecasting prices to start to fall in Alberta's two largest centres on Friday. He has Edmonton dropping to 127.9 while Calgary should go to 136.9. McTeague said gas is almost always cheaper in the capital due to the level of competition and the proximity to refineries.
He noted the price of diesel is expected to drop considerably from 174.9 in Calgary. Truck drivers should exercise patience, however, as it will take a few days or weeks for the full extent of the drop to take effect. Generally, prices on diesel go the other way with winter around the corner.
"I would say to everybody, hold on to your hats because the market is melting down again today for no apparent reason other than the energy markets are broken," he said.
The price of West Texas Intermediate crude oil continues to drop, sitting around $85 per barrel at midday Thursday. It hit a peak of $121.51 on June 9.
The Alberta government removed the provincial gas tax on all gas sold above $90 per barrel on April 1, and it was to be incrementally reinstated down to $80 per barrel in an attempt to help slow inflation. Below that mark, the full 13-cent tax was to be in place.
The policy is to be reviewed every quarter, including again on Oct. 1. The province will average the last four weeks of WTI closing prices up to Sept. 15 to set the tax for the next three months. According to the Fuel Tax Relief Program, the tax will be reinstated to 4.5 cents per litre when WTI is between $85 and $89.99 per barrel, and to nine cents per litre when it is $80 to $84.99.
Calgary and Edmonton continue to have the two lowest prices for gas in Canada among major metropolitan areas, as one Manitoban discovered in comparing hits to the wallet with her mother.
"Mom paid 114.9/L for gas in Red Deer today! $0.50/L cheaper! What the ????" she said in a Twitter post — gas is 164.9 per litre in Winnipeg.
It could be worse.
Vancouver continues to have the highest gas prices in Canada, with Gas Wizard forecasting a 197.9 average on Friday, while Victoria is at 188.9, it will be 151.9 in the Greater Toronto Area and 167.9 in Montreal.
Twitter: @JoshAldrich03
You can read more of the news on source