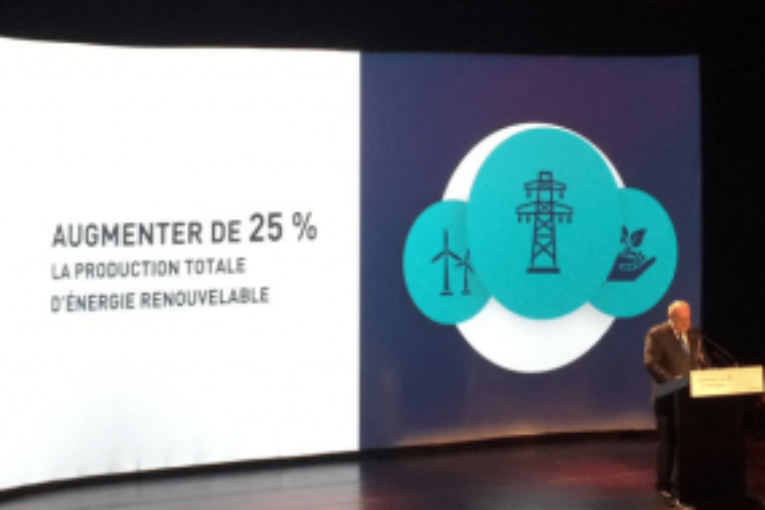 On April 7, Quebec Premier Philippe Couillard, Minister of Energy and Natural Resources Pierre Arcand and ministers Dominique Anglade, David Heurtel and Geoffrey Kelly unveiled the Quebec government's new 2030 energy policy.
This plan, titled Energy in Québec: A Source of Growth, had been long awaited by all stakeholders in Quebec's energy industry. It is an important guidance document that will set directions for the next 15 years concerning energy and the fight against climate change in Quebec.
From the outset, we welcomed the objectives set by the Quebec government as well as the coherent approach that led to them. The 2030 energy policy is aligned with Quebec's GHG reduction timeline and targets, which is good news. With this policy, the government is making a strong commitment to the decarbonization of our economy for the benefit of all Quebecers.
To this end, the government set an objective to increase its total renewable energy production by 25 per cent. Hats off! It's worth remembering that Quebec still imports over half of the energy consumed on its territory (see pages 5 and 6). Increasing renewable energy production will increase its share in our energy mix by substituting for the import of fossil fuels. This can only be beneficial to Quebec, both environmentally and economically.
That is a major objective and a strong asset for attracting investment into renewable energy. But it must be accompanied by the rapid adoption of concrete measures. Specifically for wind power, the energy policy provides for three areas of development:
In the coming weeks, this blog will take an in-depth look at each of these three lines.
The 2030 energy policy is ambitious, and Quebec's wind industry is confident that it can play a leading role in achieving its objectives.
Nevertheless, Quebec's wind industry is faced with certain short-term imperatives, especially from a manufacturing standpoint. If it is to enjoy a stable and predictable volume, solutions will need to be implemented quickly, as we proposed during the various consultations that led to this policy.
The challenge facing the Quebec government is clear. A strong wind industry will be a major asset for achieving "long"-term objectives for 2030. But to this end, short-term measures must be undertaken quickly, lest the foundations for success by 2030 be seriously weakened.
Quebec Regional Director at the Canadian Wind Energy Association
You can read more of the news on source