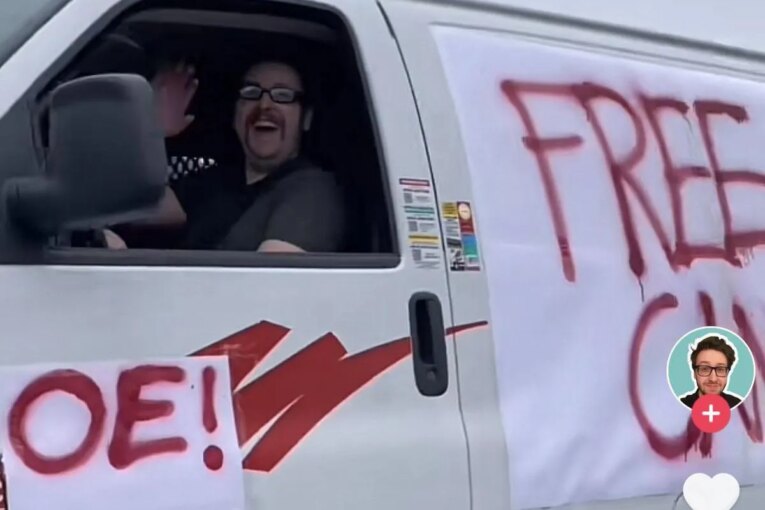 A social media personality known for his "Trying to get the FBI at my door" TikTok series has succeeded in drawing the attention of police at home here in Canada.
Anthony Gagné, 27, was arrested for public mischief this week, accused by authorities of fabricating crimes to gain more followers.
Gagné's TikTok series has more than 440,000 followers and has garnered 9.5 million combined views. He maintains multiple accounts on varying social platforms to distribute his content, drawing more than 500,000 subscribers altogether.
Police in Gatineau, Que., say they began investigating in May after they received a complaint regarding a person driving a truck with the words "FREE CANDY" displayed on its side, in what authorities say was an attempt to attract children.
In a TikTok video on Gagné's account, he is seen wearing a fake moustache, and driving a U-Haul rental around neighbourhoods, filming children and pedestrians, while also yelling "free candy." A caption for the May 26 video described it as "my biggest project yet." A longer version of the video appears on Gagné's YouTube account.
Gatineau police allege they discovered multiple videos with similar intentions of faking crimes that Gagné published beginning in 2021. Police allege he used various online search tools to obtain information related to committing crimes.
Police allege that officers identified several videos featuring Gagné simulating crimes in an attempt to provoke a reaction from varying law enforcement agencies. His videos regularly include the line "Trying to get the FBI at my door," though it's not clear why the U.S. Federal Bureau of Investigation would be involved.
Gatineau police say RCMP officers tried to contact Gagné, but that he continued to create the videos.
In one of the videos in Gagné's series, he cut a piece of cardboard into the shape of a human head in what he says was an attempt to make his neighbours believe they were being spied on.
He placed the cardboard cut-out in his basement window that faced the neighbours' property, then went outside to film how it looked from their perspective.
That TikTok video alone received more than 790,000 likes and 2,000 comments.
Gagné continued his shenanigans in a two-part video in which he said he waited more than four hours in a hazmat suit waiting for city garbage collections to show up on their scheduled route.
He had placed a barrel bearing a nuclear waste symbol to see if the garbage collectors would take the barrel. When Gagné asked, they responded "no, we don't."
Police say Gagné's wife, who remains unnamed, also makes appearances in his content.
Gatineau police said they executed a search warrant Wednesday at Gagné's home. They said they seized three cellphones, a tablet, a laptop, fake blood, a balaclava, a gas mask and a rental vehicle contract.
As per the Criminal Code, public mischief refers to the act of intentionally deceiving an officer to initiate or prolong an investigation.
Gatineau police spokesperson Const. Patrick Kenney said in an email: "It is time for people to understand that actions or words expressed on social media are not without consequences.
"It is a crime," Kenney said, whether someone, virtually or in person, incites police to initiate an investigation under false pretences.
The Gatineau police force "will never hesitate to pursue legal action against individuals engaging in reprehensible, threatening, hateful, or wasteful behaviour that forces public security organizations to deploy resources unnecessarily."
Gagné was released after a court appearance and must abide by several conditions, including being banned from posting content for his roughly 500,000 followers on various social media platforms.
SHARE:
JOIN THE CONVERSATION
Conversations are opinions of our readers and are subject to the Code of Conduct. The Star
does not endorse these opinions.
You can read more of the news on source