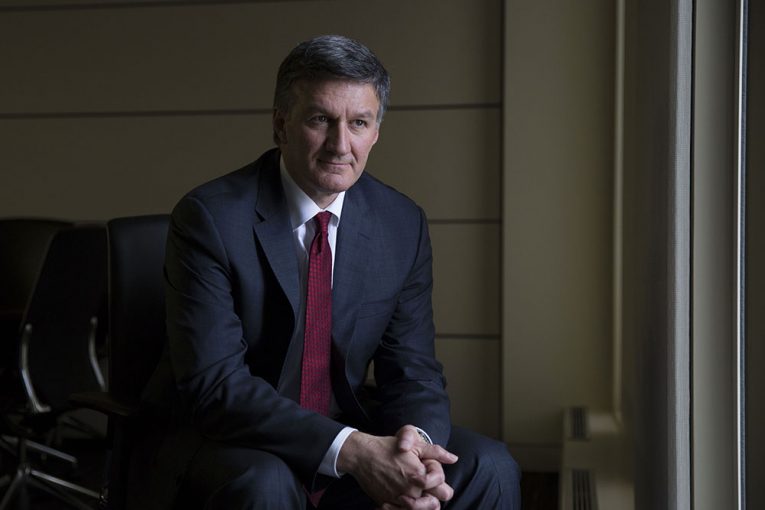 Enbridge CEO Al Monaco earned nearly $18 million in 2019, a sum that lands him at the top of the list of Calgary's highest-paid executives.
The pipeline boss's 45.6 per cent year-over-year increase in total reported earnings vaulted him from sixth place in 2018 to first in Postmedia's annual survey of executive compensation, beating out other well-paid business leaders — including Canadian Pacific Railway CEO Keith Creel and telecommunications head Brad Shaw — who have taken the prize for top earnings in past years.
About half of Monaco's significant increase in compensation was due in part to an increase in pension value, which represents long-term post-retirement compensation, said Enbridge's chief human resources officer Marc Weil. The remainder was in the form of the granting of long-term incentives, which will be paid out in the future only if the company meets certain performance targets.
"The majority of our CEO's compensation is performance-based . . . which essentially means we need to deliver and perform at or above expectation to pay out that compensation overall," Weil said in an interview. "It's not what we would call day-to-day compensation."
Weil added Enbridge had a successful 2019, selling assets and deleveraging its balance sheet while still growing the business and executing its capital program.
"We're really proud of the results that were delivered under Mr. Monaco's leadership in 2019," Weil said. "From a financial perspective alone, we delivered over $9.2 billion of distributable cash flow, which was a significant increase from 2018, which was just around $1.6 billion."
Enbridge also had the highest paid executive team in 2019, with occupants of its C-suite earning a collective $39.1 million.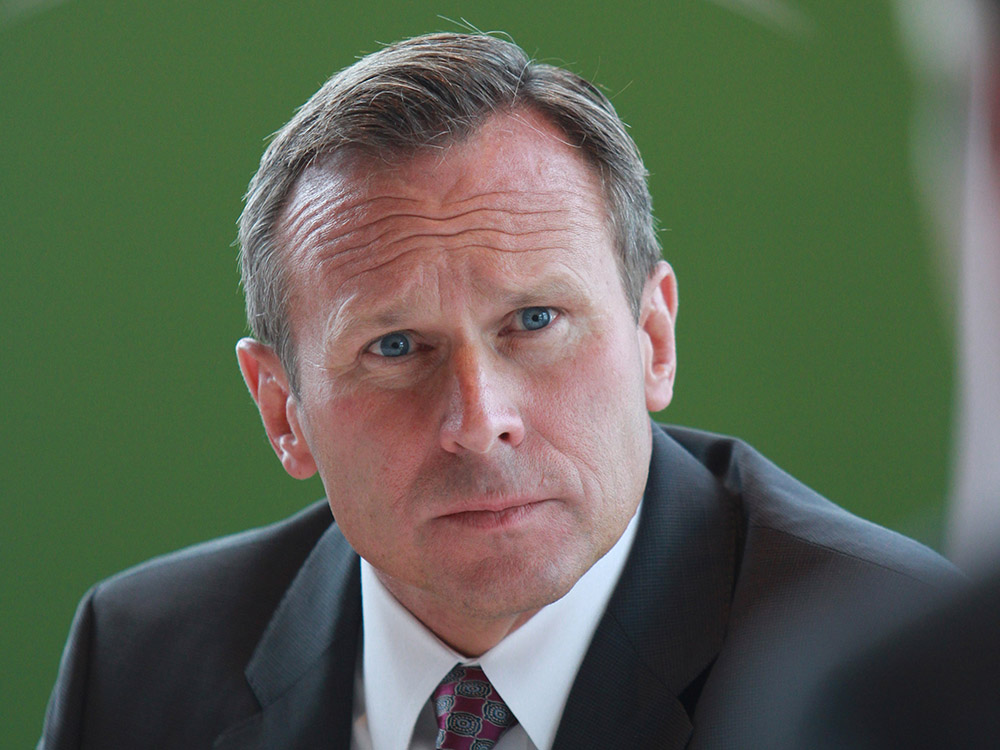 The second-highest paid CEO on Calgary's list in 2019 was Doug Suttles of oil and gas producer Ovintiv Inc. (The company formerly known as Encana moved its corporate domicile from Calgary to Denver in January 2020, but was still included on Postmedia's list of Calgary-headquartered companies for 2019.)
Suttles — who was also No. 2 on the list in 2018 — earned $16.7 million in 2019, up from $15.3 million the year before, in spite of the fact that total shareholder returns delivered by Ovintiv declined nearly 22 per cent year-over-year.
That's a red flag, said Arden Dalik, senior partner with Global Governance Advisors, which conducts Postmedia's compensation survey. Shareholders want executive pay to be aligned with a company's success, and will kick up a fuss if CEO compensation increases while share prices are declining, she said.
"If I was on that compensation committee, I would really be getting ready to defend what I'd done, because it looks like a misstep," Dalik said of Ovintiv.
Ovintiv spokeswoman Cindy Hassler said the vast majority of Suttles' compensation consists of performance-based long-term incentives such as stock options that will not be paid out if the company doesn't meet its goals. Hassler acknowledged Ovintiv's stock price has underperformed its peers and said as a result, Suttles has only realized around 60 per cent of his reported pay since becoming CEO in 2013.
However, Hassler said in spite of the negative stock performance, Ovintiv's overall financial and operational performance has been strong and the board firmly believes in the appropriateness of Suttles' realized compensation.
"It is clear our shareholders agree with our compensation philosophy as they approved with almost 90 per cent voting in support," Hassler said in an email.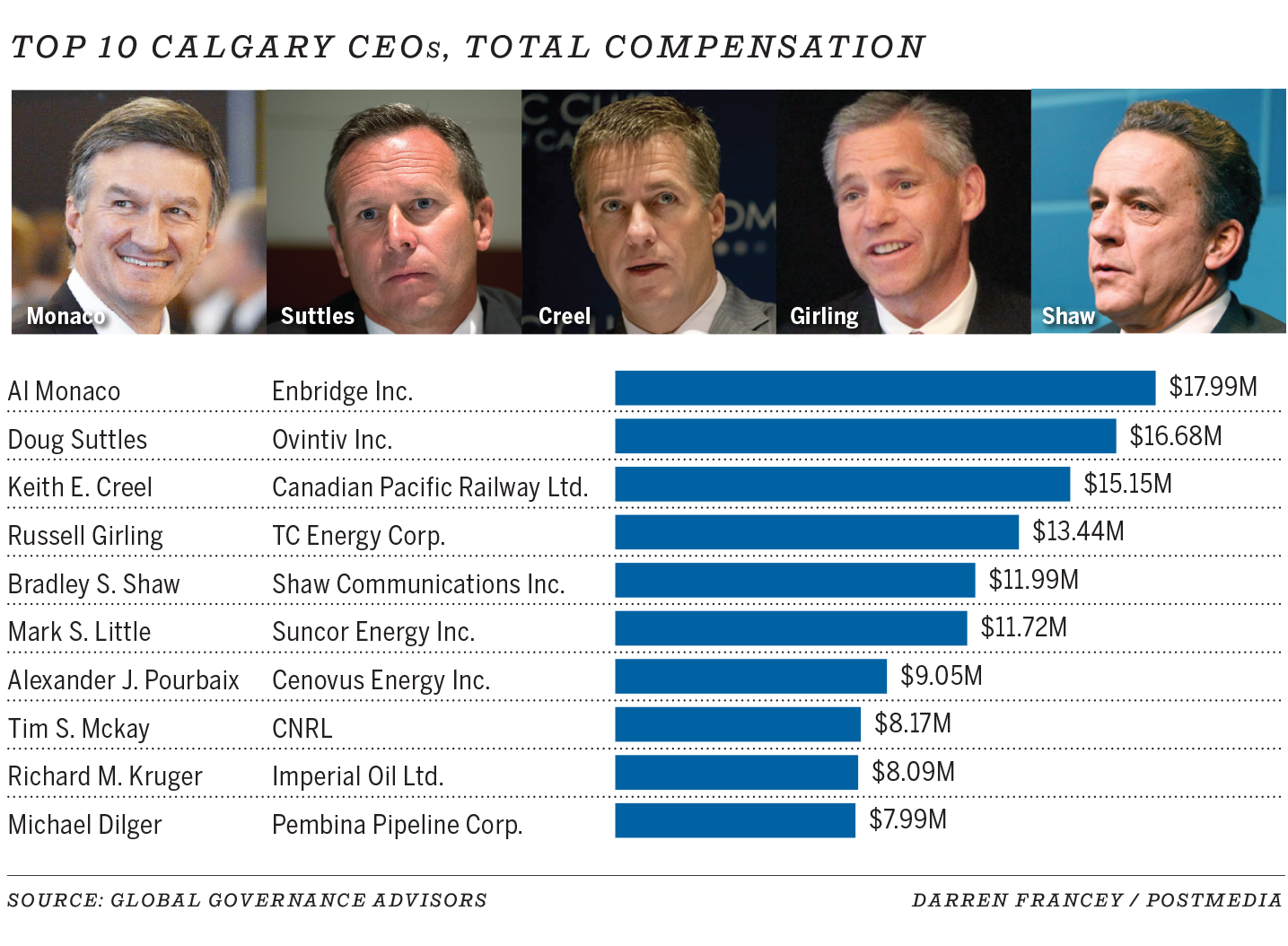 Coming in third on Postmedia's survey of the city's top 100 publicly traded companies is Keith Creel, CEO of CP Rail, who took in $15.2 million. Company spokeswoman Salem Woodrow said in an email that CP generated a total shareholder return of 38 per cent in 2019, outperforming its competitor peer group.
"In the three years Mr. Creel has been president and CEO, CP has generated a total shareholder return of 78 per cent," Woodrow said. "Under his leadership, 2019 was another record-setting year by most financial performance measures."
Russ Girling of TC Energy Corp. was the fourth-highest paid CEO in 2019, earning $13.4 million, while Shaw Communications CEO Brad Shaw landed in fifth place with $12.0 million in 2019.
Suncor Energy's Mark Little, who earned $11.7 million, ranked sixth on the list, and in seventh place was Cenovus Energy's Alex Pourbaix, whose reported compensation increased nearly 38 per cent year-over-year to $9.0 million — a jump that helped him crack into the top 10.
"In 2019 Cenovus's performance was strong, including one-year total shareholder return of 40 per cent," company spokeswoman Sonja Franklin said in an email. "Alex Pourbaix's strong leadership contributed directly to these results."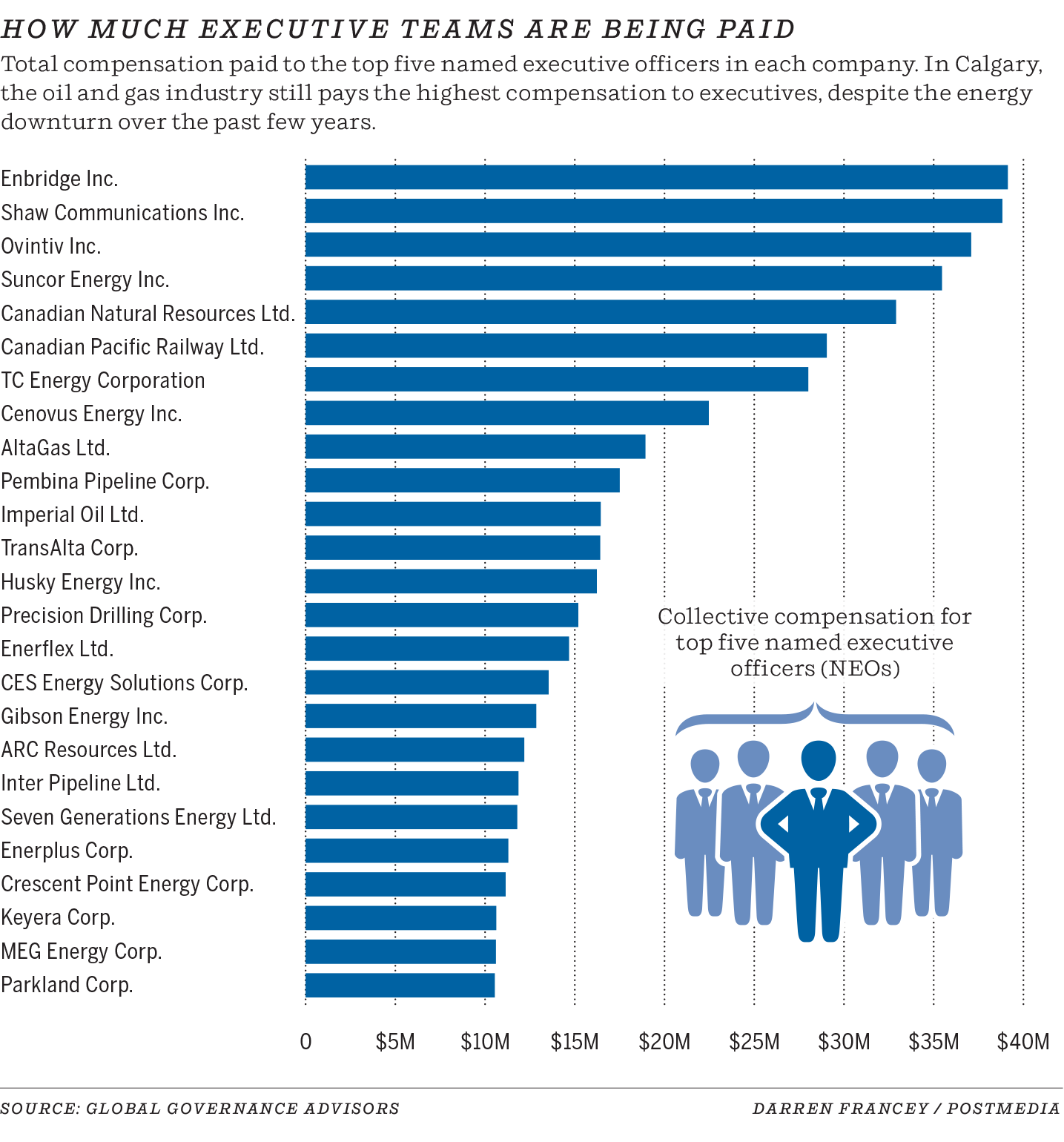 Rounding out the eighth, ninth and 10th spots on the list were Tim McKay of Canadian Natural Resources Ltd. ($8.2 million); Rich Kruger of Imperial Oil Ltd. ($8.1 million) and Michael Dilger of Pembina Pipeline Corp. ($8.0 million).
The highest-paid female executive in Calgary in 2019 was TransAlta Corp. CEO Dawn Farrell, who earned $6.8 million.
After Enbridge, the company with the second highest-paid executive team was Shaw Communications, which awarded a collective $38.8 million to its C-suite occupants.
Postmedia's executive compensation data for 2019 was collected before the double economic whammy of COVID-19 and the global oil price crash. Since then, many of the executives on the list have announced they will take voluntary salary cuts. At Enbridge, Monaco will take a 15 per cent reduction in base salary due to the pandemic and oil price crash, while Pourbaix of Cenovus will have his annual base salary reduced by 25 per cent.
Other companies that have publicly committed to executive salary reductions in 2020 include CNRL (where president Tim McKay's salary is being cut 20 per cent) as well as Ensign Energy, MEG Energy, and Trican Well Service.
Twitter: @AmandaMsteph
You can read more of the news on source