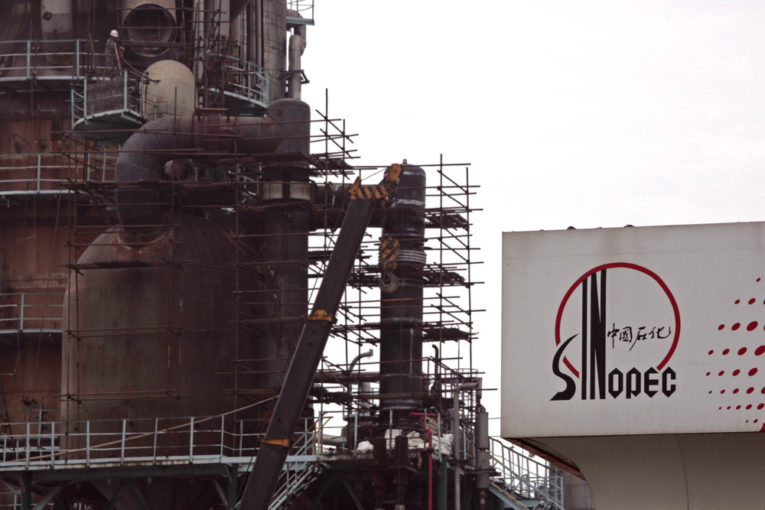 CALGARY – Two major Chinese companies and a group of Albertan Indigenous communities are proposing to build a new oilsands refinery and petrochemical complex in the province, according to a press release issued by consultants Stantec Inc.
Beijing-based and state-owned China Petroleum & Chemical Corp., better known as Sinopec, along with China Construction Industrial & Energy Co. Ltd. and a consortium of Alberta Indigenous groups signed an agreement with the Edmonton-based engineering and design firm Stantec Inc. on Thursday to pursue permits for a new bitumen refinery.
According to a Stantec release, the partnership of Sinopec, China Construction and the Indigenous groups will be called SinoCan Global, which will begin seeking permits to build a 167,000-barrels-per-day bitumen refinery and petrochemical complex north of Edmonton.
If built, it would become the second-largest refinery in Alberta after Imperial Oil Ltd.'s 194,000-bpd Strathcona Refinery in Edmonton.
"We are very excited to be working with SinoCan Global on this bitumen-based refinery and petrochemical facility," Stantec CEO Gord Johnston said in the release.
While Stantec will provide consulting and regulatory assistance, Sinopec and China Construction will provide "the expertise and investment needed to develop the facility."
"Stantec Consulting Services has been selected to perform the regulatory review and permitting processes for the project," according to the release. "The global design firm will also leverage local relationships and engage in strong stakeholder relations to ensure SinoCan's success in the Alberta marketplace."
The release did not include the investments required to build the refinery but a project of that magnitude would range in the billions of dollars.
The North West Refinery, which has recently been completed in the same region, processes 50,000 bpd and cost $9.5 billion. That project was the first new refinery to be built in Canada in 30 years.
"Stantec has significant energy and resources and environmental science experience, and we are excited to work on a project to boost investment and opportunity in Alberta's energy market," Johnston said.
The companies involved were in a joint meeting Thursday afternoon and not immediately available for comment before deadline.
Details are scarce on which First Nations will be partners in the project with the two Chinese companies, but the release from Stantec indicates a group called Alberta First Nations Energy Development will own an equity stake in the project. Teedrum Inc., an Edmonton-based company, working in partnership with the Alberta First Nations Energy Centre, will lead the development.
An equity stake in a major project would represent a significant energy holding for First Nations in the province. Last November, Fort McKay First Nation and Mikisew Cree First Nation invested $503 million to acquire a 49 per cent stake in Suncor's East Tank Farm, which is used to store oilsands crude before it is shipped to market.
A First Nations group is also proposing the Eagle Spirit Energy oil pipeline connecting Fort McMurray, Alta. to Grassy Point, B.C.
• Email:
You can read more of the news on source