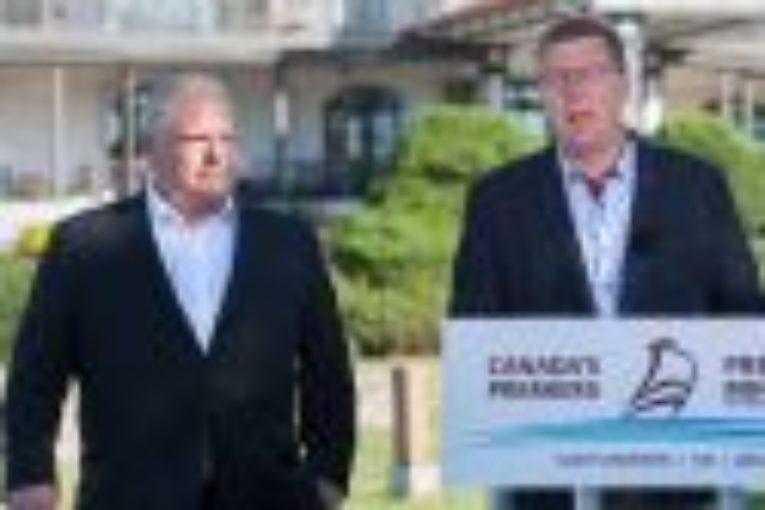 ST. ANDREWS, N.B. — Ontario Premier Doug Ford says his province will join forces with Saskatchewan and intervene in the western province's court case against Ottawa's carbon pricing policy.
Ford joined Saskatchewan Premier Scott Moe in voicing opposition to the contentious federal plan prior to the start of two days of formal talks between Canada's premiers at the Council of the Federation meeting in St. Andrews, N.B.
"I'm here to gather support among my provincial counterparts against the federal carbon tax," Ford said Thursday in a prepared statement to reporters outside the historic Algonquin Resort.
"Ontario will support Saskatchewan in intervening in the reference case they have launched with the (Saskatchewan) Court of Appeal. This is an important step in the fight against the federal carbon tax."
Ford said both provinces are on "the exact same page" and Ontario will use every tool at its disposal to challenge a tax he says is bad for families and businesses.
The announcement came after the pair held a bilateral meeting late Wednesday.
Ford's newly elected government is scrapping the province's cap-and-trade program. A federally imposed carbon price would start at $20 per tonne and increase to a level of $50 a tonne by 2022.
Moe said a one-size-fits-all carbon tax fails to recognize the diverse nature of the Canadian economy.
"This made-in-Ottawa carbon tax plan finds our nation now in this position," Moe said. "We have two provinces in compliance, we have two provinces in court and we have the rest of the country not meeting the federal carbon tax backstop. Today we're grateful that the people of Ontario…will join us every step of the way."
Both men left the podium outside the hotel without taking questions.
New Brunswick Premier Brian Gallant emerged later with Canada's ambassador to Washington, David MacNaughton, who spent time with the premiers talking about ways to best address trade irritants with the U.S.
Gallant was asked whether Ford and Moe's declaration would prove a distraction to talks about freer international and internal trade.
"It's never going to be a distraction to discuss this very important and also very complex subject," said Gallant.
He reiterated his province would remain committed to its carbon plan, while at the same time monitoring what other provinces ultimately do.
"We are open to revising ours to make sure that it is competitive, to make sure that we're still growing our economy," said Gallant. "We have to wait to see what the other provinces are going to propose."
The provincial leaders are expected to discuss a range of other topics, including the U.S. trade dispute, health care, the announced pullout of Greyhound from bus routes in Western Canada, and the skirmish between Alberta and British Columbia over the Trans Mountain pipeline project.
Meanwhile, Gallant issued a written response to all premiers prior to the meeting in support of a letter last week by Manitoba's Brian Pallister, which called for provinces to remove limits on the interprovincial transportation of alcohol for personal use.
In the letter dated July 18, Gallant said barriers need to be reduced on transporting wine, beer and spirits to "give greater choice to consumers and broader markets for producers."
"Canadians will expect movement on this issue and I can say unequivocally that New Brunswick is prepared to take significant action to move us in that direction," Gallant wrote.
The stance is an apparent about face for New Brunswick, which won a court battle in April against Gerald Comeau. He had fought to transport alcohol into New Brunswick from Quebec. The Supreme Court upheld the province's law that fined Comeau $240 for bringing a trunk load of beer and liquor across the border.
Gallant clarified his government's position on the previous court case.
"That was indeed more of a jurisdictional question and that's why the independent prosecution branch of New Brunswick decided to bring it to the Supreme Court," he said Thursday. "We have a willingness as premiers to act on this…to ensure a freer flow of beer and alcohol throughout the country."
The hundreds of thousands of small cells needed to run 5G are a recipe for conflict between cities and wireless carriers
Joe Chidley: Not only does he set up targets for when the good times end, he creates scapegoats to blame for his own failures
Inflation and retail sales drop more than expected
The largest donation ever by a publicly traded Canadian company, made with funds from sale of downtown Vancouver headquarters
You can read more of the news on source