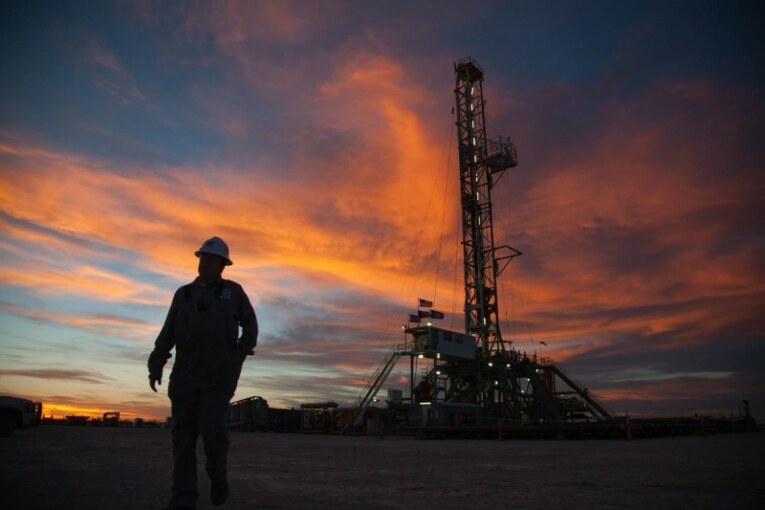 NEW YORK (Reuters) – Oil fell on Tuesday, its first decline in five days, pressured by a firmer U.S. dollar and expectations that upcoming weekly data will show an increase in U.S. crude inventories.
Brent crude settled at $66.63 a barrel, an 87 cent drop from Monday. U.S. West Texas Intermediate crude fell 90 cents to $63.01. Those settlement prices represented a modest recovery from session lows, when benchmarks had slid more than a dollar.
The dollar rose after Federal Reserve Chairman Jerome Powell said the U.S. central bank would stick with gradual interest rate increases. A strong dollar makes oil more expensive for buyers using other currencies.
The oil market had put together a string of four straight days of gains before Tuesday's pullback.
"We got a little extended on the upside – we had a price advance of more than $6 a barrel in crude in less than two weeks," said Jim Ritterbusch, president of Chicago-based energy advisory firm Ritterbusch & Associates.
Analysts polled by Reuters forecast that data would show U.S. crude inventories rose by 2.7 million barrels last week. Industry group the American Petroleum Institute releases its weekly figures on Tuesday at 4:30 p.m. EST. The U.S. Energy Information Administration (EIA) data is out Wednesday morning.
U.S. crude inventories have fallen more than 100 million barrels in 12 months to their lowest in three years.
The EIA will release monthly data on crude supply on Wednesday, which analysts expect to include substantial upward revisions to U.S. oil output, perhaps to an all-time record.
Soaring U.S. production has pressured oil futures at a time when OPEC members and Russia have reduced output in an attempt to support prices.
The United States will overtake Russia as the world's biggest oil producer by 2019, International Energy Agency (IEA) Executive Director Fatih Birol said on Tuesday.
"U.S. shale growth is very strong… The United States will become the No.1 oil producer sometime very soon," he said.
U.S. output was 10.27 million barrels per day (bpd), according to last week's government figures, higher than the latest figures for the world's largest exporter Saudi Arabia and just below Russia. Weekly figures are considered less reliable than the monthly data scheduled for release Wednesday.
"It is likely the monthly data will show U.S. crude oil production in December about 200,000-300,000 bpd above what was estimated in the weekly reports," Petromatrix analyst Olivier Jakob said in a note.
You can read more of the news on source