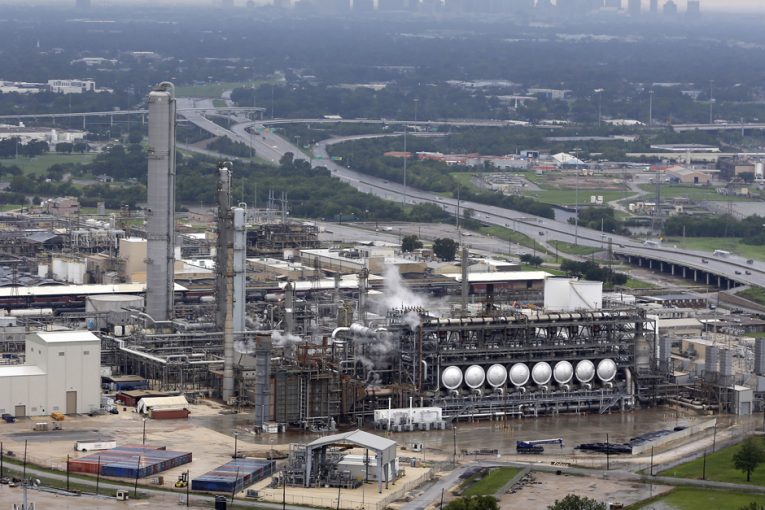 CALGARY – The economic impact of Hurricane Harvey's destruction has been limited on Eastern Canada so far, but the fallout from the storm is expected to affect oil markets for months.
Harvey, a category-4 hurricane later downgraded to a tropical storm, has battered Houston and the wider region since Friday, forcing thousands from their homes and shutting down many oil refineries on the U.S. Gulf Coast.
Citi Research analyst Ed Morse said in a Wednesday note that Eastern Canada and Mexico import large volumes of oil from the U.S. and would be "most dramatically impacted by weather-disruptive flows and potential hurricane damage."
This year, Eastern Canadian refineries have processed an average of 300,000 barrels of oil per day from the U.S., accounting for 12.5 per cent of total Canadian consumption, Morse noted.
Barclays Capital analyst Paul Cheng said in a Wednesday research note that Harvey had shut in 2.6 million barrels of refining capacity per day at this point — or 15 per cent of total refining capacity in the country. "If there is prolonged flooding and severe weather, we would not be surprised if at its peak 2.5-3.0 million bpd (if not a bit a higher) of throughput is shutdown," Cheng said.
In the last month, two shipments of oil from the U.S. Gulf Coast have sailed to refineries in Come By Chance, Newfoundland and Levis, Que., Genscape oil market analyst Hillary Stevenson said. Eastern Canadian refineries had been processing even more oil from the U.S. Gulf Coast before August as there had been a disruption at the Syncrude Canada Ltd. upgrader in Alberta.
However, Enbridge Inc.'s Line 9 pipeline between Ontario and Quebec has allowed Western Canadian oil producers to send more oil eastward, helping reduce the need for U.S. and foreign oil in Eastern Canada, Stevenon said. As a result, the impact on Eastern Canada will be more muted, she said.
Suncor Energy Inc. and Imperial Oil Ltd. spokespersons said their refineries in Eastern Canada had not been impacted so far by the hurricane. Valero Energy Corp. did not respond to requests for comment.
A potentially larger impact will be on Canadian oil producers, who have been working to access the U.S. Gulf Coast refining market for years.
Stevenson said TransCanada Corp. has reduced flows of Canadian crude oil on its pipelines between Cushing, Okla. and the U.S. Gulf Coast as a result of the hurricane, which has forced Canadian producers to stockpile more of their crude at large storage facilities in the U.S. Midwest.
"We could see a backup all the way to Edmonton and Hardisty," Stevenson said, referring to the two largest oil storage hubs in Alberta.
Genscape refinery analyst Lee Williams said it's unclear how long the refineries in Texas will be shut down.
"It's still a little early to tell," he said, noting some of the facilities on the coast were protected by water levies, though there have been reports of flooding at others.
If Hurricane Katrina, which battered Louisiana in 2005, is a guide for how long it will take before the refineries on the Gulf Coast recover, it may take three months before oil production, gasoline prices and refinery utilization returns to pre-Harvey levels, ARC Energy Research Institute's director of research Jackie Forrest said.
Forrest said she didn't expect a major change in oil prices – either for West Texas Intermediate benchmarks or Western Canadian Select – as a result of the storm because both the supply of oil and the demand has been affected by the storm.
"When you look back at Katrina, there wasn't much price escalation – WTI increased a couple dollars a barrel," Forrest said, calling it "a pretty small change to prices."
U.S. gasoline prices for September delivery rose 6.3 per cent to $1.8964 a gallon, while West Texas Intermediate crude fell one per cent to US$45.96 a barrel.
You can read more of the news on source