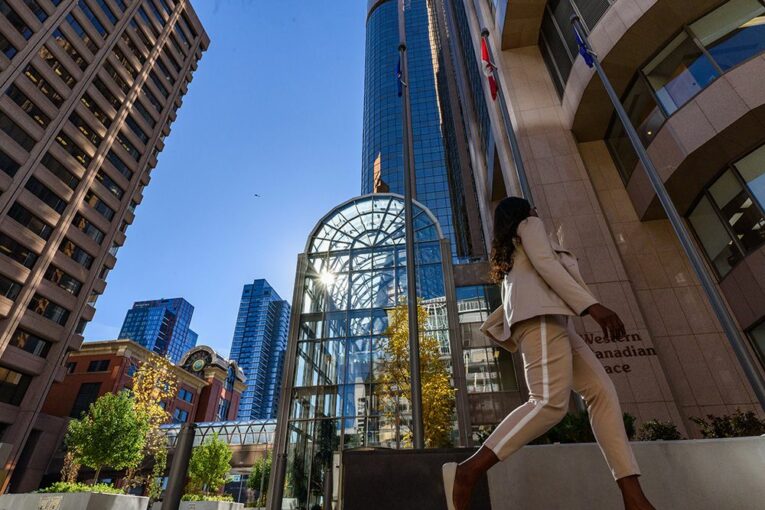 After years of working to diversify the local economy, the rest of the country is finally starting to take notice, according to Calgary Economic Development.
We apologize, but this video has failed to load.
Try refreshing your browser, or
tap here to see other videos from our team.
No longer a one-trick pony, perception of oil-town Calgary is changing
Back to video
CED released data during an economic update on Tuesday showing 90 per cent of business leaders had a positive view of Calgary, while 73 per cent said the city had favourable impressions.
The survey, completed by Stone Olafson, also showed 74 per cent of respondents said Calgary is quickly becoming a hub for tech and innovation, up from 68 per cent, while 65 per cent said Calgary is no longer strictly an energy city, up from 60 per cent.

Brad Parry, president and CEO of CED, said changing the discussion around Calgary's image is important for attracting investment, development and talent.
"I think our city is starting to believe in itself again," he said. "We see other markets starting to go, 'Wow, there's something happening in Calgary.' "
The results come from interviews with 1,591 people this month from across Canada, the U.S. and Europe.
Parry said there is a realization that the talent base in Calgary is attracting companies to the city, which also means local post-secondary grads do not have to leave to find work.
Parry said this is showing up in positive interprovincial migration to Alberta.

Recommended from Editorial
Calgary tech companies face fierce worldwide competition in hunt for new talent

De Havilland to open massive aircraft manufacturing plant east of Calgary

Varcoe: After doubling in size, Benevity brings workers together for first time since pandemic

Global tech firm Mphasis reveals plan to bring up to 1,000 jobs, Canadian HQ to Calgary

Tech giant Infosys to expand to Calgary; promising 500 new jobs over three years
The shifting narrative has been driven most notably by a developing tech sector, which continues to attract global companies such as Mphasis, Infosys and Unity, while giving space for local companies including Neo Financial and Benevity to continue to boom.
Calgary has attracted record venture capital investment in each of the past five years and continues to bring in investment despite other markets slowing down.
The economic diversity also includes efforts in tourism, film and television, aviation, green energy and other sectors.
Still, the energy sector remains the main driver — oil and gas extraction accounts for about 25 per cent of Alberta's entire economy.
Rob Roach, chief economist for ATB, said diversification has been a decades-long process and still has a ways to go to match energy or account for a significant portion of the economy.
"It's happening, but you're chipping away at a very large slice of the pie," he said. "What we really want is to add to the pie and hope that our oil and gas sector can continue — which it looks like it will — to be very strong."
He added oil and gas is still a "tail that can wag the whole provincial economy."
This is evident in projections of an expected recession in Canada through the first two quarters of 2023. ATB, however, is forecasting GDP growth of three per cent for Alberta due to its commodity-based economy, which includes agriculture bouncing back this year.
There is still work to be done in changing the perception of Calgary among non-Calgarians, however.
Alex Grassino, managing director and head of macro strategy in North America for Manulife Investment Management, said it's more of a case that people are open to the idea of a new Calgary.
"People are much more focused on what's going on in their own backyard," said the Montreal-based economist. "I think there are long-standing perceptions of Alberta being energy driven. . . . So I think there's an exciting opportunity to tell the story about how it's evolving."
Twitter: @JoshAldrich03
You can read more of the news on source