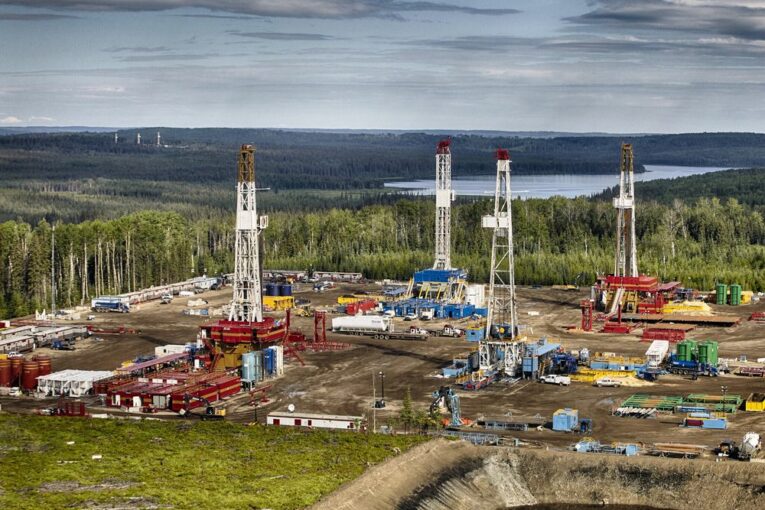 British Columbia and Blueberry River First Nations agreed on a plan that will clear the way for oil and gas development in the lucrative Montney shale play in northeast B.C. and northwest Alberta, albeit with strict conditions that will limit disruption of Blueberry River's territory.
"There's no longer business as usual," Chief Judy Desjarlais said at a press conference on Jan. 18.
But business is now at least possible for the first time since the B.C. Supreme Court ordered a freeze on new oil and gas development nearly 19 months ago, ruling that decades of development on Blueberry River's 3.8 million hectares in northern B.C. had violated its Treaty 8 rights.
The temporary moratorium on new activity significantly slowed energy development in the province last year even as natural gas prices soared, with only 319 gas well licenses being issued in B.C. since the court's decision, compared to 552 in the same period the previous year, according to data from the B.C. Oil and Gas Commission.
Industry welcomed the news, even though the tougher conditions call for halving the rate at which land is disturbed for new oil and gas wells in the region. The province and Blueberry River will jointly manage land-use planning with specific provisions governing wildlife management, forestry and oil and gas projects. Blueberry River will also receive $87.5 million over three years, with the possibility of further benefits from oil and gas revenue-sharing and provincial royalties over the next two fiscal years.
"This agreement does have an impact on oil and gas development in the northeast," Premier David Eby said at the news conference. "It has very specific provisions about the amount of land disturbance that is permitted related to oil and gas. This is one of the major concerns that caused (Blueberry River First Nations) to bring the court challenge and it was also a key discussion around the table."
The Montney formation, spanning the northern B.C.-Alberta border, accounts for between 45 to 50 per cent of all the natural gas produced in Western Canada. There are currently 20 active operators within the B.C. portion of the Montney, according to the B.C. Oil and Gas Commission, including firms like Canadian Natural Resources Ltd., Tourmaline Oil Corp. and ARC Resources Ltd.
Tourmaline Oil CEO Michael Rose was among a group of industry representatives who issued statements in support of the new agreement. "I am pleased with this new framework for oil and gas development that will create significant prosperity for the people and the province, for Blueberry River First Nation and all the Treaty 8 First Nations of B.C., and for industry," Rose said.
Petronas Energy Canada Ltd. CEO Izwan Ismail — whose company owns a 25 per cent interest in the LNG Canada export project in Kitimat, B.C. — said he was "encouraged" by the agreement, pointing out the importance of gas sourced from the Montney basin to the success of the company's LNG Canada project.
"With this important agreement in place…it is our expectation that now the necessary work can now proceed at pace for Petronas," Ismail said at the news conference. "This will ensure that the gas we deliver to the LNG Canada project is responsibly produced right here in B.C., benefiting Blueberry River First Nations and other First Nations in the entire province and country."
To be sure, the clarity for producers holding permits in northeast B.C. comes with a higher level of scrutiny than producers are used to. "There's perhaps more clarity achieved, but that clarity is that there will be significant limits on industry's use of land in that area," said Dwight Newman, Canada research chair in Indigenous rights in constitutional and international law at the University of Saskatchewan.
The agreement limits new surface disturbances from oil and gas development on Blueberry River's territory to 750 hectares annually — a 50 per cent reduction from the roughly 1,500 hectares in annual new disturbances that the area averaged in the five years prior to the court decision. That won't necessarily cause a dramatic reduction in the number of new wells, however, because techniques such as horizontal drilling allow producers to expand without scarring the surface.
"Overall, we expect the agreement to add some hurdles, delays, and costs to development within northeast B.C., but we expect these to be reasonable and see the overall result as in line with our expectations for a workable solution," wrote Scotiabank Global Equity Research analyst Cameron Bean in a research note Jan. 19.
Desjarlais said producers will have few problems as long as they commit to "pre-engagement" and maintaining good relationships with her community.
"Without those two things, it's going to be very hard to be successful in any planned project," Desjarlais said. "This is not stopping business, this is building a new way of building relationship and the first step into reconciliation and a lot of meaningful engagement."
• Email: [email protected] | Twitter: mpotkins
You can read more of the news on source