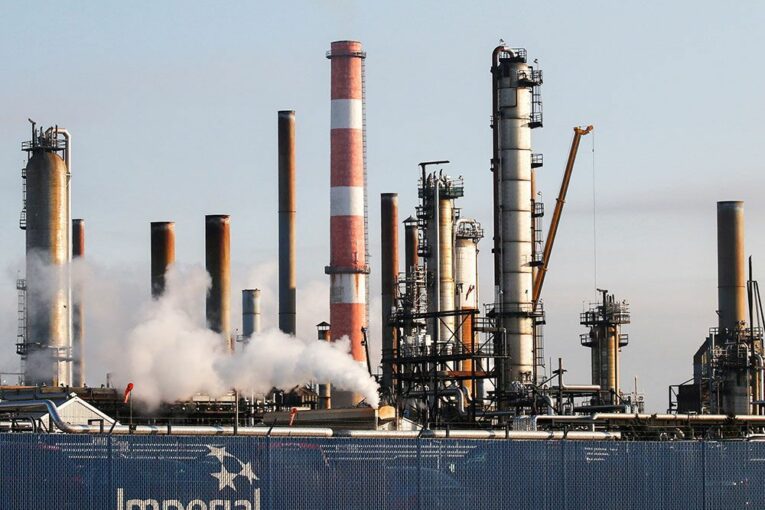 Imperial Oil Ltd. said it will spend $720 million to build Canada's largest renewable diesel facility at its refinery near Edmonton, predicting the plant will be capable of producing more than one billion litres of fuel annually using vegetable oils from canola and soybean crops.
Preparations and initial construction is already underway for the 20,000-barrel-per-day facility, which the company said will start production in 2025.
"Imperial supports Canada's vision for a lower-emission future, and we are making strategic investments to reduce greenhouse gas emissions from our own operations and to help customers in vital sectors of the economy reduce their emissions," chief executive Brad Corson said in a statement Jan. 26. "The investment at our Strathcona refinery will deliver immediate benefits to the local economy, creating jobs and contributing to a lower-emission energy future for our employees, neighbours and communities."
The Calgary-based oil major first proposed the project in August 2021 and has since inked an agreement with U.S.-based industrial company Air Products and Chemicals Inc. to secure a supply of low-carbon hydrogen.
Air Products is building a $1.6-billion low-carbon hydrogen production facility — also near Edmonton — that will produce so-called "blue hydrogen" using natural gas and carbon capture and storage (CCS). Air Product's plant will supply hydrogen to Imperial's Strathcona refinery via pipeline.
Air Products is building a low-carbon hydrogen production facility — also near Edmonton — that will produce hydrogen using carbon capture and storage (CCS) and will supply Imperial's Strathcona refinery via pipeline.
The Imperial facility's renewable diesel will primarily be produced from "locally sourced" vegetable crops, primarily canola, soy and sunflowers, the company said. Renewable diesel can be blended with regular diesel and behaves identically when combusted, allowing it to be used in engines designed to run on conventional fuel.
Imperial has estimated the project will reduce annual greenhouse gas emissions by three million tonnes, equivalent to taking approximately 650,000 cars off the road.
It's a move the company is largely making in response to Ottawa's tough new regulations aimed at forcing energy suppliers to reduce carbon emissions from transport fuels.
The federal government's Clean Fuel Standard (CFS), which will go into effect later this year, imposes an incremental cap on the carbon intensity of gasoline and diesel — lowering emission intensity by about 15 per cent by 2030, compared to 2016 levels.
"We wouldn't be doing the project if it were not for that regulation," Jon Wetmore, Imperial's vice-president of downstream, said in an interview, adding that a pivot to biofuels could be the industry's "main pathway" to meeting the new clean fuel targets.
"The reason we're choosing (renewable diesel), and many of our competitors and partners are choosing it, is because it's ready now and it's a very low capital way for a customer to reduce their carbon emissions from burning fossil fuel diesel today."
A significant portion of the renewable diesel produced from the facility will be shipped to British Columbia which has enacted even more stringent clean fuel regulations than the federal government. Wetmore said there is significant interest from industrial and trucking companies, as well as the rail and mining sectors. Imperial also plans to use renewable diesel in its own oil sands mining operations.
Other Canadian refiners have announced or made progress on similar investments.
Parkland Corp. announced its intention last spring to significantly expand renewable fuel production at its Burnaby, B.C. refinery. The company has said it plans to make a final investment decision in the second half of 2023.
A subsidiary of Calgary-based Tidewater Midstream and Infrastructure Ltd.'s is currently constructing a 3,000-barrel-per-day renewable diesel and renewable hydrogen complex at the site of its existing Prince George refinery.
Federal Minister of Natural Resources Jonathan Wilkinson praised Imperial's announcement in a Tweet, saying the move will create jobs and support the economy.
"This investment will create and support jobs, lower emissions, and help ensure Canada's economic prosperity," Wilkinson wrote. "I'm pleased to see that Air Products — with $300 (million) from the federal government and $160 million from the provincial government — will be supplying the clean hydrogen for this operation."
• Email: [email protected] | Twitter: mpotkins
You can read more of the news on source